Dublin Murders arrives on RTÉ One, the remarkable Marx Brothers are the subject of Comedy Legends on Sky Arts, and it's make-a-toy night on The Apprentice . . .
Pick of the Day
Dublin Murders, 9.35pm, RTÉ One
If you missed this over the last two nights on BBC One, here's a chance to catch up on the first two episodes of this new and glossy murder mystery starring Killian Scott, Sarah Greene and Tom Vaughan-Lawlor.
Based on the Dublin Murder Squad series by crime novelist Tana French, the series has been adapted by renowned screenwriter Sarah Phelps, best-known for her Agatha Christie TV dramas and for her adaptation of JK Rowling's The Casual Vacancy.
In the summer of 2006, Rob Reilly (Scott), a smart suited homicide detective and his partner Cassie (Greene) investigate a child's murder, and find a community caught between old and new Ireland.
New or Returning Shows
In the Long Run, 10.00pm, Sky One & NOW TV
It's back to the eighties once more, to catch up with the Easmons in the second season of Idris Elba's semi-autobiographical comedy set amongst a family living in East London.
Walter has been elected union representative at the factory and is thrown into the deep end when he is forced to tackle a very slippery negotiation that tests his resolve.
Meanwhile, much to Kirsty's horror, Melissa's biological father, Leon, has turned up on the Eastbridge estate and she is faced with the difficult task of telling Bagpipes, but luckily Agnes comes to her rescue.
New to Download
Converted, RTÉ player
This documentary, directed and produced by Suzie Keegan, covers cases of gay conversion therapy that have taken place in Ireland.
The programme comes at a time when the practice is still legal in this country, as a bill to ban conversion therapy has only just passed the second stage in the Seanad.
Ghosts of Sugar Land, Netflix
In this Sundance festival award-winning documentary, a group of suburban Muslim friends trace the disappearance of their friend "Mark," who is suspected of joining ISIS.
Ending Tonight
City on a Hill, 9.00pm, Sky Atlantic & NOW TV
In the final double bill of this slow-burning crime drama starring Kevin Bacon as corrupt FBI veteran Jackie Rohr, an unlikely source confides in Decourcy, causing the Massachusetts State Police to hatch a plan that promises arrests without the help of the FBI.
But keeping out of the way is not exactly Jackie Rohr's strong suit.
Then in the season finale, Jackie celebrates another moment in the spotlight, though an unfamiliar pang of guilt leaves him reflecting on his legacy.
Don't Miss
Comedy Legends, 9.00pm, Sky Arts & NOW TV
Barry Cryer returns to pay tribute to another set of comedy icons that he has worked with over his many decades in the business called show.
In the opening episode of this second season, he reviews the timeless vaudeville family, The Marx brothers – one of the greatest comedy acts that ever stepped on stage or appeared on screen.
For example:
The Apprentice, 9.00pm, BBC One
One of the key attractions of this show is the fact that so many of the wannabe apprentices are a hilarious mix of desperate and dumb.
The boys' team has lost two weeks on the trot, so Alan Sugar's mixed them up tonight as the objective is to design and promote a toy for six-to-eight-year-olds.
Apparently, one of the ideas is a unicorn covered in slime. How Brexit-y is that?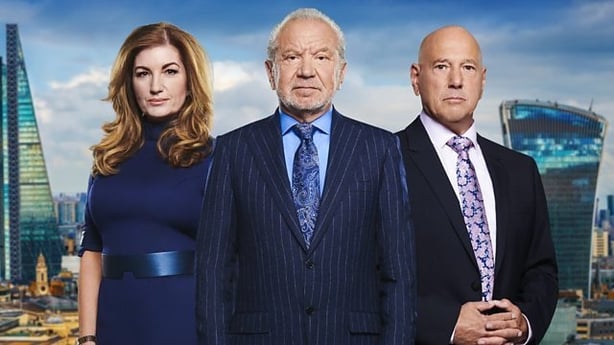 Click here for full TV listings