Westlife's Nicky Byrne has said that it was thanks to Ed Sheeran that they reunited for a tour and new album after the singer/songwriter wrote the reformed band five songs.
Speaking to Smooth Radio, Byrne claims that he Sheeran was the ''only'' man who ''could get Westlife out of bed.
"When the opportunity came up last year to reunite ... who gets a second bite at the cherry, you know? We never knew if the tour would just be a nostalgia one-off - you know, you say hello to the fans, and then goodbye.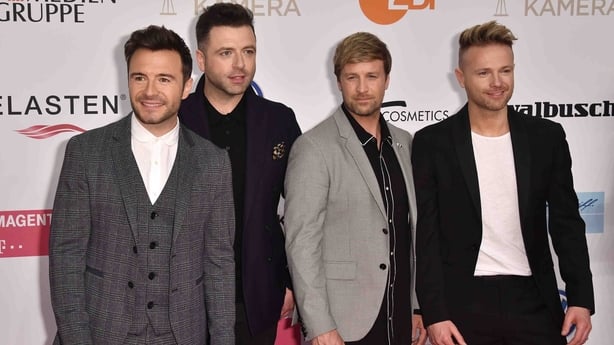 "We thought, 'We'd love to give it more than that, and try to make a new album', and that's when Ed Sheeran, to be fair, stepped up. I think if there's probably only one man that could get Westlife out of bed, it was Ed Sheeran. He was writing these songs."
Westife's Shane Filan added: "It was great, because when we started coming back as a band, one of the main things we wanted to do was not just tour, but to make a new album.
Nicky Byrne, Shane Filan, Mark Feehily and Kian Egan Westlife are also reportedly in talks to embark on a world tour in 2020 when band member Mark Feehily returns from paternity leave.
Speaking about their new album Spectrum, which is due out on November 15, Filan said "We spent 14 months making this album, which is the longest we've ever spent making an album. And there's 11 songs on the album.
We need your consent to load this Instagram contentWe use Instagram to manage extra content that can set cookies on your device and collect data about your activity. Please review their details and accept them to load the content.Manage Preferences
And yeah, you know, there were songs that were really, really great songs that we felt just didn't make the cut, because we wanted every song on this album to be a potential single - not that we'll release 11 songs, but we plan to release more singles, obviously, off this album, even after Christmas next year."
He added: "So there's probably going to be more singles released off this album than we've ever released off an album, hence the quality that we feel is the strongest.
"We do feel this is one of our best albums, if not our best album, quality-wise. We're in a great position. We've got Ed Sheeran and people like that and Steve Mac writing us songs. It's incredible."
Egan added: ''I think since the reunion, it kind of feels like Westlife is taking a whole new lease of life - from the tour that we've just finished, to now announcing that we're going to play Wembley Stadium for the first time in our careers."
He continued: "It's 20 years of being a band, and then, you know, releasing what we feel is the strongest album we've ever made. We just kind of feel like we're living the dream for the second time around - if not better and bigger this time around.
"It's just been kind of an incredible year for us, and hopefully the next year will be just as incredible, and this place (Wembley) will be sold out on August 22, and we'll have the biggest part of our lives.''
Click here for more music news