Darklands, The Walking Dead and Motherland all land tonight, while it's farewell to true crime drama A Confession . . .
Pick of the Day
Darklands, 9.00pm, Virgin Media One
This new, gritty drama focuses on a gang war in a small Irish town and tells the story of Damien Dunne, a 16-year-old boy still in school, who dreams of becoming a professional MMA fighter.
Damien's home life is troubled. His parents struggle to make ends meet, while his reckless older brother Wesley has turned to a life of crime to help provide for the family.
When a major drug deal goes wrong, Wesley goes missing. Damien begins to feel the pressure to step up as a provider for his family. Will he succumb to a life of crime over his dreams of a sporting future?
Created by Mark O'Connor, Darklands is his first transition into television, after his blockbuster hit Cardboard Gangsters, the most successful Irish film of 2017.
New or Returning Shows
The Walking Dead, 9.00pm, Fox
Season ten lands, and it's pretty obvious that if you don't know what this show is about at this stage, you're just not interested and never will be.
Or you could be like me. I was initially a fan but gave up a couple of years ago after too much zombie deja vu.
Anyway, Norman Reedus, Samantha Morton and Jeffrey Dean Morgan star as the group in Oceanside continues to train in case the Whisperers return, while tensions are high as the survivors struggle to hold onto their concept of civilisation.
Ian Hislop's Fake News: a True Story, 9.00pm, BBC Four
Private Eye editor and Have I Got News for You veteran Ian Hislop looks sceptically at Christopher Blair, an unapologetic purveyor of fake news, or rather, complete made-up nonsense that's designed to provoke the American alt-right.
It's all done, he says, in the name of satire.
Of course, Hislop knows a thing or two about satire, and he is unconvinced, worrying that sending such pap into the universe means even sensible people everywhere doubt the truth of real and actual news stories.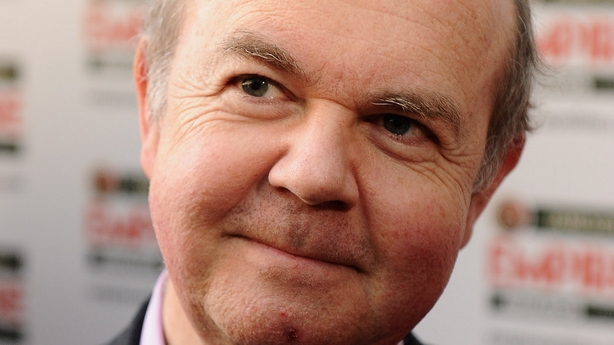 Celebrity Coach Trip, 7.30pm, E4
This can be good for a laugh as a party of largely d and z-listers are packed up and bussed around Europe.
This run includes recent Love Island contestants Georgina Steel and Alexandra Cane.
Here are Jedward from last year:
Ending Tonight
A Confession, 10.00pm, Virgin Media One
Jeff Pope's impressive true crime drama ends as former Wiltshire detective Steve Fulcher (Martin Freeman) faces killer Christopher Halliwell (Joe Absolom) in court.
After sustained vocal and very public pressure from Becky Godden's mother Karen (Imelda Staunton), Halliwell at last faces justice for her murder.
Don't Miss
Motherland, 11.15pm, BBC One
The brilliant trio of Anna Maxwell Martin, Lucy Punch and Diane Morgan return in this fine comedy from a quartet of writers including Graham Linehan and Sharon Horgan.
As the school year begins, a new mother at the gates attracts the attention of Julia, Liz and Kevin, with Amanda telling them she is a high-flying businesswoman with five kids and a sexy husband.
Meanwhile, Julia is struggling to keep her head above water at work when she is offered the choice of promotion or redundancy.
Mr Mercedes, 10.30pm, RTÉ 2
The fun and games continue as Alma and Morris narrow in on a suspect, Jerome continues to make strides in the Rothstein case, while Hodges shares his guilt over Lou's current situation with Ida.
Succession, 9.00pm, Sky Atlantic
In the penultimate episode of a superbly squirmy season two, Logan, Kendall, Gerri and Tom testify before Congress, while Shiv speaks candidly to Kira, a victim who is set to be a key witness.
Meanwhile, Roman's business pitch takes a chilling turn. Which sounds intriguing . . .
Click here for full TV listings