Two new postage stamps marking the 50th anniversary of the formation of Irish rock icons Thin Lizzy went on sale for the first time in post offices around Ireland on Thursday.
The two national rate €1.00 stamps feature the artwork from Thin Lizzy's 1979 album Black Rose and a portrait of the late Lizzy frontman Phil Lynott by renowned Irish artist Jim Fitzpatick and were designed by Steve Averill, who also designed all of U2's album covers.
Fitzpatrick, whose most well-known work is his globally famous two-tone portrait of Cuban revolutionary Che Guevara, was a close friend of Lynott and did the artwork for many of Thin Lizzy's iconic covers, including their 1976 Jailbreak album.
Speaking to RTÉ Entertainment, 75-year-old Fitzpatrick said the issue of the stamps is an emotional moment for him. "If you cast your mind back two years ago to when I did the Che Guevara stamp, which is now Ireland's best-selling stamp of all time, that was a big moment for me but Che wasn't a personal friend - Philip was.
"This is my friend Phillip Lynott, a very proud black Irishman on an Irish postage stamp. I just wish to hell he was around to enjoy it. It's the ultimate tribute to be on a stamp of your own nation and Philip was much more patriotic than I was."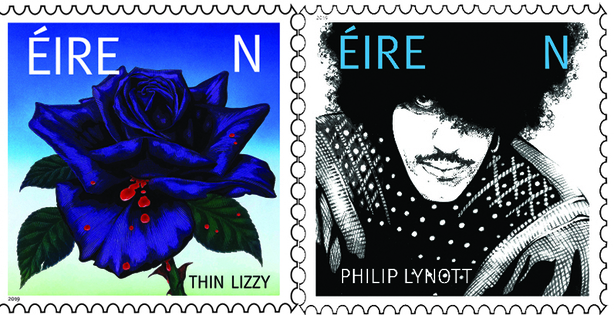 The first day cover editions were also unveiled in Bristol by the daughters of Lynott, Sarah and Cathleen, his grandchildren, and his ex-wife Caroline.
Fitzpatrick, who mainly works in the Celtic artistic tradition, praised Lynott's own visual flair and he says it didn't just extend to the rocker's indelible outlaw image.
"He was brilliant. By the time we got to Black Rose, he knew my mind. The inspiration for the album art came from the poem by James Clarence Mangan, The Dark Rosaleen. Philip was heavily into the history of . . . you might say, what's a nice way to say it, our minor holocaust?
"The attempted genocide of the Irish race and he felt very strongly about this and he wanted to echo some of that without being confrontational because Thin Lizzy had a lot of fans of England and in Northern Ireland, which he respected, but he did want to say something about Ireland and this was his chance.
"That was the idea behind the album cover and to see it on an Irish stamp is like holy god! This is extraordinary."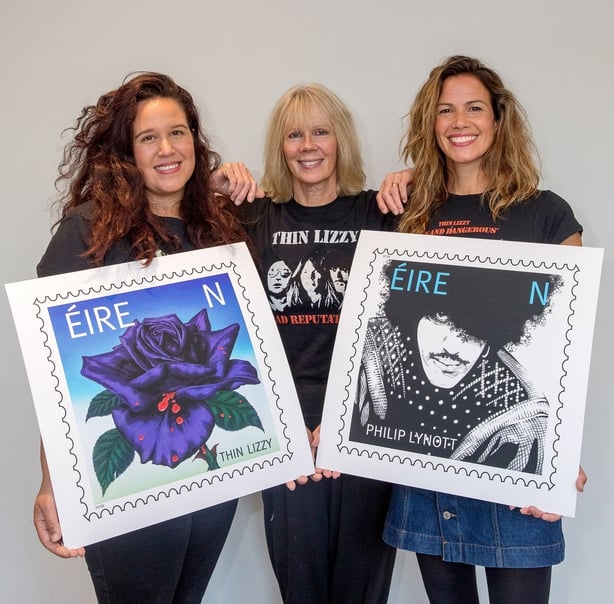 A media launch on Thursday afternoon saw Fitzpatrick gather with Lizzy fans at the Phil Lynott statue on Harry Street, just off Grafton Street in Dublin. The issuing of the new stamps was also marked by a special night of Thin Lizzy music in the hallowed halls of the GPO, which will see Thin Lizzy drummer Brian Downey perform with Alive and Dangerous.
Fitzpatrick is in no doubt about how proud Irishman Lynott, who would have been 70 this year, would have felt about being honoured on a national stamp of his home country.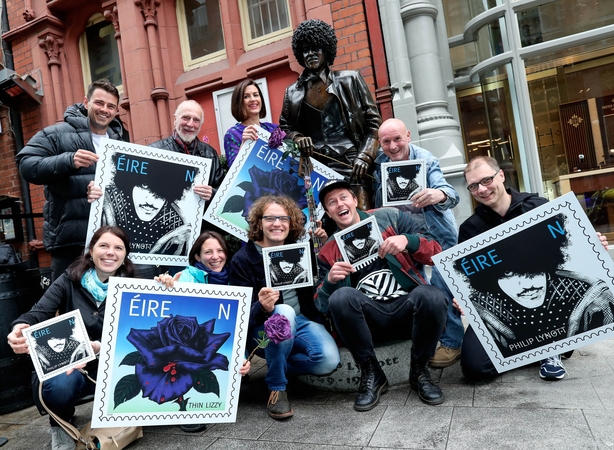 "If I could back to his 70th anniversary last August, there was Caroline, Sarah and Cathleen and all the Dublin Lynotts all got together for a little pub crawl and I brought the them to Nearys pub," he says.
"I brought Sarah and Cathleen down to the bottom couch beside the jacks where Philip used to make an easy escape; he used to say I'm going to the jacks, I'll see you in a minute and that was his code word for follow me down to the Bailey.
"The family are immensely proud of his and of course I am too but it's great that the family are involved."
Alan Corr @CorrAlan2
More music news, reviews and interviews here