Kodaline frontman Steve Garrigan and broadcaster and author Diana Bunici made their first joint TV appearance on Saturday night to talk about their roles as ambassadors for a mental health initiative, with Garrigan speaking candidly about his experience with anxiety and panic attacks.
The couple are ambassadors for Walk In My Shoes, a charity for mental health awareness, and appeared on The Ray D'Arcy Show on RTÉ One to speak about why they chose to get involved.
Garrigan said: "It's about getting people to open up and talk about their problems and make sure everybody knows that it's ok to talk about it so they don't feel like they're on their own, and there is a way to get better and there are services out there, even when you feel that there's nothing.
"One of the main reasons I got involved was, when I was 19 years old I had a massive panic attack. I was walking around town and I didn't know what was going on, I didn't even know what anxiety was, I didn't know what a panic attack was, I just thought I was dying.
"Which is a common symptom, anyone who has a panic attack for the first time, they usually think they're dying, because it's really scary."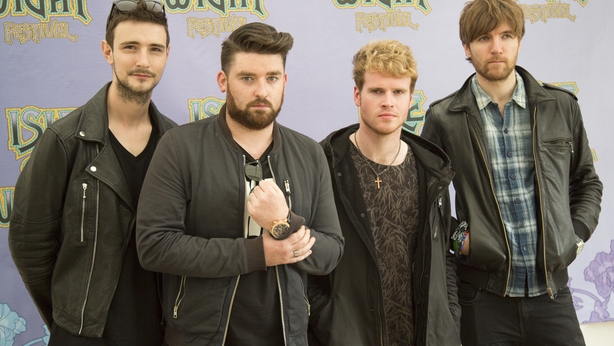 He continued of the physical symptoms: "Your heart races, your hands shake, your breathing goes which is really scary because it feels like your lungs aren't getting enough air, you can get pins and needles all over your body, blurred vision, you can't concentrate on anything.
"The strange thing is that it comes from your thoughts and how you're thinking and how you're reacting to stress. At the time anyway I thought I was dying and I went to a doctor. The doctor said 'it's a panic attack' and I was like 'what the hell is a panic attack?' He said 'it's anxiety' and I said 'what the hell is anxiety?'
"He said 'it's stress, it's in your head' and straight away I decided 'ok, it's in my head, I'm just not going to talk about this'. I never went back to the doctor, I just dealt with the anxiety myself, silently, which just made it get worse over the years.
"At the time I thought that if I had told people that I'm having anxiety and panic attacks, it's a mental illness thing, I thought that people would have looked down on me, or people would have been ashamed of it. At the time I didn't know what anxiety was, didn't know what panic attacks were, so I was scared to talk about it."
The panic attacks continued over the years until he reached a breaking point and opened up to a close friend.
"I tried to do a lot of reading about it and figured out little things myself and over years I kind of got better, but then I got to the point where it was really bad and I just broke down to one of my friends and started talking about it", he explained.
"It was social anxiety, when I went into a room I'd be worried about what people would think of me and how I'm coming across, and what if I say something wrong. It was just me worrying, worrying, worrying."
The Dublin musician said he has learned to cope with his anxiety.
"I'm fine now, I've learned through therapy and cognitive behavioural therapy how to handle it, but at the time, we'd do a gig and straight after the room would be full of record label people, management, promoters, radio people from all over the world, and that was every night. I didn't mind playing to thousands of people, and then I'd get off [the stage] and there'd be 10 people in the room and I'd be so scared.
"I ignored it, and I foolishly thought that if I ignored it, it would go away and get better. I spoke to a friend and I was so scared about telling him, and when I did tell him he was absolutely incredible, incredibly supportive.
"It was like a massive weight came off my shoulders, and that was the start of me getting a handle on it and actually looking after myself."
The 31-year-old music star added: "The thing is, mental health issues they don't discriminate, it can affect people in all walks of life, it doesn't matter who you are or what you do."
We need your consent to load this Instagram contentWe use Instagram to manage extra content that can set cookies on your device and collect data about your activity. Please review their details and accept them to load the content.Manage Preferences
When D'Arcy said he could feel Garrigan's anxiety as he spoke about his experiences, the Kodaline star joked of making a public appearance with his girlfriend Bunici: "This is new as well and this is quite nervewracking,"
He added of his partner: "She's amazing, she's seen me through the worst times and the best times and everything else in between."
Viewers praised Garrigan for his bravery and honesty in telling his story.
Brilliant honest interview by Steve Garrigan from Kodaline on The Ray Darcy show last night.Talking about anxiety and panic attacks,fairplay to him👍

— irishred (@OwenIrishred) September 29, 2019
Great to see @SteveGarrigan from @Kodaline on @RTERayDarcyShow tonight speaking about anxiety. Just shows people can look ok on the outside but be in living in turmoil. Never judge a book by its cover. It's good to talk. #CBT

— White Amanda QUIT (@WhiteAmandaQuit) September 28, 2019
Steve Garrigan from #Kodaline is so right, mental health doesn't discriminate. Respect. #raydarcyshow

— Noel Butler (@Noel_Butler1) September 28, 2019
'Mental health doesn't discriminate'.

Well done to Steve Garrigan for telling his story 👏#raydarcyshow

— Lucy O'Shea (@lucyoshea) September 28, 2019
#SteveGarrigan #incredibleybrave

— philip doyle (@sedefkoy) September 28, 2019
The Ray D'Arcy Show airs on RTÉ on Saturday nights at 9.50pm.
Watch the full interview with Steve Garrigan and Diana Bunici on the RTÉ Player here