It's cheerio to Keith Barry, Sue Perkins and The Big Hospital Experiment, Krypton's back for a second and final season, while there's a special about Dublin's new breed of gangsters...
The Keith Barry Experience, 9.35pm, RTÉ One
This has been a really enjoyable series as Keith Barry is an absolute genius when it comes to trickery and a natural entertainer.
The final episode should be a cracker, and features the man himself attempting a death-defying escape from a strait jacket while suspended upside down, 100ft in the air from a crane.
And if that wasn't frightening enough, Keith's head is wrapped in cellophane, so he can't breath. (Remember kids: don't try this at home!)
The live studio audience will once again include some very well known faces from the worlds of entertainment and music taking part in Keith's magic.
The only thing you can take for granted is to expect the unexpected.
New or Returning Shows
Krypton, 10.00pm, E4
Back for a second season, this DC Comics-influenced drama has a very tenuous connection with Superman, as it's based on his home planet of Krypton a good 200 years before Kal-El/Superman is born, the planet gets destroyed, and he ends up in Smallville.
As the second and final run begins, Seg-El (Superman's granddad) finds himself stranded far from home, where his grandfather, Val-El, is leading a rebellion against the forces of General Zod.
Churchill and the Movie Mogul, 9.00pm, BBC Four
Former British PM Winston Churchill understood the power of film, but the true extent of his use of cinema as a propaganda tool is rarely explored.
In 1934, one of Britain's most celebrated film producers, Alexander Korda, signed Churchill up as a screenwriter and historical advisor.It was the start of a unique collaboration.
With access to previously undiscovered documents, this fascinating film documentary examines that mission and a friendship that underpinned a unique, creative partnership.
New to Download
Glitch: Season 3, Netflix
It's the final season and the Risen as they move beyond Yoorana and into the wider world. As more people rise from the grave and old friends become new threats, the mystery - and danger - intensifies in Yoorana.
Abstract: The Art of Design: Season 2, Netflix
The Art of Design returns to take viewers beyond blueprints and into the art, science, and philosophy of design.
The series goes inside the minds of the world's greatest designers, showcasing the most inspiring visionaries from a variety of disciplines whose work shapes our culture and future.
Birders, Netflix
'There's no border for birds.' Bird watchers on both sides of the US-Mexico border share their enthusiasm for protecting and preserving some of the world's most beautiful species.
Ending Tonight
Japan with Sue Perkins, 9.00pm, BBC One
Sue Perkins continues her journey though Japan, exploring a nation caught between the traditional values of the past and challenges of the future.
She starts in Kyoto, Japan's ancient capital city and home to the iconic and secretive geishas. Sue wants to understand what it takes to become a geisha and whether there is any truth to the perception of them as rich men's playthings.
In a traditional tea house outside Kyoto, she meets Kikuno and her apprentices, who are working hard to keep geisha culture alive as Japan becomes more open to the outside world.
The Big Hospital Experiment, 9.00pm, BBC Two
It's the final week for the 14 volunteers, who have worked across the hospital from the maternity to elderly care wards.
They have been challenged throughout the experience as they faced the smells and sights of a working word and overcame their fears of starting conversations and providing care for patients.
Don't Miss
The Fall of the Kinahan Cartel - Gangland's Next Generation, 10.00pm, Virgin Media One.
Presented by Sarah O'Connor, this documentary examines how a massive Garda crackdown after the Regency Hotel murder in Dublin effectively put the Kinahan crime cartel out of business, only to see a new ruthless breed of young criminals take their place.
In May of this year there were three brutal murders in one week. People have seen shootouts in housing estates, outside schools and in grocery stores. The new breed of gangster are ruthless and have complete disregard for life. So why is gangland violence on the rise?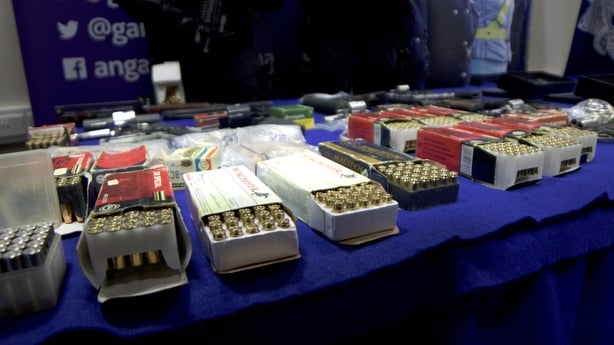 Click here for full TV listings