Former EastEnders actor John Partridge will take to the stage in Cabaret at Dublin's Bord Gais Energy Theatre soon, and the star said he finds his role "liberating and terrifying all at the same time."
Partridge plays the Emcee in the Bill Kenwright production, which comes to Dublin from October 1-5, and he said the show doesn't shy away from the powerful themes of the hit musical.
"I think the best way to pay homage to a past work is to be truthful to it, Cabaret deals with powerful themes and this production doesn't shy away from that, we don't dust over anything," Partridge told RTÉ Entertainment.
Partridge described his role as one he has "coveted" during his career and that it is a "dream to play."
"It's all about timing as much as anything else and I think I am able to bring my life experience, personal and professional, to this role...I feel like I understand this character incredibly well," he added.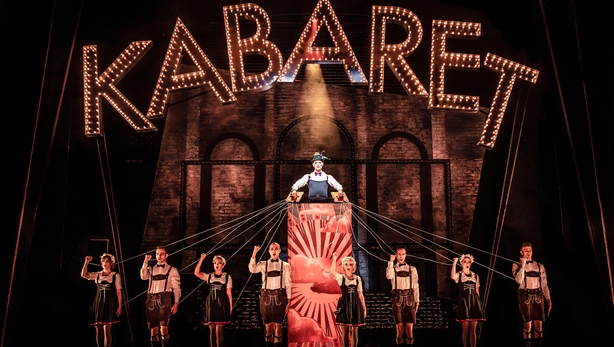 On starring in a production that doesn't shy away from the tougher themes, Patridge said, "It's liberating and terrifying all at the same time, in doing that you have to expose something of yourself and you have to give something of yourself that maybe makes you uncomfortable, and there are elements in the show where we as performers do that.
"I don't want to give too much away but we have to... As an actor I lay myself bare in more ways than one in this piece, and there's something quite cathartic about that, and great theatre, that's what it does, it makes you think about your own life and your own place and decisions and your own choices.
"So that's what Cabaret does; it asks us about our own humanity as well as the world's, and it does that brilliantly with dazzling costumes, breathtaking choreography and the most amazing musical theatre score of songs you don't even know you know...
"It's an incredible piece and within this production we've taken this timeless classic and made it contemporary without losing any of its original qualities and what made this piece Oscar winning."
Partridge also noted that audiences should enjoy the show even if musicals aren't typical their thing.
"If you think musicals aren't your thing and you prefer plays, then this is the musical for you," he said. "I call it a play with music."
Cabaret comes to Dublin's Bord Gais Energy Theatre from October 1-5.