Siobhán McSweeney, who plays nun Sister Michael in Derry Girls, has recalled her dad's reaction to her debut on the hit series.
Speaking to The Ray D'Arcy Show on RTÉ One on Saturday night, McSweeney said her father's response to the first episode of the show was eh, interesting.
"He was beautifully effusive about it. I rang him after the first episode and I said 'what did you think?' and he said 'Oh, it's a lot of rubbish..but I understand why other people might like it'. 
"That's the nicest thing the man's ever said to me," she laughed.
"No, but that's really lovely," she said looking out to the crowd. "Look at all of the Irish daddies ... going 'yeah, that's pretty good actually...you did well there'."
The wonderful Siobhan McSweeney reminding us that there's no praise like the praise that comes from an Irish dad. #raydarcyshow #derrygirls pic.twitter.com/gMi4Ir56SV

— The Ray D'Arcy Show (@RTERayDarcyShow) September 21, 2019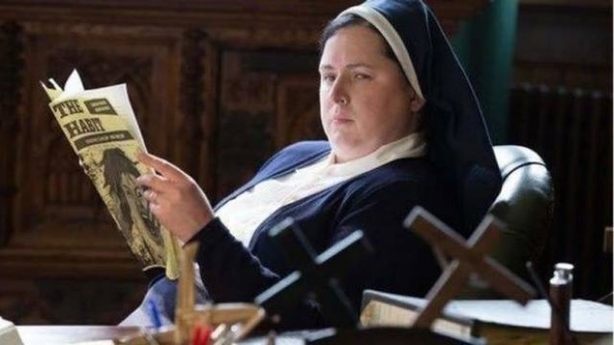 Derry Girls writer Lisa McGee recently told RTÉ Entertainment how she is still shocked by the success of the show and admits the cast and crew still can't get over the reaction from viewers.
The much-loved show, which was confirmed for a third series in April, has formed a legion of fans since it first aired in January 2018.
"It really sort of caught on and really landed. I don't think anyone was expecting it," she said.
"It's lovely. Of all the things I've ever written this was not the one I expected to have an audience like that," the screenwriter said at the Virgin Media Television autumn season schedule unveiling.
"I don't think any of us still quite believe it. It's great!"
For more TV news, click here