Robert James-Collier, who plays butler Thomas Barrow in Downton Abbey, has said he was delighted that his character's homosexuality was one of the storylines in the new movie adaptation of the hit TV drama.
Thomas has previously tried to keep his sexuality secret but in the movie, which is in cinemas now, it's given a rather 21st century spin when he discovers a whole new culture.
James-Collier, who also played Liam Connor in Coronation Street, told RTÉ Entertainment, "This is a realisation for Thomas in the film. He's met gay people before, we've seen that in the series, but he didn't know there was this whole gay subculture, this whole world that was operating in every day society but behind closed doors.
Robert James-Collier tells us about Thomas the butler's gay storyline in the new #DowntonAbbey movie @DowntonAbbey pic.twitter.com/JUYjyhFqnc

— Entertainment on RTÉ (@RTE_Ents) September 14, 2019
"So when he happens upon it by serendipity, it's a beautiful scene when he discovers that it exists and you can see the wonder in his face. He thinks, `Oh my god! There are other people out there like me . . . ' So to see that side, to tell that story and to see it get ripped away from him, it's heartbreaking."
"In those times, it was illegal, it was against god and if you were homosexual, people thought you were disgusting and foul and I think we've learned through watching Thomas what kind of psychological impact that can have on a person."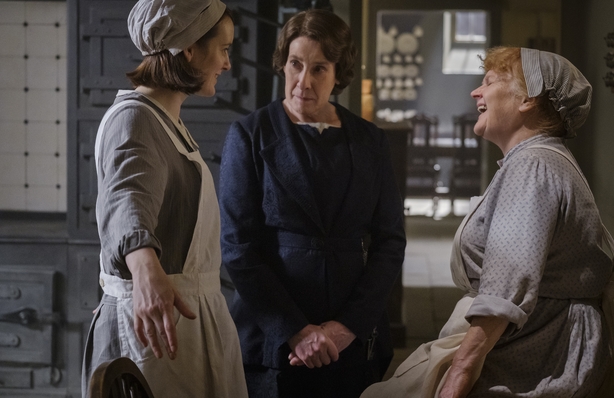 Set in 1927, just a year after the TV series ended, the film sees Downton being turned upside down with the announcement that the king and queen of England are to set to visit.
Sophie McShera, who has previously appeared in Emmerdale and Waterloo Road, makes her return as outspoken maid Daisy Mason and when she hears that the royals are about to alight on Downton, her republican tendencies come to the fore.
.#DowntonAbbey star Sophie McShera tells us why her character, Daisy, is less than impressed when the king and queen of England come calling in the new movie adaptation of the hit TV drama @DowntonAbbey pic.twitter.com/SKXwafTGoA

— Entertainment on RTÉ (@RTE_Ents) September 14, 2019
"I don't think I'd describe myself as royalist but it was really funny doing the Daisy stuff," she said. "Because the rest of the Downton characters are so excited that the king and queen are visiting and Daisy is like `who cares?' and I did so much eye rolling that my eyes nearly went into the back of my head.
"It was really funny. It was great to play that in amongst all that excitement to constantly be piercing it and saying `this is ridiculous!'"
James-Collier said, "And also you have the best line in the movie - `We're not footballs, Mr Bates, and we don't deserve a kicking'."
Watch our interview with Downton Abbey stars Hugh Bonneville, Elizabeth McGovern, Jim Carter and Phyllis Leslie
Watch our interview with Kevin Doyle and Michael C Fox
Read our review of Downton Abbey here
More movie news, reviews and interviews here