Here are more than 20 tips on what's worth watching on the telly this weekend between now and Sunday night...
Pick of the weekend
Strictly the Professionals, 7.00pm Saturday, BBC One
This one-off special looks at how the current crop of dancing professionals made their journey to the Strictly ballroom, revealing how they discovered dance and the sacrifices they made to get to the top of their game.
The programme will also offer viewers an exclusive backstage pass to Strictly HQ, revealing some of the show's most guarded secrets - including how the celeb and professional pairings are decided by producers.
Jeremy Vine, Ed Balls and Ann Widdecombe are just some of the famous faces who'll be joining the professionals on screen, taking them on a trip down memory lane and recalling some of the astonishing highlights from their time on the show.
New or Returning Shows
The Ray D'Arcy Show, 9.40pm Saturday, RTÉ One
Ray returns for the fifth season of his Saturday night chat show, with a bumper opener of live entertainment including Gavin James, Dustin the Turkey and Denise Van Outen.
Irish music superstar Gavin James will perform some of his most loved songs live in studio. And as his total worldwide streams heads for the two billion mark, he'll chat to Ray about his musical roots and his success to date.
Star of stage and screen Denise Van Outen joins Ray on the couch ahead of her debut in the iconic Australian soap Neighbours. She'll be talking about her adventures Down Under, how golf helped ease her anxiety and why Ireland will always be her second home.
After flying the flag for Ireland at the World Tango Championships in Argentina last month, 99-year-old Jim McManus from Waterford will dance his way onto Saturday nights show with a very special performance.
And Dustin the Turkey makes his television comeback with a shocking confession - and performing a song from his new musical comedy, along with bestselling author Eoin Colfer and comedian Eric Lalor.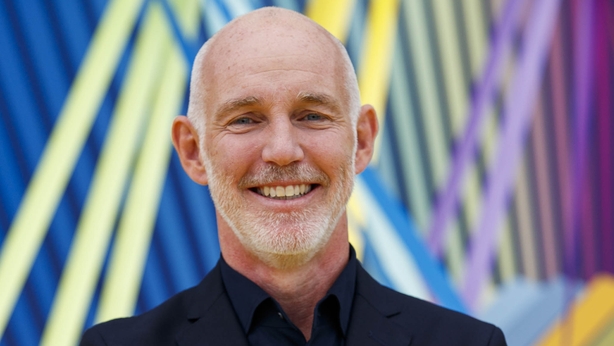 The Jonathan Ross Show, 10.00pm Sunday, Virgin Media Two
Wossie is joined for the launch of a new season by Downton Abbey stars Elizabeth McGovern and Michelle Dockery, who discuss reviving the period drama for a new movie.
Other guests include Stephen Fry, Craig David and Martin Freeman, currently starring in true-life crime drama A Confession.
Plus, Charli XCX and Christine and The Queens perform together in the studio.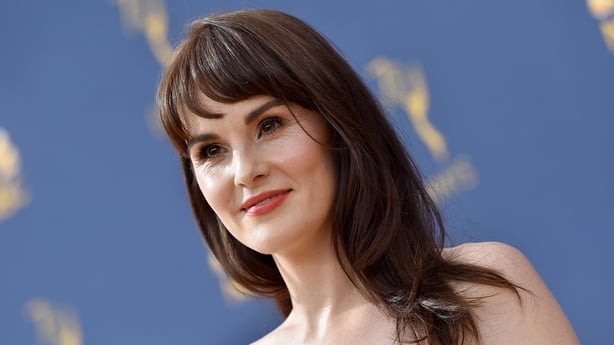 Gogglebox, 9.00pm Friday, Channel 4
Britain's armchair TV critics return for a 14th run, to share more of their occasionally insightful, always passionate and sometimes emotional critiques of the week's biggest and best shows.
This week's menu includes EastEnders, Britain's Got Talent: The Champions, Peaky Blinders, Expedition with Steve Backshall, Gordon Ramsay: Uncharted and First Dates Hotel.
Here are some memorable moments:
Keeping Up with the Kardashians, 9.00pm Sunday, E! & NOW TV
Season 17! How much scandal can you handle? Loads, obviously, as another run of Kardashian chaos cranks into gear.
Following revelations surrounding Kylie Jenner's best friend and Khloe's baby daddy, you can expect some serious fallout in this instalment of the Jenner/Kardashian saga.
And with Khloe feeling pressure over turning 40 and a whole new generation of Kardashian kids hitting the spotlight, it's going to be anything but quiet.
Temple, 9.00pm Friday, Sky One & NOW TV
Mark Strong, Carice van Houten and Daniel Mays star in this drama based on the critically-acclaimed Norwegian drama Valkyrien.
Daniel Milton (Strong) is a surgeon who, driven by personal tragedy, operates an illegal clinic deep below London's Temple tube station for those who either wish to remain outside the system, or for those desperate enough to seek treatment unavailable through conventional means.
Aided by disgruntled underground worker Lee (Mays) and guiltridden medical researcher Anna (van Houten), Daniel's dangerous and unpredictable clientele test his morality to the limit. But if it means he can save the person he loves, it will all be worth it.
Inside Cadbury: Chocolate Secrets Unwrapped, 8.00pm Sunday, Channel 4
This one-off documentary goes deep inside the Willie Wonka world of Cadbury, Britain's biggest and best-loved chocolate maker.
The programme's unprecedented access occurs during a make-or-break year. Behind closed doors at the Bournville plant, a team of dedicated scientists struggle to meet the biggest challenge the company's faced for a century - to dramatically cut sugar from their Dairy Milk recipe.
It's the flagship chocolate bar on which the reputation and fortunes of the company have been built. Can the new bar match up to its legendary predecessor?
Lorient, 9.30pm Sunday, TG4
It's celtic culture all the way as performances from across the Festival Interceltique de Lorient, featuring performers, musicians, dancers, poetry and song.
Stacey Dooley Investigates: Nigera's Female Suicide Bombers, 9.00pm Sunday, BBC Two
Here's a report on schoolgirls used as suicide bombers in Nigeria by terrorist group Boko Haram.
For example, Stacey talks to Falmata, who was kidnapped by Boko Haram at the age of 13, forced to marry three times, and finally strapped to a suicide belt and sent out on a bombing mission.
Bachman, 10.30pm Saturday, Sky Arts
This is the story of Bachman Turner Overdrive founder Randy Bachman, from his early days of The Guess Who and hits like American Woman to today.
As one of the few artists to reach number one in two separate bands, Bachman's career has taken him from spectacular highs to crushing lows and back again.
Here's You Ain't Seen Nothing Yet:
New to Download
The Ranch: Part 7, from Friday, Netflix
Ashton Kutcher and co return as Colt tries to reconcile with Abby, Beau navigates the challenges of aging and Luke seeks his family's forgiveness.
Unbelievable, from Friday, Netflix
When teenager Marie Adler (Kaitlyn Dever) files a police report claiming she's been sexually assaulted by an intruder in her home, the investigating detectives, as well as the people closest to her, come to doubt the truth of her story.
Meanwhile, hundreds of miles away, detectives Grace Rasmussen and Karen Duvall (Toni Collette and Merritt Wever) meet while investigating an eerily similar pair of intruder rapes and partner to catch a potential serial rapist.
The Predator, from Friday, Sky Cinema Premiere & NOW TV
When a young boy accidentally triggers a new invasion of the dreadlocked aliens, only a ragtag crew of grizzled ex-soldiers and a biologist stand between them and the end of the human race.
But they aren't the same hunters the planet has encountered before. They're genetically upgraded with other species' DNA and have evolved to become even deadlier. And they've brought their dogs.
Tall Girl, from Friday, Netflix
Jodi (Ava Michelle) has always been the tallest girl in school — and she's always been uncomfortable with it. She meets Stig (Luke Eisner), a seemingly perfect Swedish foreign exchange student who's even taller than she is.
Jodi's new crush turns her world upside down and throws her into a surprising love triangle.
Hello, Privilege. It's Me, Chelsea, from Friday, Netflix
In this documentary, Chelsea Handler explores how white privilege impacts American culture - and the ways it's benefited her own life and career.
The Chef Show: Volume 2, from Friday, Netflix
Actor/director Jon Favreau and award-winning Chef Roy experiment with their favourite recipes and techniques, baking, cooking, exploring and collaborating with some of the biggest names in the entertainment and culinary world.
Welcome to Marwen, from Sunday, Sky Cinema Premiere & NOW TV
The director of Forrest Gump, Robert Zemeckis, presents a compelling tale based on a true story. Steve Carrell plays Mark Hogancamp, a man whose life is shattered when a devastating attack leaves him with no memory.
As he attempts to piece his life back together, he meticulously begins to create a wondrous miniature town – a place where he can both heal and live out the life of a hero.
Ending this Weekend
Fosse/Verdon, 9.00pm Friday, BBC Two
The final episode in this superb drama about the careers and lives of legendary Broadway dance couple Bob Fosse and Gwen Verdon, opens with Paddy Chayefsky giving Bob advice on the structure of the autobiographical film he is making - All That Jazz.
Nicole moves in with her father, who borrows her to create dance moves for the movie. Meanwhile, Gwen ponders her future and considers moving from New York, and Nicole, unhappy and experimenting with drugs, asks Gwen if she can move back in with her.
Last Night of the Proms, 7.15pm Saturday, BBC Two
Charismatic American mezzo-soprano Jamie Barton (below, right) joins Sakari Oramo and the BBC Symphony Orchestra and Chorus to lead the musical celebrations that bring the world's greatest classical music festival to a spectacular close.
Continues at 9.00pm on BBC One.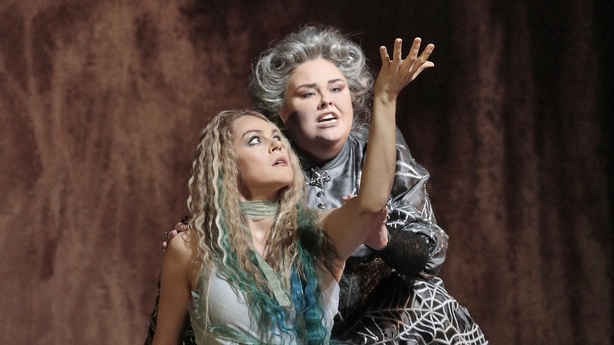 Weekend movies
The Front Runner, 9.50pm Saturday, Sky Cinema Premiere& NOW TV
In 1988, 46-year-old US Democratic candidate Gary Hart was on top of his political world. He seemed certain to run against the incumbent vice president George Bush Sr in the election to replace the outgoing Ronald Reagan. But it would never happen.
Wallace & Gromit in The Curse of the Were-Rabbit, 5.20pm Saturday, BBC One
How can this be 14 years old?
Inventor Wallace and his canine sidekick Gromit have set up a pest-control service, and are called in to stop rabbits overrunning a garden show. But the pair are overwhelmed when a destructive giant bunny arrives on the scene.
Robocop, 11.00pm Sunday, Channel 4
It's the remake rather than the original, but well worth a look.
A corporation that creates military robots seizes a chance to diversify into law enforcement when a Detroit cop is critically injured in a bombing. He is rebuilt as a crime-fighting cyborg, but struggles to regain his free will from his creators' control.
Don't Miss
Pet Shop Boys: Live in Hyde Park, 8.00pm Sunday, BBC Four
Live coverage of the Pet Shop Boys headline set at BBC Radio 2 Live in Hyde Park.
Neil Tennant and Chris Lowe are the most successful duo in UK music history, having achieved 42 top 30 singles in the UK since 1985, so there's no shortage of hits for them to choose from, as they play their only UK gig of the year in front of 50,000 festival-goers.
Keep an eye out for a mystery guest artist.
Also live on BBC Radio 2 if you fancy making a real night of it.
Here's their latest:
Box Set Binge
Damages, All4
The first few seasons of this borderline sociopathic legal drama are among the best TV has produced over the last 20 years, with Rose Byrne and Glenn Close in superb form as the two leads.
The then unknown Byrne stars as recent law school graduate Ellen Parsons, an ambitious young lawyer joins ruthless, high-profile litigator Patty Hughes (Close) to expose a billionaire's stock market manipulation and ends up as a suspect in a gruesome murder.
Each season features a major case that Hewes and her firm take on while also examining a chapter of the complex relationship between Ellen and Patty, who are both as tough as nails.
Click here for full TV listings