Peter Andre has said starring in Grease is "more fun than I ever imagined" and that theatre-goers are in for a "great show" when it comes to Dublin next week.
Andre will play the Teen Angel in Grease in Dublin's Bord Gais Energy Theatre for half of the show's run, with Samantha Mumba playing the role for the other shows.
A huge fan of the 1978 movie Grease, Andre said the stage production "tells the story better than the movie."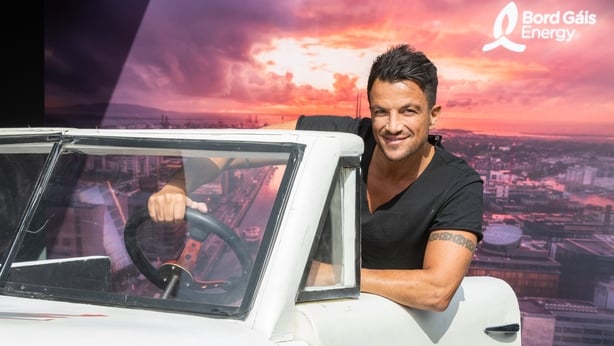 "I have to say, and I'm not just saying this because I'm in it, because I'm not in the whole length of the production, so I'm talking about the show itself, but I think it tells the story better than the movie, and I've never said that about anything," Andre told RTÉ Entertainment.
"Grease is one of my favourite movies of all time, but to give you an example, my son Junior is 14, I sat him down a year ago to watch the movie Grease and he watched half of it and said, 'Yeah, it's not really my thing'.
"He went to the show and he was like, 'Wow' so that gives you an example of how relevant the show is now. The movie was so great in its time and for me, it was the best movie ever - that and Back to the Future are my favourite movies ever - and now I'm in the production, and my kids are coming to watch it and they're going home to watch the film after the production, rather than watch the movie first, it's really good to see it this way around."
Andre shares 14-year-old Junior and 12-year-old Princess with ex-wife Katie Price, and 5-year-old Amelia and 2-year-old Theodore with wife Emily McDonagh, and his children may love his stage show, but they still give their dad "some grief" about his costume.
"It really is a great show and they love it, the only thing I'm getting grief for is that I'm wearing a set of wings, so I mean, they're sending me pictures of Kentucky Fried Chicken wings, they're sending me things of Morgan Freeman in wings, I think he played that in Bruce Almighty or something, they're sending me all sorts just giving me grief, but they love it," he laughed.
The Mysterious Girl hitmaker praised his fellow Teen Angel star Mumba saying, "Samantha is great, she's a great actress and I love the fact the Teen Angel is going to be played by a female."
Splitting the show's run with Mumba was initially a huge benefit to Andre, who was unable to commit to the entire run, but now that the show is on the road, he feels "actually quite sad" that he won't be taking to the stage every night.
He admitted, "I'm gutted I'm not doing the whole thing. Its whet my appetite so to speak, for theatre and I really want to do more now."
Samantha Mumba will appear in the shows from September 17-23, with Peter Andre performing from September 24-28.
Tickets for Grease at Dublin's Bord Gais Energy Theatre are on sale now.