There's a new documentary series about The Troubles, Bill Burr's back with a comedy special, and The Capture continues . . .
Pick of the Day
The Troubles - A Secret History, 8.0pm, BBC One
Fifty years after troops were sent on to the streets of Northern Ireland, a leading team of investigative journalists uncover secrets about the decades-long conflict that claimed more than 3,700 lives.
Reporter Darragh MacIntyre opens the series, discovering an array of new evidence, including previously classified documents, unseen film and new testimony from key new witnesses to the origins of the Troubles.
It throws new light on the formation of the Provisional Irish Republican Army, as well as the parts played by radicals who became elder statesmen, like Ian Paisley and Martin McGuinness.
This programme demonstrates how that relationship was soured by fatal errors and calculated acts of violence. New information about McGuinness' role at that time is brought to light, and the episode concludes with the destruction of the Northern Ireland government - a moment when IRA members believed they were about to force the British Army out of Northern Ireland.
New or Returning Shows
Seahorse: the Dad Who Gave Birth, 9.00pm, BBC Two
Freddy is 30 and yearns to start a family but for him this ordinary desire comes with unique challenges - he is a gay transgender man.
Deciding to carry his own baby took years of soul searching, but nothing could prepare him for the reality of pregnancy, as both a physical experience and one that challenges society's fundamental understanding of gender, parenthood and family.
Made with unprecedented access and collaboration over three years, the film follows Freddy from preparing to conceive right through to birth.
It promises to be an intimate, audacious and lyrical story for the cinema about conception, pregnancy, birth and what makes us who we are.
The Geansaí, 7.00pm, RTÉ One
Back for a new run and focusing on Ireland's sporting communities and their stories.
The opening episode looks at Parkrun, where thousands of people up and down the country meet at the same time every Saturday morning and go for a run.
A worldwide phenomenon, Parkrun came to Ireland in 2012 and currently there are 5km free timed runs organised by volunteers every Saturday at over 90 locations right across the country.
The Geansaí gets a flavour of the passion and the stories behind just some of the runs and the runners.
New to Download
Bill Burr: Paper Tiger, Netflix
Stand-up comedian, actor, and podcaster, Bill Burr, delivers a scathing review on the state of the world in his new stand-up comedy special.
Filmed in front of a packed house at the Royal Albert Hall in London, Burr dives into Michelle Obama's book tour, the problem with male feminists, his hang-ups on taking a bath, and why his personality is affecting his marriage.
Terrace House: Tokyo 2019-2020, Netflix
Six strangers share a fabulous house in Tokyo, looking for love while living under the same roof. With no script, what happens next is all up to them.
Evelyn, Netflix
In this documentary, a man and his two siblings take an epic walk from Scotland to London to find peace and acceptance 12 years after their brother's death by suicide.
Ending Tonight
High Society: Cannabis Cafe, 10.15pm, Channel 4
Ten intrepid Brits get high on cannabis in an Amsterdam coffee shop.
This time, Kellie Maloney and Jamie 'Rocky' Johnson, two giants of the boxing world, have life-changing questions for each other.
There's also Jeff and Abby - a quarrelsome father and daughter from Birmingham; and Celine and Oliver, an Edinburgh couple who can't agree on whether or not to have children.
Will getting high help resolve their issues? Also on board, ticking an item off their bucket list, are four women from the Welsh choir Only Menopause Aloud.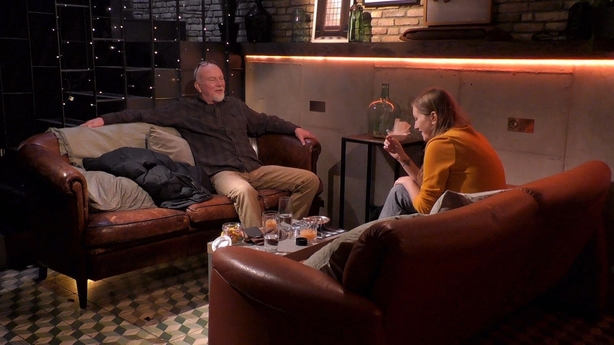 Don't Miss
The Capture, 10.35pm, BBC One
Holliday Grainger and Callum Turner are both very watchable in this new drama about technology and the all-seeing cameras that surround us.
This week, the truth about Shaun Emery's crime isn't as clear as it first appeared to DI Carey, as crucial CCTV evidence is redacted by a mysterious MI5 officer.
This surprise development forces Carey, Flynn and Latif to scramble for more evidence. But with forensics drawing a blank on his car, Commander Hart offering little support, and weak witness statements, Carey is forced to release Emery.
Click here for full TV listings