Nicole Kidman has said it is "really special" to be thriving in Hollywood and admits she hopes her success opens doors for younger actresses.
The 52-year-old Oscar-winning star, who was named actress of the year at the GQ Men of the Year Awards, recently starred in season two of the acclaimed HBO drama Big Little Lies and will appear in upcoming film The Goldfinch, an adaption of the Pulitzer Prize-winning novel of the same name.
Taking to the stage to accept her prize at London's Tate Modern, Kidman said she wants her success to empower woman.
"Thank you GQ for inviting me over here tonight. It's been a really really wonderful year," Kidman said after accepting her award from Elle Fanning.
"To be at this stage in my life and be given the opportunities I'm given now, I'm seeking roles that are really complicated and diverse and to be allowed to do them is really special, so being recognised for them is even better."
"I'm incredibly proud to be a part of a movement right now that is allowing women take control of their destinies.
"Thank you for the acknowledgement and I so look forward to doing more work," she added.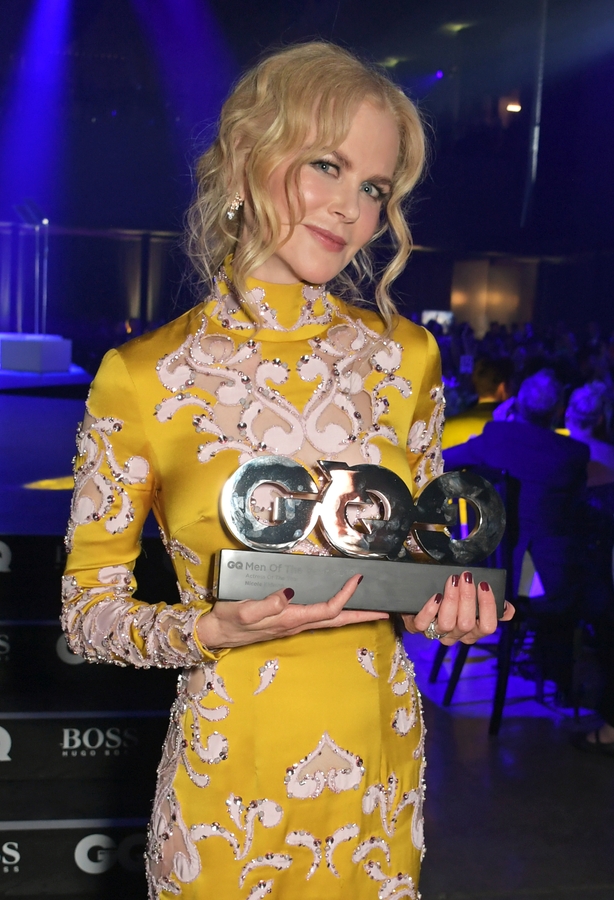 Touching on the wider #MeToo movement and the calls for gender equality in Hollywood, Kidman said she was "incredibly proud" to be part of a movement "allowing women to take control of their destinies".
She said it was "definitely just the beginning," adding: "To be able to produce and say at this stage of my life it's not over, the future is bright for me too, is also really exciting."
Earlier, Kidman had praised actress and writer Phoebe Waller-Bridge, saying she is "mind-blowing".
Asked if she had managed to see Waller-Bridge's Fleabag in the West End, she told PA: "I actually saw the play when she brought it to New York. I was shooting in New York so we went and saw Phoebe on stage in New York - she was mind-blowing.
"And then I've watched both seasons so, you know, the Emmys are coming up so..."
For more movie news, click here