Olivia O'Leary looks at the life of Daniel O'Connell, Sky's new comedy Brassic arrives, and there's the season three finale of The Handmaid's Tale . . .
Pick of the Day
Daniel O'Connell: Forgotten King of Ireland, 9.35pm, RTÉ One
Renowned broadcaster Olivia O'Leary journeys from Kerry to Dublin to Rome as she chronicles the life and the contemporary legacy of Daniel O'Connell - the man that King George IV of England grudgingly called 'the uncrowned king of Ireland.'
O'Leary recalls a history lesson from her schooldays about O'Connell's cancelling the monster meeting at Clontarf in 1843 to avoid violent confrontation with the British authorities.
O'Leary believes that O'Connell has been downgraded by the received historical narrative and wants to explore just why this is so today.
Peppered throughout this narrative will be the stories of O'Connell's life and a hard-nosed interrogation of his legacy.
New or Returning Shows
Brassic, 10.00pm, Sky One & NOW TV
Joe Gilgun and Michelle Keegan star in Sky's much-hyped comedy about how to win at life in the land that craft beer forgot.
There's Vinnie, who's shrewd, inventive, bipolar and follicly challenged. He and his Lancashire-based band of misfits go from caper to caper and try to have a laugh while doing it.
In the opening episode, Vinnie's involved in a cross-country car chase that includes a Shetland pony, a jar of chloroform and a pigeon named Nigel - and a local crime boss eager to make an example of them.
All episodes are available to download from today.
The Octopus in My House, 9.00pm, BBC Two
A professor of marine biology develops an extraordinary relationship with an octopus living in his home.
The octopus, called Heidi, unravels puzzles, recognises individual humans and even watches telly with the family.
But most fascinating of all is seeing how Professor David Scheel and his daughter Laurel bond with an animal that has nine brains and three hearts.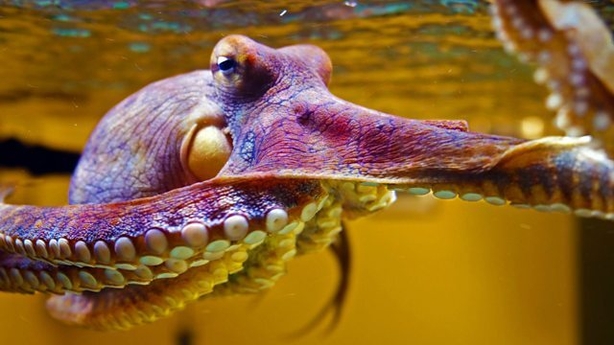 Ending Tonight
The Handmaid's Tale, 9.30pm, RTÉ Two
Season three of this Elisabeth Moss-starring drama reaches its climax.
With her plan in place, June reaches the point of no return on her bold strike against Gilead and must decide how far she's willing to go.
Meanwhile, Serena Joy and Commander Waterford attempt to find their way forward in their new lives.
Legion, 9.00pm, Fox
It's the end of the road for what's been the most distinctive, and utterly bonkers, of all the Marvel shows and films that have choked up the entertainment highway over the last 20 years.
Created by Noah Hawley - the genius behind the TV version of Fargo – it revolves around the Marvel Comics character David Haller/Legion, a mutant diagnosed with schizophrenia at a young age.
With the time demons causing chaos, the finale begins with Cary and Kerry merging to fight them alongside Syd.
Don't Miss
This Way Up, 10.00pm, Channel 4
Last week's episode was so much better than the previous week's opener, so this Aisling Bea dramedy is deffo getting the thumbs up.
This wek, Aine (Bea) and Richard's (Tobias Menzies) relationship gets complicated when she's inadvertently invited for dinner but leaves early after an awkward misunderstanding.
Aine concocts a lie to spend the weekend with her sister Shona (Sharon Horgan), much to the annoyance of her boyfriend Vish (Aasif Mandvi). Pushed out of the house by a frustrated Shona, Aine pays a visit to a psychic before an unexpected blind date goes horribly wrong.
The Directors, 8.00pm, Sky Arts
Continue your history of cinema education with this look at the career of Robert Wise.
Here's a director best known for two of the greatest musicals ever filmed, The Sound of Music and West Side Story - but he also edited Orson Welles' incomparable Citizen Kane and called the shots when the much-loved Star Trek graduated from the small screen in 1979's Star Trek: The Motion Picture.
Here's the classic opening to The Sound of Music:
Click here for full TV listings