Tonight's top telly includes The Story of Rugby, Bear Grylls hits the trail in India with a special guest, A League of Their Own returns, while it's farewell to Fake or Fortune . . .
Pick of the Day
The Story of Rugby, 10.45pm, RTÉ One
Can't stand the game myself, but I'd imagine lots of people will be eager to watch this new series tracing the history of rugby.
This six-part global documentary is about the key individuals and main events that have shaped the sport of rugby over the past 200 years, including how rugby's role in sustaining apartheid for 48 years in South Africa was also pivotal in ending it in 1995.
Episode one looks at the genesis of the game. A 16-year-old British schoolboy attending Rugby School, William Webb Ellis, is credited as the father of the game, whereas Thomas Arnold, the headmaster of Rugby School, was the man responsible for introducing a 'muscular Christianity' into English culture and games such as rugby.
New or Returning Shows
Fleadh TV, 8.30pm, TG4
Get ready for a hefty three-hour music and entertainment programme showcasing the best of traditional and folk music from the Fleadh Cheoil na hÉireann in Drogheda.
Presented by Hector Ó hEochagáin, Doireann Ní Ghlacáin and Róisín O, the show goes out over the next four nights, which is an impressive commitment to the cause from TG4.
There won't be a dry tin whistle left in Drogheda!
Men vs Wild with Bear Grylls and PM Modi, 11.00pm, Discovery
The Indian prime minister, Narendra Modi, joins Bear Grylls on the latter's survival series to talk about his relationship with nature and growing up in a poor family.
Following in the footsteps of former US President Barak Obama, who also guested on the show, he braved the rain and cold in the jungles of Jim Corbett National Park in Uttarakhand, in northern India.
This isn't what you'd call a walk in the park.
A League of Their Own, 9.00pm, Sky One & NOW TV
The boys are back - well, mostly - for what's the 14th season of Sky's playful sports quiz show.
Freddie, Jamie and Romesh back as the series' regulars, while a diary full of singing in cars means James Corden will be handing the hosting duties over to some special guests over the course of the run.
Though he has made sure to take time out of his celebrity-pestering schedule across the Atlantic to host the opening episode and get things off on the right foot. Let the games commence.
New to Download
Whindersson Nunes: Adulto, Netflix
Brazilian YouTube sensation Whindersson Nunes revisits his humble beginnings and much more in a series of playful stories and peculiar songs. If you've never heard comedy in Portuguese before, here's your chance.
Here's a pre-subtitled trailer:
Ending Tonight
Fake or Fortune, 9.00pm, BBC One
In this episode Philip Mould and Fiona Bruce investigate a highly desirable Venetian view. It was inherited by owner Nick Hopkinson from his great grandfather Meyer Spielman.
Nick grew up with the painting and has always loved it, but there's a mystery about it that he would love to solve: on the back of the painting there are two labels from the Royal Academy - one names the artist as Marieschi, and the other as Guardi.
Nick has long wondered who is the hand behind one of his most treasured belongings, and contacted the Fake or Fortune? team for help.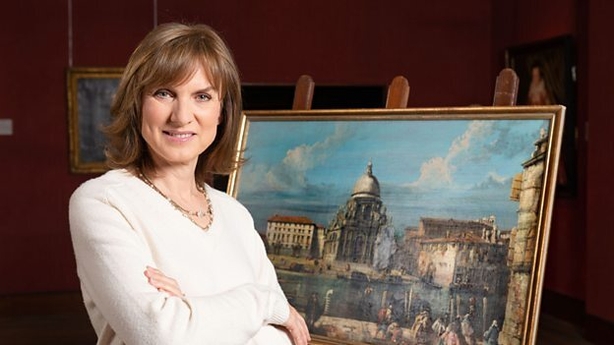 Don't Miss
The Handmaid's Tale, 10.30pm, RTÉ Two
The third season of the Elisabeth Moss-starring drama series set in a dystopian society, based on the novel of the same name by Margaret Atwood, reaches its penultimate episode after last week's jaw-dropping events.
This week the leadership of Gilead is rocked by losses close to home. Meanwhile, Luke and Moira adjust to new arrivals in Canada, and June worries about disruptions to her plan - only to have tragedy strike the entire household.
This Way Up, 10.00pm, Channel 4
Aisling Bea's latest comedy venture continues as Aine (Bea) is interviewed for a private tutoring job teaching English to a young French boy.
Etienne (Dorian Grover) has recently lost his mother and finds himself living in London with his reserved father Richard (Tobias Menzies), who he barely knows.
But when Aine insists on taking a Bulgarian student to hospital, she's at risk of missing her first lesson with Etienne and badly letting him down.
Click here for full TV listings