Kathy Burke take a look at women's lives in today's world, controversial teen drama Euphoria continues, and Tiffany Haddish looks at six upcoming comics . . .
Pick of the Day
Kathy Burke's All Woman, 10.00pm, Channel 4
In this three-part series, actor and writer/director Kathy Burke goes on the road to talk with all sorts of women, asking all sorts of questions, while giving up revealing insights into her own personal experiences.
The rites of passage experienced by many women have escaped Kathy. She has never wanted children and has never married. And despite being lucky to be blessed with a 'naturally high, fat arse, so I've got one thing on Kim K', she recognises she is not considered conventionally beautiful.
If women are unhappy with their appearance they can now change it. But should women try to conform to a fixed idea of what beauty is, or accept how they are?
For starters, Kathy accompanies Megan Barton Hanson to a red carpet event. Megan spent a hefty five-figure sum on cosmetic surgery to transform herself and launch a career on Love Island.
New or Returning Shows
Vitamin Pills: Miracle or Myth? 7.00pm, RTÉ 2
This BBC Horizon special is well worth a look - especially if you're one of the growing number of people who consume vitamin or mineral supplements.
While it's a common activity for many, what are these easily available pills actually doing? Digging deeper than the eye-catching words on the packaging, Dr Giles Yeo investigates who really needs a supplement by putting our diets to the test.
New to Download
Tiffany Haddish Presents: They Ready, Netflix
Comedian and Girl's Trip breakout star Tiffany Haddish introduces the world to six of her favourite comedians in this collection of half-hour stand-up comedy specials.
It features a diverse group of comedians with whom Haddish shares a personal history: Chaunté Wayans, April Macie, Tracey Ashley, Aida Rodriguez, Flame Monroe, and Marlo William.
Ending Tonight
Top Gear, 8.00pm, RTÉ 2
It's the last ever episode for hosts Matt Le Blanc and Rory Reid, as the former gets to drive an Aston Martin Vantage and the latter goes for a spin in a Rolls Royce Phantom.
Elsewhere, Chris Harris is off on a road trip to Swansea in a Ford Fiesta ST.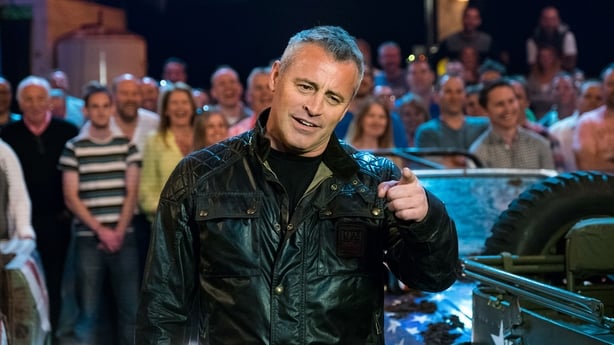 No Activity, 11.10pm, RTÉ 2
It's the season one finale of the cop comedy about two cops on a stakeout. Finally, after weeks of surveillance, it's finally time for the drug bust to go down.
Big in the Valleys, 11.50m, BBC One
The fly-on-the-wall documentary series about overweight millennials concludes as rapper Nathaniel gets interviewed at a radio station, Trinity waits to hear if her liver function has improved, while Rachel Lee, who is large and proud, dreams of making it in the West End.
Ill Behaviour, 11.40pm, RTÉ 2
In the third and final episode of this Showtime dramedy, Charlie's second escape attempt ends in failure, so Joel and Tess decide to secure him behind bars in the cellar of the house.
Don't Miss
Share, 11.10pm, Sky Atlantic
This HBO drama's well worth a look, and based on Pippa Bianco's Cannes Film Festival award-winning short of the same name.
After discovering a disturbing video from a night she doesn't remember, 16-year-old Mandy must try to figure out what happened and how to navigate the escalating fallout with her friends, classmates and family.
Euphoria, 10.00pm, Sky Atlantic & NOW TV
Last week's opening episode of this new teen drama was pretty impressive, with Zendaya nailing it as Rue, a rather brittle and vulnerable 17-year-old.
On the first day of school, Rue's excited about her new friend Jules, but struggles to put the past behind her and gets herself into trouble at Fezco's.
Meanwhile, Nate becomes obsessed with Maddy's hookup, Tyler, while trying to get back together with Maddy. Kat finds out a video of her has surfaced online. McKay takes the stress of college out on Cassie.
Click here for full TV listings