Here are some tips on what's worth watching on the telly this weekend between now and Sunday night . . . as always, it's a busy one!
Pick of the weekend
Glow, from Friday, Netflix
As Alison Brie and the gang return for a third run of the show about a female wrestling crew, a new face joins the cast and the gang sifts to Las Vegas, where a toxic combination of power struggles, sexual tension and shifting priorities threaten their bond.
Geena Davis joins the show as Sandy Devereaux St. Clair, the entertainment director of the Fan-Tan Hotel and Casino, where the women will be putting on their wrestling show.
New or Returning Shows
Dragons' Den, 8.00pm Sunday, BBC Two
Crafting queen Sara Davies, the youngest ever Dragon, joins titans of industry Peter Jones, Deborah Meaden, Touker Suleyman and Tej Lalvani in a den that is hotter than ever.
Straight-talking Davies has business in her blood and started her multi-million pound empire from her university bedroom. Now she's ready to spend some of that hard-earned cash - but first she must compete for the best investments with the four formidable existing Dragons.
This photo makes them look like a band of jewel thieves.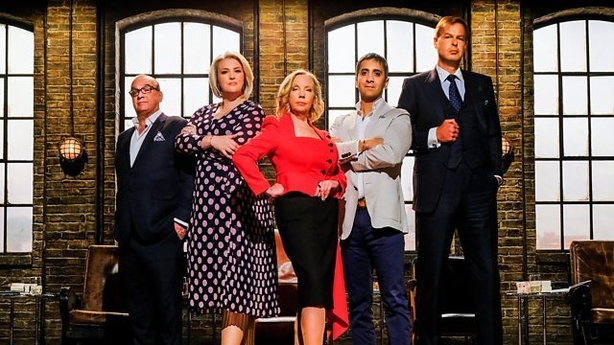 Creedon's Atlas of Ireland, 6.30pm Sunday, RTÉ One
John Creedon is a man on a mission, teasing and exploring the true meaning behind some of Ireland's most unusual, iconic and famous place names.
In the opening episode, John visits Derry, Cavan, Leitrim and Donegal. In Derry's Bogside he meets the legendary punk band The Undertones' bass player Mickey Bradley and lead singer Paul McLoone, and chats about growing up in Derry and the dual place name of Derry and Londonderry.
In Cavan he explores the poetry and culture behind place names with Michael Harding.
The Queen's Lost Family, 8.00pm Sunday, Channel 4
Using never-before-seen personal letters, diaries and photograph albums, this new series tells the inside story of the British royal family over three turbulent decades from the 1920s to the end of WWII.
Episode one begins just after the First World War: monarchies throughout Europe have toppled, most working men and many women now have the vote: it's a new, democratic, unpredictable age. George V has changed the royal family's name from Saxe-Coburg and Gotha to Windsor - and deploys his five children as part of a charm offensive to woo the British public.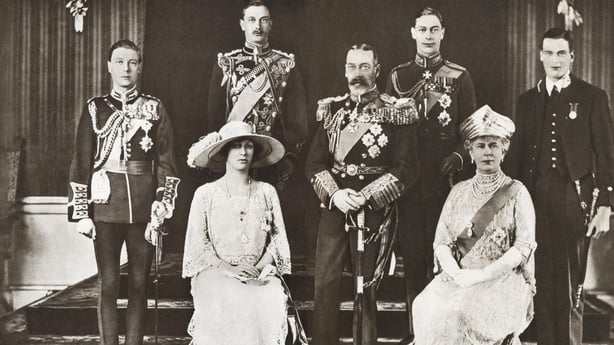 Joan Jett: Bad Reputation, 9.00pm Saturday, Sky Arts & NOW TV
From her teenage years as a founding member of The Runaways to her enduring presence over four decades later as a Rock 'n' Roll survivor, this documentary reviews Joan Jett's career.
And there's input from her peers and fellow music icons including Debbie Harry and Iggy Pop, and also those who felt her influence in their own careers, such as Miley Cyrus and Green Day's Billie Joe Armstrong.
Thou Shalt Not Kill, 9.00pm Friday, More4
Walter Presents continues its subtitle slalom through Europe with this haunting Italian detective drama about determined police officer Valeria Ferro.
In a feature-length opener, the body of 15-year-old Sara Damiano is found in a flooded basement. Her father and diving coach, Giancarlo, hears the news while at a television studio where he has gone to make an appeal regarding his daughter's disappearance.
In the homicide division of Turin's police force, Inspector Valeria Ferro grabs the reins of the investigation.
Flip it Like Disick, 10.00pm Sunday, E! & NOW TV
Entrepreneur and former Kardashian chew toy Scott Disick brings you into the world of high-end real estate and luxury renovation with his most extravagant venture yet.
With a talented team behind him, Scott is looking to flip property for serious profit and convert unique home projects for some of his celebrity friends and family.
Secrets of Egypt's Valley of the Kings, 7.00pm Saturday, Channel 4
This series follows the adventures of international teams of Egyptologists as they unearth the world's richest seam of ancient archaeology, inside Egypt's Valley of the Kings.
In this episode, archaeologists unlock the mysteries of Egypt's most famous pharaoh, Tutankhamun. That's followed at 8.00pm by Egypt's Great Pyramid Uncovered, about the six-million-ton Great Pyramid of Giza, which is the last surviving wonder of the ancient world.
New to Download
Sintonia, from Friday, Netflix
Three teens living in the same São Paulo favela pursue their dreams while maintaining their friendship, amid a world of music, drugs and - ? - religion.
Cable Girls: Season 4, from Friday, Netflix
The Spanish period drama returns. Amid social changes in 1931, the friends get tangled in a murder mystery and must work together to solve it before one of them is sentenced to death.
The Family, from Friday, Netflix
Investigative journalists expose The Fellowship, a Christian fundamentalist organization quietly operating in the corridors of power in Washington, DC.
Ending this Weekend
Punk, 9.00pm Friday, Sky Arts
The final part of the warts-and-all music documentary series sees how, almost in spite of itself, punk broke big, as talents such as Nirvana, Bad Religion and Green Day break into the mainstream while women also roared onto the scene in bands such as Bikini Kill and L7.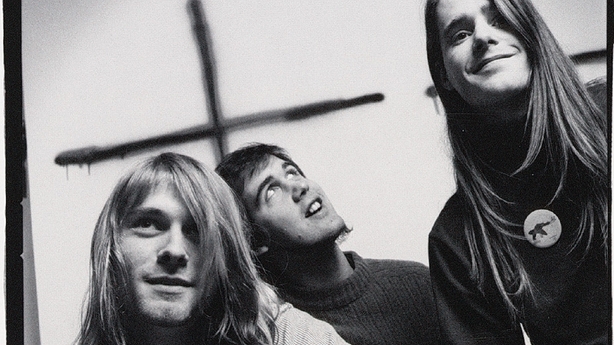 Atlanta: Robbin' Season, 10.30pm Saturday, BBC Two
The second season of Donald Glover's superb and innovative comedy series comes to a rather hasty end on the Beeb as they're showing no fewer than three episodes back-to-back.
First up, Earn has got Al a college gig out of town with Clark County, but he is doing it on the cheap and they are staying in a student's house. When things go wrong it turns into a very strange trip.
Weekend movies
Spider-Man: Into the Spider Verse, 8.00pm Friday, Sky Cinema Premiere & NOW TV
From the minds behind The Lego Movie comes this fresh and inventive spin on your friendly neighbourhood wall crawler.
When teenager Miles Morales is thrust into the role of Spider-Man, he discovers he is just one of many Spider-Persons existing across infinite parallel universes, and when these worlds collide, it's down to him, Peter Parker, Spider-Gwen, Penni Parker, Spider-Man Noir and Spider-Ham to prevent oblivion.
A Most Violent Year, 11.35pm Friday, BBC Two
This thriller, starring Oscar Isaac, Jessica Chastain and David Oyelowo, is set in New York City during the winter of 1981. The Big Apple was a grim place back then.
It was also a dangerous place to be, but one immigrant is determined to expand his business and support his family. Unfortunately, the unrelenting rise in violent crime threatens to ruin his livelihood and destroy everything he has.
The Blues Brothers, 11.40pm Saturday, RTÉ One
John Belushi and Dan Aykroyd star as two criminal brothers who discover that the orphanage where they were raised faces closure unless the nuns who run it can pay their tax bill.
They embark on an urgent mission to revive their old blues band to raise the money needed.
This classic homage to soul music includes such luminaries as Ray Charles, James Brown and Aretha Franklin.
Don't Miss
BBC Proms: John Wilson Orchestra, 8.00pm Friday, BBC Four
You don't have to be into classical music or to get a kick out of this particular night at the Proms, which has become one of the highlights in any Prom season.
This year, John Wilson's virtuoso orchestra celebrates the music of one of the world's most famous film studios, Warner Brothers.
The lush sounds of composers such as Max Steiner and Erich Korngold are among the many pieces showcasing why this historic studio holds a special place in the hearts of lovers of film music.
Here's some MGM magic from 2009:
Box Set Binge
The Thick of It, Netflix
Once upon a time, political satire was a thing. But since the advent of Trump and Brexit, well, there's not much point anymore.
But if you yearn for less idiotic times, all four seasons of Armando Iannucci's biting look at the bumbling British political class is a highly addictive watch - especially when Peter Capaldi's on screen.
The future Doctor Who puts everything into his role as the cutting Malcolm Tucker, the British government's highly aggressive and foul-mouthed enforcer. The word 'omnishambles' was created for him before it became a reality for us all.
Rebecca Front and Joanna Scanlon are among a great cast, it's such a pity that what's actually happened since has made a show as good this all but redundant.
WARNING - this trailer contains very strong language from the outset:
Click here for full TV listings