Here are some tips on what's worth watching on the telly this weekend between now and Sunday night . . . as always, it's a busy one!
Pick of the weekend
Love Island: the Reunion, 9.00pm Sunday, Virgin Media Two
If your Love Island withdrawal is getting too much to bear, here's something extra to keep the blues away.
Caroline Flack, Iain Stirling and all the Islanders - including the Irish, of course - from the 2019 contest will be live in the studio. Who of the couples are still together? Is love still on the cards? And have any dumped Islanders been secretly hooking up?
No question or topic, apparently, is off the table here. Which means this show could go off the charts, and there are sure to be some shocking reveals.
New or Returning Shows
Everybody in the Place, 11.35pm Friday, BBC Four
Anyone who was around to experience the Second Summer of Love will lap this up.
Acid house is often portrayed as a movement that came out of the blue, inspired by little more than a handful of London-based DJs discovering ecstasy on a 1987 holiday to Ibiza.
In truth, the explosion of acid house and rave in the UK was a reaction to a much wider and deeper set of fault lines in British culture, cutting across boundaries of class, identity and geography.
Here, Turner Prize-winning artist Jeremy Deller upturns popular notions of rave and acid house, situating them at the very centre of the seismic social changes that reshaped 1980s' Britain.
Rare and unseen archive materials map the journey from protest movements to abandoned warehouse raves, the white heat of industry bleeding into the chaotic release of the dancefloor.
Here's the classic Voodoo Ray by A Guy Called Gerald:
Hold the Sunset, 9.00pm Friday, BBC One
Alison Steadman and John Cleese return as Edith and Phil for a second run of the comedy about a retiring couple.
With Edith and Phil's sunset retirement waiting on the sale of the house, Phil begins to despair of it ever selling. Queenie talks him into holding an Open Day - but she has ulterior motives.
Edith is heartened to find that her son Roger is earning some sort of a living, even if it's only busking with her old flame Bob the Burglar and performing a ventriloquist act with his toy crocodile Methuselah.
Merely Marvelous - The Dancing Genius of Gwen Verdon, 10.30pm Saturday, BBC Four
If you watched Fosse/Verdon on BBC Two on Friday night, this documentary will make a superb companion piece.
One of Broadway's greatest talents, Gwen Verdon was a winner of four consecutive Tony Awards as Best Actress in a Musical. Her career spanned fifty years on Broadway, in Hollywood and on television.
She was the muse of two of Broadway and Hollywood's greatest choreographers, Jack Cole and Bob Fosse.
Here's Whatever Lola Wants from Damn Yankees:
Mortimer & Whitehouse: Gone Fishing, 8.00pm Friday, BBC Two
Comedians and lifelong friends Bob Mortimer and Paul Whitehouse return to share more of their personal and hilarious life experiences while travelling around the UK fishing for elusive species.
First up, they travel to the picturesque River Usk in Wales, where Paul's father first taught him to fish as a child, and they discuss their respective childhoods and reflect on their own family lives.
Below the Surface, 9.00pm Friday, BBC Four
Back for a second season, this Danish thriller was pretty impressive first time around, with a tale about a hostage situation on an underground train.
In this new run, the story is overground and far away as a woman uncovers evidence of Danish soldiers being killed while fighting in Syria, despite there being no official acknowledgement of their involvement.
Then she gets kidnapped, and the real fun begins.
Blarney - a Year on the Estate, 7.30pm Sunday, RTÉ One
Documentary filmed over a year taking a look behind the scenes of the work required to keep the world-famous Blarney Castle Estate up and running, as it deals with thousands of tourists from all around the world, who want to visit this icon of the Irish tourism industry.
Mary from Dungloe, 8.30pm Sunday, TG4
Daniel O'Donnell and Caitlín Nic Aoidh host the special live programme for the gala event of The Mary from Dungloe International Festival, as Irish girls compete for the 2019 title.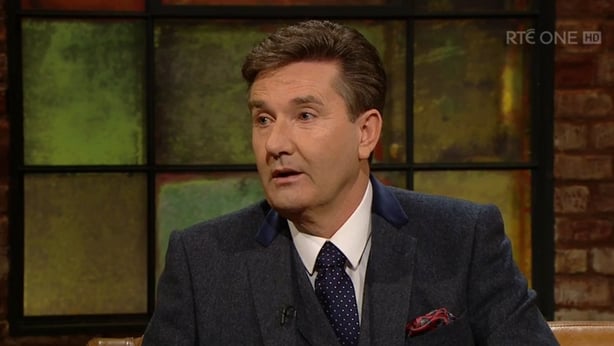 Temptation Island, 9.00pm Sunday, E! & NOW TV
One of the naughtiest of the noughties' reality series gets revamped in a new series of Temptation Island.
For those blissfully unaware, the show follows four couples at a pivotal time in their relationships where they must decide if they're ready to commit to each other for the rest of their lives - or go their separate ways.
Together, the couples travel to the tropical paradise of Hawaii, where they join 24 sexy, eligible singletons and revisit the single life.
New to Download
Otherhood, from Friday, Netflix
Feeling forgotten on Mother's Day, three best friends leave the suburbs and drive to New York City to surprise their adult sons.
c: Volume 3, from Friday, Netflix
As the students of Winchester embrace new creative challenges and romantic possibilities, a charismatic professor shakes up life on campus.
Basketball or Nothing, from Friday, Netflix
Follow the Chinle High basketball team in Arizona's Navajo Nation on a quest to win a state championship and bring pride to their isolated community.
Ending this Weekend
Still Game, 9.30pm Friday, BBC One
In this apparently poignant final episode, comedy fans bid a fond farewell to Jack, Victor and the rest of the Craiglang gang in this quirky Scottish sitcom.
While animal lover Isa gets into a financial fix thanks to her charitable habits, Jack and Victor finally go on an adventure they've been planning for years.
At the Clansman the pals reflect about the marching of time, which puts Jack into a contemplative mood. He realises that he and Victor should stop making up excuses and accomplish their long-standing ambition to climb Ben Lomond.
Code 37: Sex Crimes, 9.00pm Friday, More4
The intense Belgian crime thriller concludes with a feature-length finale.
Chief Inspector Hannah Maes turns to her neighbour Koen for help when her personal life becomes as complex as one of her cases.
Meanwhile, the team investigate a savage attack against a young woman who was brutally raped and then left for dead.
Dynasties, 6.30pm Sunday, RTÉ One
David Attenborough narrates footage of a tiger in the dense jungles of India's Bandhavgarh Reserve.
The big cat has four newborn cubs to protect as rival tigers are determined to take over, and one of her own previous offspring becomes a persistent enemy.
Ed Balls – Trump's America, 11.35pm Sunday, RTÉ 2
Appallingly entertaining, this series end with Ed Balls discovering who benefits financially from Trump's presidency, paying a visit to his private members' club where a party is being held to mark the first anniversary of the election victory.
Here's Ed talking about his adventures:
Weekend movies
Ibiza: the Silent Movie, 10.00pm Friday, BBC Four
A 90-minute feature film that drills into the soul of this extraordinary, magical Island and releases the story of 3,000 years of Ibizan history.
Julien Temple's film re-enacts, with cameo Hollywood performances, forgotten epic moments in the history of the island. Should be a right blast, this. The trailer's deadly:
Nightcrawler, 11.55pm Friday, RTÉ 2
Taxi Driver meets The King of Comedy in this superb drama - one of the best films I've seen in the last 20 years.
Jake Gyllenhaal is outstanding as a cynical petty crook who decides to go into business filming crime scenes and accidents, selling the resultant footage to news broadcasters.
His determination to stay ahead of the competition leads him down an extremely dark path as his methods become increasingly ruthless.
Kung Fu Panda, 5.25pm Saturday, BBC One/3.35pm Sunday, Virgin Media One
This is great fun. And you've two chances to see it over the weekend, with the BBC One screening coming with the bonus of no ad breaks.
A hero is needed to defend a peaceful valley community from attack by a snow leopard. The unlikely candidate for the job is as Po, an energetic yet accident-prone giant panda who is a big kung fu fan.
Jack Black voices Po, who enlists the aid of a legendary team of animal fighters and their wise master to teach him the martial arts skills he needs to fulfil his destiny.
Don't Miss
Fosse/Verdon, 9.00pm Friday, BBC Two
This eight-part biopic of choreographer, director and all-round dance genius Bobb Fosse, and dancer, singer and actor Gwen Verdon has already been hailed as a classic in the US.
The story starts in 1966 and Bob Fosse is in Hollywood on the set of Sweet Charity, the film of the successful Broadway musical that had starred his wife Gwen Verdon, who has been replaced on screen by Shirley MacLaine.
In the second episode of an opening double-bill, Gwen is with Joan Simon in Majorca, after discovering that Bob has been unfaithful during the filming of Cabaret in Munich.
She reflects on meeting Fosse years earlier, when she was offered the lead in the musical Damn Yankees. Fosse had insisted on auditioning her and they immediately hit it off. At the time Fosse was married the actress Joan McCracken.
Box Set Binge
Patrick Melrose, Sky Box Sets
Benedict Cumberbatch didn't merely chew the scenery here, he came close to almost exploding on-screen.
Based on the novels by posh English author and journalist Edward St Aubyn, this five-part drama stars Cumberbatch in the titular role, in this biting satire on the English upper class.
The story traces Melrose's journey from a traumatic childhood through to adult substance abuse and, ultimately, towards recovery.
The opening episode - where Melrose is spectacularly out of it and completely out of control - is a draining but hugely entertaining experience. The best 'out of it' acting I've seen since Peter O'Toole in My Favorite Year.
Click here for full TV listings