Chris Pine stars in new US drama I Am the Night, Stanley Donen is the focus of The Directors, and it's the season finale of Natan Fillion's The Rookie . . .
Pick of the Day
I Am the Night, 9.00pm, Alibi
Star Trek's Chris Pine stars in what looks like a promising six-parter based on the memoir One Day She'll Darken: The Mysterious Beginnings of Fauna Hodel, written by Fauna Hodel, documenting her unusual background and her grandfather, a prime suspect in the infamous Black Dahlia murder mystery.
Fauna Hodel, a young girl who was given up by her mother, sets out to uncover the secrets of her past and ends up following a sinister trail that swirls closer to a gynaecologist involved in the killing in Los Angeles of aspiring actress Elizabeth Short in 1947.
Pine plays Jay Singletary, a disgraced LA-based journalist and Korean War veteran who encounters Fauna Hodel as he investigates her grandfather, George Hodel.
New or Returning Shows
Britain's Giant Pet Food Factory, 9.00pm, Channel 4
It's a little-known fact - and certainly news to me - that Mars make more pet products than chocolate.
This documentary offers unprecedented access to their giant pet food factory in Melton Mowbray, which is operational all day, every day, to meet a target of turning out one million pet food pouches a day.
The team work obsessively in their quest to satisfy pets of all varieties. There's a 14-acre science research centre where 1000 animals and 250 humans test and trial new products.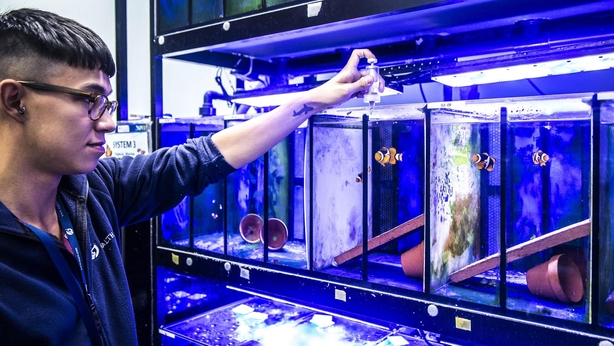 The Street, 10.00pm, Virgin Media One
The third season of Jimmy McGovern's drama about various residents of an unnamed street in Manchester begins with Paddy (Bob Hoskins), landlord of the Greyhound pub, banning Callum Miller for smoking.
This antagonises the boy's father, Tom (Liam Cunningham), who has a violent reputation. He threatens to harm Paddy if the ban is not lifted by the next afternoon. But Paddy finds it hard to find anybody prepared to support him.
New to Download
The Darkest Minds, Sky Cinema Premiere & NOW TV
Amandla Stenberg, Mandy Moore and Bradley Whitford star in this drama centred on a contagious disease that wipes out 98% of American children - while the survivors develop a range of superpowers.
The US Government then deems these kids to be a threat and places them in different camps all over the country in an attempt to control them. Some are even ordered to be executed.
One of them is 16-year-old Ruby, who escapes from her camp and joins a group of runaway teenagers.
Ending Tonight
The Rookie, 9.00pm, Sky Witness & NOW TV
Nathan Fillion's never found a show to match Firefly, but this fluffy cop show is amiable fun.
As the rookies prepare for a big exam, Nolan (Fillion) and Bishop get called to the scene of a murder, where it appears that the victim may be tied to a potential terrorist attack on Los Angeles.
Don't Miss
The Directors Stanley Donen, 8.00pm, Sky Arts & NOW TV
The series that examines the life and work of Hollywood's most respected filmmakers continues with Stanley Donen under the spotlight. Donen is best known for co-directing the magnificent Singing in the Rain with Gene Kelly, as well as also directing the likes of Seven Brides for Seven Brothers, Indiscreet and Charade.
Click here for full TV listings