The Gay Byrne Show began in 1973 as The Gay Byrne Hour and from the start, the only way was up for the programme, which ran for 25 years until its final live edition on Christmas Eve, 1998.
That final show was recorded at the St. Stephen's Green end of Grafton Street in which the charismatic broadcaster was joined by the late Sonny Knowles, who led the assembled fans in a rendition of Dublin Saunter, a song forever associated with Noel Purcell.
The presenter declared that his final programme was a tribute to his listeners who helped make him Ireland's number one radio star. Gay was subsequently 'arrested' by Gardaí Pat Shortt and Jon Kenny, known collectively as D'Unbelievables, for causing a traffic obstruction.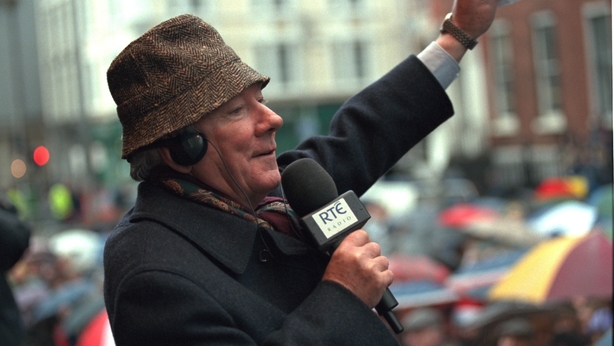 Thus the lighthearted finish to a daily programme, which, following its extension to a two-hour slot in 1979, enjoyed an average listenership of 800,000 in its 1980s prime, between the hours of 9.00am to 11.00am, Monday to Friday.
Taboos were broken on the radio show, that's for sure. There had been notable campaigns relating to civil rights in the 1970s, but a certain steady-as-she-goes attitude prevailed until Gay's programme cam on air. Fortuitously enough, The Gay Byrne Show seemed to coincide with new patterns of thinking and its daily presence opened up space for new debates, based on the personal stories aired.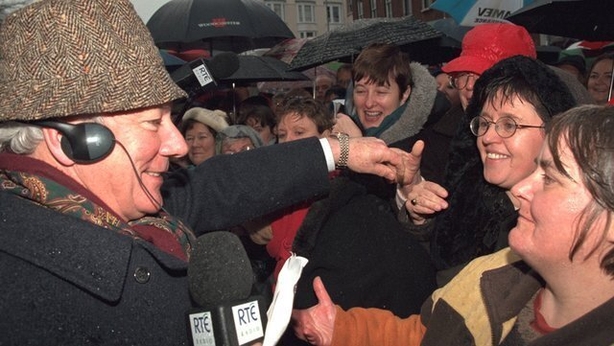 Gay always claimed that changes in attitudes had less to do with him and more to do with what journalists said about his work as a broadcaster. Whatever about that, there was an untrammelled air to Gay on the radio, a sense that you could tune in some mornings and be surprised or shocked by what you you heard. Abortion, divorce, and gender identity were up for discussion, and the man tackled each subject with tact, intelligence and a certain relish that got us all interested.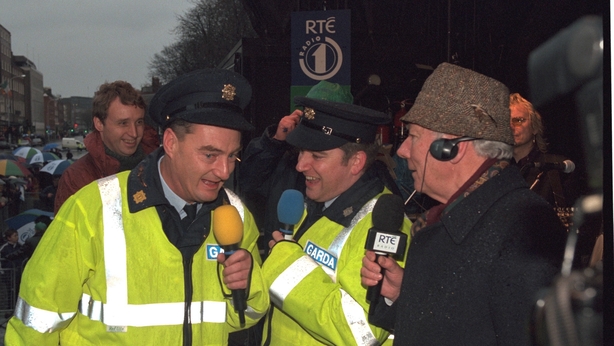 Some standout moments included Tiede Herrema, the Dutch businessman, who had been kidnapped by the IRA in 1975, speaking to Gay at length about his ordeal a decade later.
In 1984 the McStay family discussed the life-saving operation that was vital for their 18-month-old son Colin. They needed to raise £50,000 for the procedure, and after their radio interview with Gay and a subsequent appearance on The Late Late Show, £1m was raised. Over 20,000 letters arrived at the family's home from well-wishers and fund-raisers.
Ann Lovett's story from 1984 is one of the most often recalled. The 15-year-old girl from Granard, County Longford died after giving birth to a stillborn boy at a local grotto. News of her death opened the floodgates, and Gay received "too many letters, they couldn't be ignored."
A fortnight after the young girl's passing, the broadcaster spent two hours reading out a selection from the hundreds of letters received in the month of February 1984. His listeners were spellbound as they listened to successive accounts of teenage pregnancy, stories of stigma, isolation, bullying, and the cold brush-off when sympathy or loving company was denied.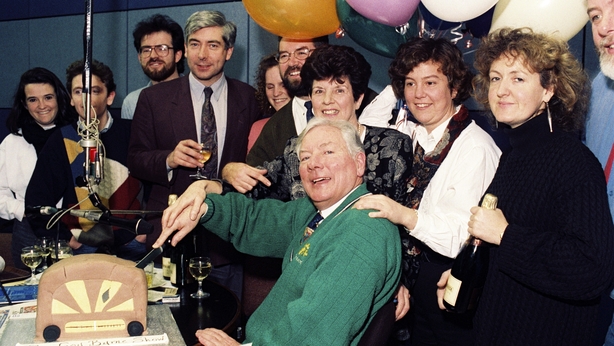 "Time and again they make the point that being able to write it all down is a relief," said Gay about those stories. "They thank Ann Lovett for giving them the courage to express what they have kept secret. Her sacrifice was not in vain, is their point."
Gay spoke about that period in his broadcasting life during the RTÉ TV documentary, Last Orders, which aired in 2016. "It is my personal belief the Ann Lovett case was the first time that little slab had been raised, under which existed this whole underworld of nastiness," he said, referring to what was perhaps the most enduring chapter in his radio show's history.
In more recent years, he presented an entirely different kind of show on RTÉ Lyric FM, known firstly as Sunday Serenade, and later as Sunday with Gay Byrne. In these free-wheeling programmes he indulged his beloved Big Band favourites and the music of jazz pioneers like Artie Shaw, Thad Jones, and in particular Benny Goodman, on whom he did a special..
He tended, however, to draw a line at bebop and, as a rule, no Miles Davis or John Coltrane was heard. He also used the show to air his own opinions about stage shows, musicals or plays he had seen, books he had read, and TV programmes he had watched. He regaled listeners with stories about personalities he had met, either on his TV series, The Meaning of Life, or, years before, on The Late Late Show.
Gay had certain issues with the pronunciation of radio presenters and continuity announcers, the "soft T" being a particular bugbear.
It seemed somehow right that the final chapter of Gay's radio career should have been that light, untroubled touchdown, with a blast of Benny Goodman putting a sudden stop to his mischievously provocative opinions about all and sundry.
Paddy Kehoe