John Byrne meets some of the cast of Kinky Boots, the award-winning musical with songs by Cyndi Lauper and a story of a cobbler's son and a drag queen with the world at their heels . . .
"We meet in a Soho street, when I'm on my way to a show, and I smack Charlie Price in the mouth with a boot of mine. And then we go on a long journey together."
Ladeeez and gentlemen, I give you: Kinky Boots.
Kayi Ushe is sitting in a room at the Theatre Royal Plymouth ahead of a performance of Kinky Boots, the gloriously upbeat slice of musical theatre, which arrives at Dublin's Bord Gáis Energy Theatre in August.
Inspired by the film of the same name that was itself based on a true story, and topped with tunes written by Cyndi Lauper, who's gone from brash pop star to award-winning Broadway composer.
Kayi plays Lola, a drag queen who performs with a back-up troupe of drag dancers, the Angels. And Lola's finding it hard to find a pair of high heels designed to take a man's weight.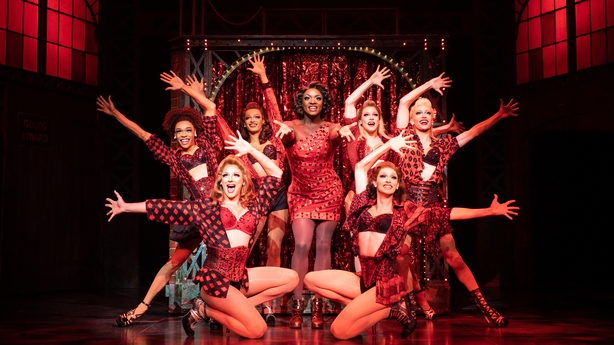 Sitting beside Ushe is Paula Lane, probably best known outside of theatre for her role as Kylie Platt in Coronation Street. "I play Lauren, a factory worker," she explains. "She works under Charlie's father, and then Charlie, when he takes over."
So, you might be wondering at this point: who's Charlie? Joel Harper-Jackson is best placed to straighten that one out, given that Charlie Price is the character he plays in Kinky Boots.
"It starts in Northampton, where my dad owns a shoe factory, and it's been going for four generations," Harper-Jackson says, outlining the story and his character's involvement. "He wants me to take it over. But I'm quite reluctant to do so. My fiancée wants me to move to London and work in real estate marketing, and I'm just kind of like, 'Okay, I guess I'll do this'. He knows he doesn't want to take over the business.
"As soon as he gets to London, he gets a call saying that his dad has passed away. So he has to go back to Northampton and sort out everything, and finds out that the factory's in a lot of financial trouble. And they're going to go under."
Naturally, Charlie's in a bit of a quandary. His fiancée may want him to move to London, but he doesn't want to be the one who renders all the factory workers unemployed, as he basically grew up among them and regards them as family.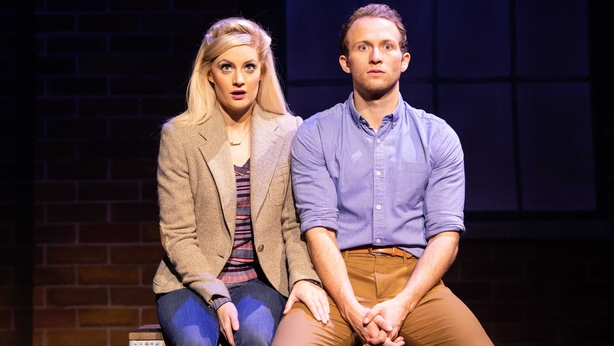 "And then, when he's in London, in a chance meeting with Lola, Lola says she never has any footwear that could live up to her wear and tear. I have a light bulb moment and then go off on this wonderful journey of making boots for transvestites and drag queens.
"That's kind of the basics but then there's so much more to it and it's a good old laugh but it's got an awful lot part of that as well," he adds.
Looking at Kayi, you can see how he'd need a pretty sturdy set of boots for a drag act. In great shape, l'd imagine he could wrestle a bear before breakfast, which is just as well, because the role of Lola isn't just central to the show's many song-and-dance routines, it requires a hell of a lot of stamina.
Lola's like an amphetamine-fueled cross between the late, demented funkster Rick James and Tim Curry's Dr Frank-N-Furter in The Rocky Horror Picture Show.
"It's a hugely physical role, like it's a challenge in every aspect of my physicality," Kayi admits. "Just wearing the boots, you know, being on what's basically demi pointe [a position in ballet in which the dancer is on the balls of their feet] for the majority of the show. And six inch heels are really no laughing matter!"
Getting back to the plot of Kinky Boots, Paula recalls how her character, factory worker Laura, plays a pivotal role in proceedings - especially when London drag queen Lola meets the staff at Charlie's shoe factory. It's a serious clash of cultures.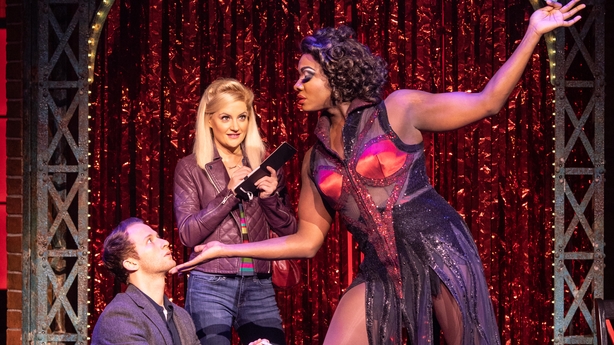 "After Charlie encounters Lola on the street and gets hit with the boot, we then progress as me and Charlie end up in London in a cabaret bar, and I'm introduced to Lola as well," says Paula. "I've seen her briefly, so when she comes to the factory it's more a thing of how this company of people is going to react to Lola and then obviously she comes in with her entourage.
Smiling, she adds: "Lauren actually says, 'We don't get many transvestites in Northampton'."
Anyone more familiar with the 2005 film version of Kinky Boots than the show should be on notice that the musical has a completely different soundtrack. While the film was laced with cover versions of old pop songs such as These Boots Are Made for Walking, all the songs in the stage version were written specifically for it, as mentioned earlier, by Cyndi Lauper.
Harper-Jackson's keen to emphasise both Lauper's input and ability. "It's completely all brand new," he says of the Kinky Boots songbook. "And yeah, Cyndi Lauper wrote it all and she caters perfectly for every moment. There's big fabulous, fantastic, get-up-on-your-feet feet numbers, and then there's lovely heart-wrenching moments like Not My Father's Son.
"That's another thing as well," he says, warming to the theme. "It's a big, big sing. We have to keep ourselves very, very healthy. And it's not an easy show to sing. She's not made it easy for us. But what she has written is exceptional, I think.
"It's all brand new and what you almost feel like you've sort of heard these songs before," he adds. "And I I'll be very surprised if you don't end up singing at least one of them on the way home."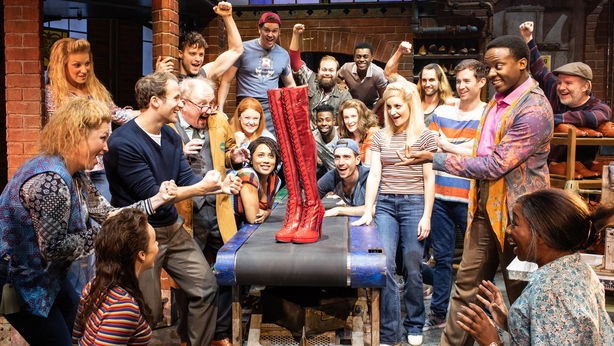 Kai, on the other hand, admires the songbook's musical diversity: "It's just got so many different genres within it," he says. "With Land of Lola and Sex is in the Heel, you have songs that are more of that sort of disco vibe.
"And then you've got these other songs, like Hold Me in Your Heart that has gospel vibes in and then there's The History of Wrong Guys, which has these comedy quirky, interesting, almost alien sounds. You've just got so many different genres packed into one musical.
"And you wouldn't think with the narrative that this show has having all of those genres, it would work, but it really, really does. And it caters for everyone. It's just so much fun.
"If you've come there to have a fantastic night now you've come there to chill out listen to something that's a bit heart-wrenching," he adds. "There's just something for everyone in so many aspects of the show."
John Byrne
Kinky Boots runs at Dublin's Bord Gáis Energy Theatre from Monday August 19 to Saturday August 31.