It's been a summer of cracking on, grafting and head-turning in the villa, and ahead of Monday night's big finale we're looking back at the top things that made Love Island our type on paper.
Maura being Maura
Maura pretty much made Love Island what it was this year. Before she entered the villa it felt as though there was something lacking, and she filled that void and then some. Through her candid comments, her loyalty to her friends and her sense of humour, she provided a lot of laughs, some heartfelt moments and demonstrated just how important it is to stand up for yourself.
MESSAGE
This gets me every single time; as soon as I hear "I'VE GOT A TEXT" shouted out, I wait for Ovie's MESSAGE, and it never gets old.
It is what it is.
No explanation needed.
Tommy being profound
Or trying to be. He provided us with some quality analogies and inspirational quotes throughout the series. From "I believe life is a test and love is a prize - some people either win it or they don't" to his head doing a "560-degree turn", there were laughs and awhs in abundance.
Agony Anton
Before Anton coupled up with Belle, he had no relationship of his own to focus on so he went around the villa getting involved in everyone else's escapades. He was some man for offering up advice, chasing the drama around the villa, and sitting back with a glass of wine to take it all in.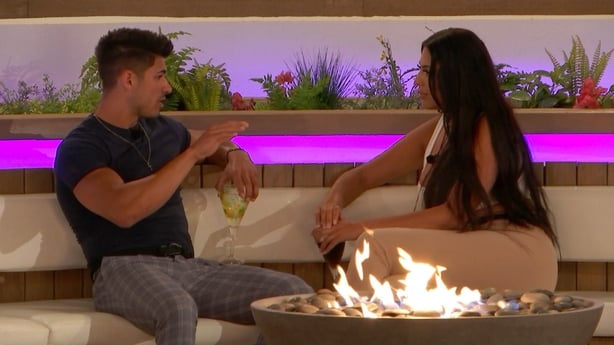 The drama
From love triangles to half relationships splitting up, there was no shortage of drama this season and that's the real reason we've all been so enthralled by Love Island; there's always a head to be turned, a new bombshell to be dropped and a whole heap of grafting.
Greg being an all-round good guy
Greg did his mammy proud when he reacted to Curtis giving Jordan really bad advice in the whole Anna/India fiasco with bewilderment. "What was your thought process behind that?" – so simple, so effective. He's also been a complete gentleman with Amber, with some of the other boys' bad behaviour really showing what a catch Greg is.
Seeing what India said in that preview #loveisland pic.twitter.com/as4r03pmQ7

— Love Island memes (@2019_Island) July 25, 2019
Chaldish
Michael started out so well on Love Island but his true colours began to show when Casa Amor came around. His decision to couple up with Joanna wasn't the problem; the way he deflected all of the blame towards Amber was. His decision not to leave with Joanna, followed by chancing his arm with Amber again, provided a lot of drama, but the best part of the whole thing was when Amber chose Greg over him. Who's chaldish now?
Chris: A Mood
I wish Chris had been in the show from day one. He was hilarious, affable and just so completely himself. I miss him and his kimono already.