Joanna questioned Michael's feelings for Amber in Love Island while Caroline Flack delivered bad news in the villa on Sunday night.
In a recent challenge Amber raised Michael's heartbeat the most with her lapdance, prompting the 21-year-old beauty therapist to believe that the 27-year-old firefighter still fancies her.
In Sunday's episode, she opened up to the Liverpudlian in a private chat and admitted she hasn't moved on.
"I just wanted to kind of put it on the table because I feel like, with Chris coming in, it made me realise even more how much we did have a good thing."
"We had issues but if I had handled it better and had been more open we wouldn't be at this point. I think we did have a good thing and I do still like you, I can't switch my feelings off," she added.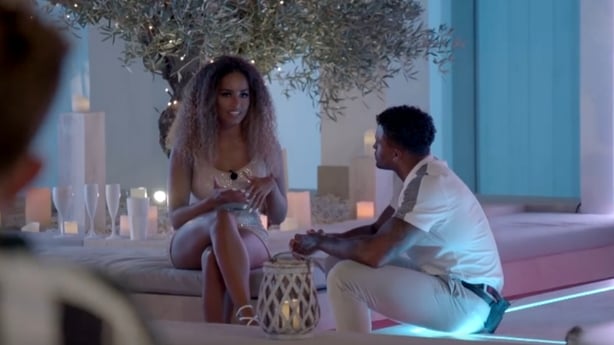 Joanna also took Michael aside and admitted she isn't convinced that he has switched off his feelings for Amber completely.
"At the end of the day, it's been hard because obviously, there has been times when I have seen you obviously look over or whatever and it has been awkward because the way you do look at her," she says.
"You know, sometimes I am like, he still has feelings for her, personally."
Michael rejected her accusation, saying: "No, there's literally nothing there."
However, Joanna added: "I just struggle with the fact that you've turned your feelings off so quickly."
Michael and Joanna's bond will also be tested as another shock elimination twist sees them facing a huge test as they were revealed as the most unpopular couple on the show.
"You can't stay in Love Island as a couple," host Caroline Flack explained. "One of you will leave the villa."
Love Island continues on Virgin Media Two and ITV 2 at 9pm.