Ed Sheeran's latest album, No.6 Collaborations Project, sees him team up with some of the biggest names in music today, including a few artists you might not have expected.
The eclectic record features appearances from artists as diverse as Khalid, Camila Cabello, Cardi B, Stormzy, Ella Mai, Eminem, Skrillez and H.E.R.
The latest track to be released from the project, Blow, features vocals from Nashville singer-songwriter Chris Stapleton and R&B/funk hitmaker Bruno Mars. The thundering guitar anthem is not our favourite direction Ed has taken in recent years.
It doesn't exactly blow but we won't be adding this to our Spotify playlists any time soon...
To mark Ed's new album being release today, we've rounded up the most unlikely, can't-imagine-them-in-the-same-room pop hook-ups in living memory.
I got the horses in the back...
Lil Nas X and Billy Ray Cyrus - Old Town Road
This has got to be the collaboration to end all collaborations. It's no exaggeration to say 20-year-old Georgia rapper Lil Nas X has set the world alight with his debut single, the genre-melding megahit Old Town Road.
Self-described as "country-trap", this track combines Lil Nas X's charming rapping and Billy Ray's powerful country growl to irresistible effect.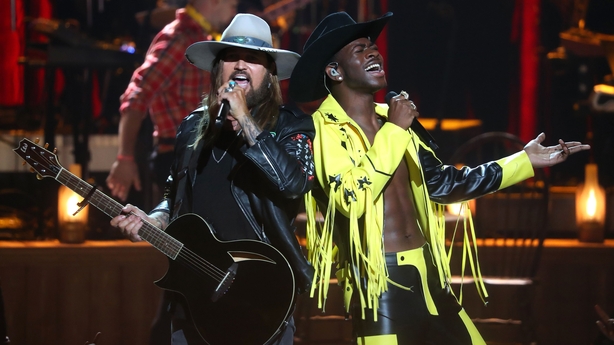 Oh and the track also features a sample of the instrumental piece 34 Ghosts IV by Nine Inch Nails, so it's a pretty atypical offering all round.
The historic single is currently celebrating its 14th week atop the Billboard Hot 100, and could be set to break the all-time Hot 100 Record, if it beats the 16 week record held by Mariah Carey and Boyz II Men's One Sweet Day (1995-96), and Luis Fonsi and Daddy Yankee's Justin Bieber-featuring crossover Despacito (2017).
Whatever happens there, it's clear Lil Nas X and Old Town Road are here to stay, and we couldn't be happier.
Once more from the top: "Yeahhh, I'm gonna take my horse to the old town road...."
Justin Bieber and Busta Rhymes - Little Drummer Boy
Then teen popstar Justin Bieber, pre-Purpose makeover, recorded a cover of the festive classic Little Drummer Boy with Gimme Some More rapper Busta Rhymes for Bieber's 2011 Christmas album Under the Mistletoe. Besides the fact that the world probably didn't need another rendition of Little Drummer Boy (I mean, the Simpson sisters had it nailed with their hilariously ear-splitting version), the combo of Bieber's warbling voice and Busta's typical rapid-fire delivery just . . . doesn't quite work. None of us are here for Bieber trying his hand at rapping either.
Queen and 5ive - We Will Rock You
Oh my. English boyband 5ive decided to record a cover of Queen's 1977 anthem We Will Rock You for their second album Invincible in 1999, and rather than leave them at it, Brian May and Roger Taylor decided to hop on board on guitar and drums respectively. There's not much good we can say about it, apart from the fact we're getting some serious nostalgia vibes from the video which features some choice eyebrow piercings, expertly-gelled spikey haircuts and full-length studded leather jackets. And some very questionable rapping from the 5ive lads.
Janet Jackson and Cliff Richard - Two To The Power of Love
This 1984 slice of cheese featuring Janet Jackson and Cliff Richard is so bad it's hard to make it the whole way through the three-minute duration. Bland doesn't begin to cover it. It sounds like it was specially written for a montage-sequence in a 1980s rom-com, which might be the only scenario in which it'd be tolerable. Pass.
Another Level and Jay Z - Be Alone No More (remix)
Another who? While Jay Z went on to become one of the biggest rappers of all time, you'd be forgiven for having forgotten all about English R&B boyband Another Level, who were together for three sweet years in the late '90s. Rather surprisingly, they teamed up with the legendary New York rapper for a remix of their single Be Alone No More. This smooth pop track might not be one of Jay Z's finest moments, but it's really not half bad.
Mariah Carey and Westlife - Against All Odds (Take a Look at Me Now)
Yes, Irish boybanders Westlife did really collaborate with pop megastar Mariah Carey back at the dazzling height of their musical career, and this cover of Phil Collins' hit Against All Odds (Take a Look at Me Now) features plenty of competitive warbling. The thrown-together video is notable for some classic late 90s cheese, including plenty of shots of the baby-faced lads on a boat moodily starting off into the distance at the sea. A very listenable track, in all fairness.
Jay Z and Linkin Park - Numb/Encore
We have to admit to having a major soft spot for this one. Rapper Jay Z teamed up with nu-metal rockers Linkin Park to record the six-track EP Collision Course in 2004 which featured mash-ups of tracks from both of their previous albums. It was inspired by The Grey Album by Danger Mouse, which was a collection of Jay Z and Beatles mash-ups. The highlight of the bunch is Numb/Encore, which even won a Grammy. It works seamlessly, perfectly combining both musical styles. A treat.
Nick Cave and the Bad Seeds and Kylie Minogue - Where the Wild Roses Grow
Aussie pop princess Kylie Minogue lent her vocals to this duet with Nick Cave and the Bad Seeds back in 1995 and the result is hauntingly beautiful in every way. Nick Cave wrote the song specifically with Minogue in mind and the collaboration is pure perfection, from the tragic narrative of the lyrics, to the emotive orchestral accompaniment and the impeccable visuals. Just magnificent.
Run DMC and Aerosmith - Rock This Way
Is this the original surprise collaboration to beat them all? Hip-hop group Run DMC and rockers Aerosmith joined forces for a cover of the band's classic 1975 hit Walk This Way in 1986, revitalising Aerosmith's flagging career and becoming an international hit that paved the way for other genre-melding efforts. Over 30 years later, the track and video are as entertaining as ever. A complete banger - put the volume up to 11!