Brendan Grace regularly met up with the RTÉ Guide and here is the man himself in 1976, 1999 and 2001 on an enchanted life spent making people laugh.
In 1976, the comedian told John Walsh that his karate lessons were useful for choreography in shows, and he was also watching his weight.
"I think I'm about seventeen stone, at the moment. I go to Eddie Downey's health clinic twice a week. I was up to eighteen, and he brought me down to fifteen (stone) - three (pounds.) Slipping again, now. I must watch it."
He spoke too of the inevitable pre-show nerves. "It's like jumping off the high board at Blackrock Baths."
In 1991, he spoke to Maxi.
"I was thirteen when I left school, and I worked as a messenger boy. I lived in the heart of James's Street, near Guinness's Brewery, here in Dublin. My earliest memory is of my mum carrying coal, bikes, prams, the lot, up the stairs.
"Nowadays it would be called a penthouse. In those days, it was a horror. Three flights of stone steps... and back! I always used to say to my Mum and Dad, 'I'll get yez a house someday'. And I meant it." (He did in fact buy a house later for his parents.)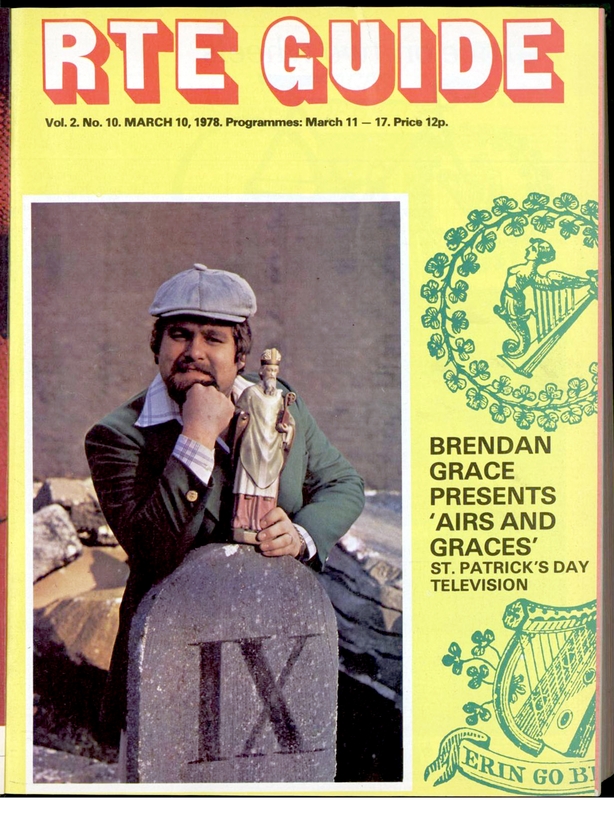 "I worked hard and learned to save. I saved up enough to buy a Honda 90. All me mates and I would have a competition to see who could wear out the rubber on the foot rests. Invariably I won. I even wore down to the metal and that meant I could create sparks! I was mad!"
Later the young Brendan graduated to the motor car, ditching the Honda.
"I was away with my car and my guitar looking for work and got it with The Gingermen, 'cos the ballad boom had started. When we were tuning on stage, I'd tell a few stories, and that's how the comedy started."
In 2001, he reflected on his Father Ted role, the immortal Fr Fintan Stack, with John Byrne, now of this parish.
"I was overwhelmed by the reaction I got. I was just asked to go for an audition, the same as everybody else who went for that part. I hadn't ever seen Father Ted, and they handed me this script and they said this priest has to be very nasty.
"He has to be intimidating. Other people auditioning were growling and I don't know where the character came from, I just made him very scary in a quiet way. That was a priest you wouldn't go to for confession."
Brendan was looking forward to his one-man show in October and November of that year at Dublin's Gaiety Theatre and had no problem being totally on his own throughout the performances.
"There's such a warm atmosphere in the Gaiety. Besides there's so much to do in such a small amount of time. I can't afford to share it with anyone else. There's a certain amount of stuff in the show that'll be planned.
"I don't work in a strict, can't-be-moved, kind of way. That's the kind of show it will be. It'll be a very hands-on kind of thing. The Gaiety is a very intimate theatre actually.
"Everybody in that theatre has a good seat. It's a wraparound theatre. Like a jacket, you put it on. That's the best way to describe it. You don't want to perform in it, you put the theatre on you."