It's goodbye to The Good Fight and 63 Up, While US comedian Pete Holmes is back with a new season of Crashing and an HBO special . . .
Pick of the Day
The Good Fight, 10.35pm, RTÉ One
Season three of this zeitgeisty show comes to a close with new addition Roland Blum – a tweed-wearing, boorish and deceitful lawyer played by Michael Sheen – out for blood against Diane Lockhart and co.
He's got revenge in mind when he represents a group of Reddick, Boseman & Lockhart's ex-clients who claim the firm overcharged them.
Elsewhere, When Lucca finds out she's a candidate for an open partner position, she begins to question her reputation within the firm.
New or Returning Shows
Inside the Bank of England, 9.30pm, BBC2
Filmed with unprecedented access, this opening episode of a two-part documentary goes inside the Bank to show how it prints the UK's cash, ensures that Sterling holds its value and sets the UK's interest rate.
Crunching the numbers isn't the only challenge faced by the Bank as it also has to explain its decision to journalists and the British public. As its May judgment approaches, Gareth Ramsay and the Bank's communications team carefully plan how they will present the Bank's decision.
Maybe you'd prefer to watch Love Island.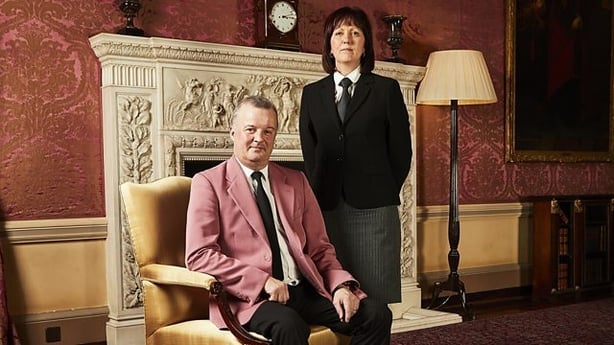 Pete Holmes: Dirty Clean, 11.20pm, Sky Atlantic
This stand-up special from HBO features Crashing star and creator (see the Don't Miss category, below) Pete Holmes in action.
Here he confronts personal truths about the mechanisms of consciousness, the afterlife and Elon Musk, as well as sharing a few thoughts on being a new dad.
New to Download
Bangkok Love Stories: Objects of Affection and Plead, Netflix
Objects of Affection features a kind computer repairman who falls for a street-smart graffiti artist whose multiple personality disorder worsens after she witnesses a double murder.
In Plead, a spirited digital marketing expert in Bangkok's Chinatown falls for a blind fortune-teller, but their love is predestined to end in disaster.
Ending Tonight
63 Up, 9.00pm, Virgin Media One
It's the final part of the latest instalment in this remarkable series, which has followed the lives of several British people at seven year intervals since it began in 1964.
As the various people involved are now in the 60s', this run is a more poignant look, as the disparate group that were once fresh-faced children are now facing into the latter stages of life.
Master of Photography, 8.00pm, Sky Arts & NOW TV
In the final episode, the judging panel select three incredibly compelling stories of female empowerment from three different countries.
The task is to visually represent three women in charge, who have managed to excel in a male-driven profession.
Home Town, 8.00pm, TLC
A couple of doctors are looking for a historic home that has plenty of space for entertaining friends and acquaintances.
My Lottery Dream Home, 9.30pm, TLC
This episode features a man whose life was completely transformed when he won big on a Las Vegas slot machine.
Don't Miss
Crashing, 10.10pm, Sky Atlantic & NOW TV
Comedian Pete Holmes returns for the third and final season of his self-effacing, semi-autobiographical comedy about his adventures making his way through the world of stand-up.
Fresh off a two-month college comedy tour, Pete returns to New York with new-found confidence in his comedic abilities. No longer sleeping on friends' sofas, he moves into his own place and re-enters the NYC stand-up comedy world.
This season features even more guest stars, with appearances from the likes of Ray Romano and Amy Schumer.
Click here for full TV listings