Boyzone's Keith Duffy has said his faith saved him following the death of friend and bandmate Stephen Gately.
Duffy made his comments in a powerful interview on The Tommy Tiernan Show on RTÉ One on Saturday night, where he reflected on the passing of Gately in October 2009 from pulmonary oedema - fluid accumulation in the lungs - resulting from an undiagnosed heart condition.
The conversation on faith and grief began when host Tiernan drew attention to Duffy's religious tattoos.
"I've got great faith and I've a great relationship with Our Lady in whatever way you see her, but I see her in different ways," said Duffy of his tattoos. "So it's Mother Mary in different forms."
"I've got great faith and I've a great relationship with Our Lady"@OfficialKeith talks to @Tommedian about how his faith has helped him through difficult times.#TommyTiernan pic.twitter.com/fE4bLlnI58

— RTÉ One (@RTEOne) June 29, 2019
"I think growing up in Dublin me Mam and Dad always used to make me go to mass every Sunday," he continued. "And I didn't realise that my faith was growing all the time. And when I arrived at difficult situations in my life later on - the loss of Stephen Gately being a very poignant one - I was lost at the time and I found solace in praying to Mother Mary."
"I suffered at the time trying to understand the loss of a friend like that, that I was so close to," he recounted. "I struggled to sleep at night. I had nightmares, really bad nightmares, and I didn't want to go asleep. I probably drank too much at the time as well, just to try and knock myself out. And the nightmares were pretty extreme, and they were very scary. 
"To help myself relax in bed - to help myself try and nod off asleep - I used to say the Hail Mary over and over and over again, just to stop my mind from wandering or thinking about things I didn't want to think about. And my faith became quite clear to me then, and it was because my parents kind of insisted I went to church every Sunday.
"I didn't realise at the time that one day those days were going to come back and help me a great deal. And they did. And through prayer and through faith and through belief eventually I started to sleep again. I don't have any nightmares, and if I do I pray to the Sacred Heart, Mother Mary."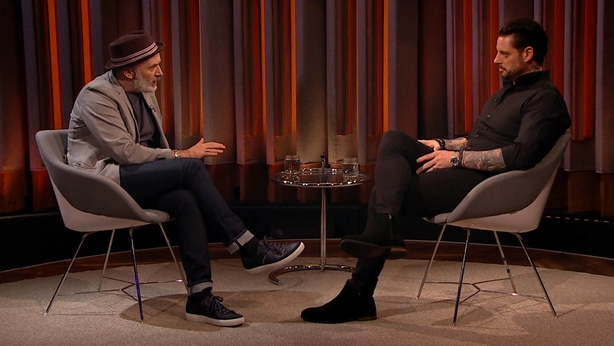 Duffy described time as "a great healer".
"For a long time it was just very sad," he said. "I used to get very emotional about it because we had a great relationship. Stephen was probably my first gay friend. I found in myself a great ability to be able to be very tactile with Stephen, even though I'm straight. I felt very comfortable giving Stephen a hug or a cuddle and taking care of him. I felt he kind of like needed me for that."
"We do a part of the show every night about Stephen, and it became one of the most powerful parts of the show," Duffy told Tiernan. "We keep his memory very much alive when we perform together. When the four of us are together we feel he's in the room, you know? Because he was always in the room. It was much easier dealing with the loss of him when we were together than it was when we were on our own." 
"And like I said to you, I kind of scratched on the surface of the nightmares I had at the time," Duffy concluded. "They were horrific. Like I said, me Mam and Dad kicking me out to church on Sunday was actually what kind of saved me in the end, because that was the faith that was already there that I didn't realise."