Russell Crowe has revealed that he once bought a dinosaur head for his children from fellow Oscar-winner Leonardo DiCaprio.
If we ever needed proof that celebrities spend their riches exactly how you think they do, then this is it.
55-year-old Crowe paid $35,000 to Leonardo DiCaprio for a dinosaur's head that he had on display in his house. The pair were hanging out in between filming Body of Lies and DiCaprio mentioned he wanted to get rid of the precious historical piece because he had his eye on another one.
And just like that Crowe offered to buy it "for his children".
Speaking on Howard Stern's radio show, Crowe explained how the transaction happened: "I said, 'I'll buy it! How much do you want for it?' He was pretty cool about it. He said, 'Just give me what I paid for it.' I think he paid like $30/35 grand for it.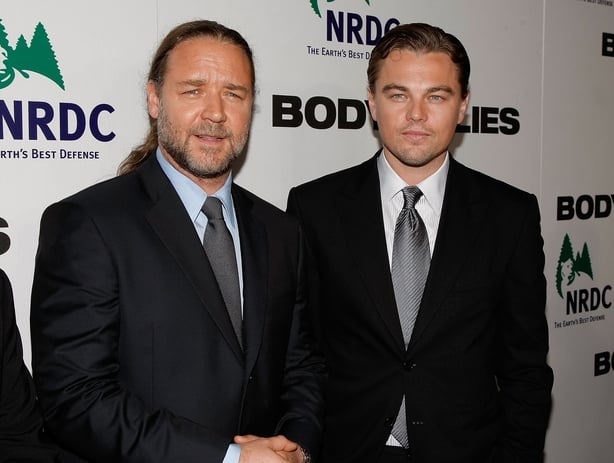 Crowe added: "I bought it for my kids. I cut myself a little bit of slack… My kids, particularly my eldest, were fascinated. They were into dinosaurs. Here's one for the playroom!"
Crowe also discussed how he turned down an extremely lucrative offer to star as Aragorn in the first movie from the Lord of the Rings trilogy.
"I didn't think (director) Peter Jackson actually wanted me on the film," he said.
"'I think he was forced into talking to me (by the studio) because there was a moment in time where everybody wanted me in every (movie)."
We need your consent to load this YouTube contentWe use YouTube to manage extra content that can set cookies on your device and collect data about your activity. Please review their details and accept them to load the content.Manage Preferences
"My instinct was that he had somebody else in mind, which turned out to be Viggo (Mortensen). He should be allowed to hire the actor that he wants," he added.

The movie went on to make more than $860 million worldwide, and Crowe, who was offered a percentage of the movie's takings as opposed to an upfront fee, would likely have received around $100 million if he'd starred in the film.