The first trailer for Star Trek: Picard has been released and it sees the former captain of the Enterprise being asked some very tough questions.
The show, which is being made by CBS, will premiere on Amazon Prime later this year and it sees Patrick Stewart reprise his defining role as Jean-Luc Picard for the first time in 25 years on TV and 14 years since he last played the part in a movie.
The end is only the beginning. First look: #StarTrekPicard. @StarTrekCBS pic.twitter.com/mEhKjyuBUx

— Patrick Stewart (@SirPatStew) May 23, 2019
The minute-long teaser sees the former Starfleet captain walking through his vineyard in LaBarre, France with a voiceover which says:
"Fifteen years ago today, you led us out of the darkness. You commanded the greatest rescue armada in history - then the unimaginable. What did that cost you? Your faith? Your faith in us? Your faith in yourself? Tell us: why did you leave Starfleet, Admiral?"
Stewart has previously said that the highly-anticipated new series, which will be set some 20 years after the events of Star Trek: Nemesis, will be unlike anything done before on previous Star Trek reboots.
Speaking to RTÉ Entertainment last February, Stewart, who played Picard throughout Star Trek: The Next Generation's seven-season run as well as in four Star Trek films, said viewers will find Picard at a "different place" in his life.
"It's the story of what has happened in the last twenty years, since the last time Jean-Luc Picard was on screen. The world is a different place.
"Actually, it's funny everything I seem to touch these days is reflecting conditions in the UK or in the United States. That's the way it seems to me, or maybe I'm just wishing it were so," he added.
Star Trek: Picard is being made by Alex Kurtzman, showrunner of Star Trek: Discover, while Stewart is also on board as an executive producer of the show.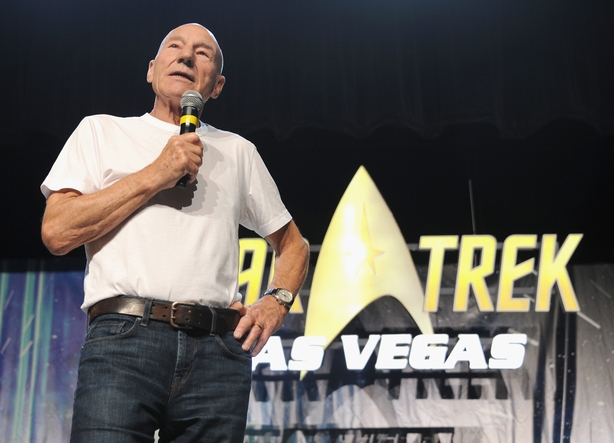 Writers working on the eagerly-awaited series include Kirsten Beyer (Star Trek: Discovery), Michael Chabon (John Carter), Oscar winner Akiva Goldsman (A Beautiful Mind), Diandra Pendleton-Thompson (Lucky Night), and Emmy nominee James Duff (Major Crimes).
The series follows the life of Jean-Luc Picard after his tenure as captain of the Enterprise in Star Trek: The Next Generation.
Picard featured in 178 episodes of Next Generation between 1987 and 1994 as well as several movies.
News of Stewart's return of the role was revealed at the Rose City Comic Con last August, when he said, "It is... an unexpected but delightful surprise to find myself excited and invigorated to be returning to Jean-Luc Picard and to explore new dimensions within him. Seeking out new life for him, when I thought that life was over."
According to Stewart, who is also known for his recurring role as Professor Charles Xavier in the X-Men franchise, the new CBS All Access show that will explore "the next chapter of Picard's life".
More television news here