Excitement levels for the Spice Girls' long-awaited reunion reached fever-pitch in Dublin on Friday as fans waited for the band to take to the stage at Dublin's Croke Park.
Emma Bunton, Geri Horner, Melanie Brown and Melanie Chisholm - aka Baby, Ginger, Scary and Sporty - announced they would be reuniting in November last year, and chose to kick off their tour at the iconic Dublin stadium.
TV and radio presenters Stephen Byrne and Bláthnaid Treacy proved their undying fandom on Friday by posting pictures of themselves dressed up as Ginger and Baby Spice as they posed on Carnew Street in Stoneybatter.
The Dublin street was made famous when the Spice Girls recorded the video for their hit single Stop there in early 1998.
Fans outside and inside Croke Park were more than happy to strike a pose for photographers ahead of the gig.
Oh hiii @AnnaGCork - looking fab at the #SpiceGirls! https://t.co/v4rZVPFvEE pic.twitter.com/HyIjA1yiPu

— Entertainment on RTÉ (@RTE_Ents) May 24, 2019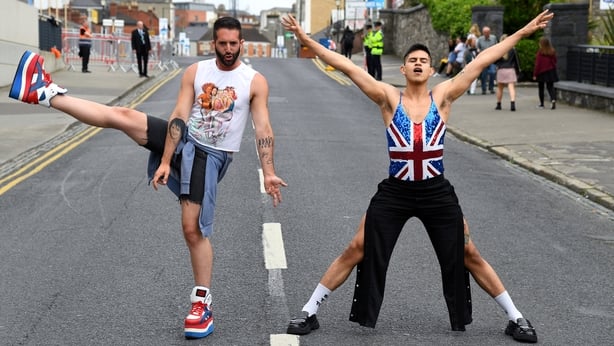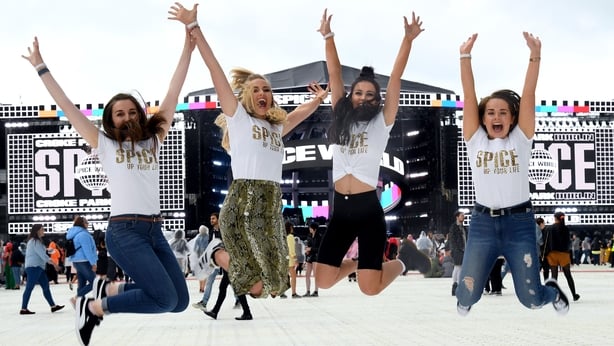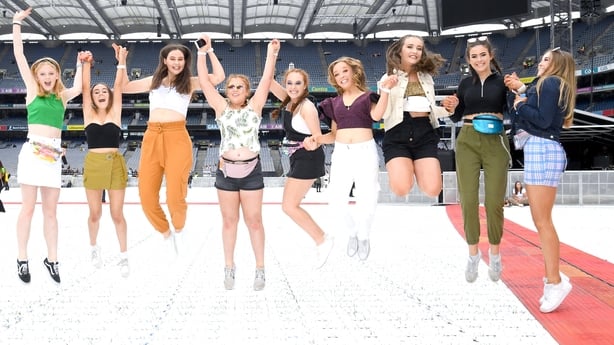 Spice Girls devotees flocked to Twitter ahead of the gig to express their excitement at seeing the band reunited.
Spice Girls I'm ready .... #spicegirls #spiceworld2019 #spiceworldtour2019 #crokepark https://t.co/dDh88T07QB pic.twitter.com/0GvphgMFJT

— Sean  (@seanregan) May 24, 2019
To say that my 12yo self is excited is an understatement #SpiceWorldDublin #spicegirls pic.twitter.com/B27g87wyBA

— Quentin 🍂 (@Quentin) May 24, 2019
#SpiceWorld2019 Photo from @ryanlock ✌🏻 pic.twitter.com/a7iXbH8lUr

— Spice Girls News (@SpiceGirls_News) May 24, 2019
40 years of age and I'm excited like a little child! Ireland welcomes you @spicegirls #SpiceWorldTour2019 #CrokePark #ireland #Girlpower #spicegirlsdublin pic.twitter.com/s71QggfjE7

— NLphotography📸 (@nadinelorgie) May 24, 2019
We made it!!! 💃🏻🎶✌️💚🇮🇪🥰 #SpiceWorldTour2019 #GirlPower #SpiceGirls pic.twitter.com/H54mfzLmGL

— Graciele (@Graciele_Gra) May 24, 2019
So excited to see @spicegirls ✌🏻

— ★ Billie 🦓 (@ItsBillieKay) May 24, 2019
Needless to say, the atmosphere was electric at Croke Park and the legendary girl group put on a dazzling display.
@spicegirls lovin' Dublin tonight! pic.twitter.com/YVSK8q9GL9

— JBaines (@JBaines14) May 24, 2019
My childhood is now complete...I'm witnessing history tonight with the amazing @spicegirls in Croke Park! #SpiceWorldTour pic.twitter.com/y1XZcpFMqT

— Flossy (@FlossyM) May 24, 2019
So it took a @spicegirls comeback to get us to visit Croke Park for the first time! 😂 #spicegirlsdublin #spiceworld2019 pic.twitter.com/n2vHU5GCSU

— GastroGays (@GastroGays) May 24, 2019
Spoiler🚨
Viva forever @spicegirls #SpiceWorld2019 pic.twitter.com/BCgYXyK5ku

— José María (@Hayeo) May 24, 2019
Spoiler 🚨
Who do you think you are?@spicegirls #SpiceWorld2019 pic.twitter.com/pf1FILaiJc

— José María (@Hayeo) May 24, 2019
Its official #spicegirls have NOT lost it!! What a show!!!

— Shóna Spillane (@shona_spillane) May 24, 2019
I haven't stopped smiling @spicegirls #SpiceGirls #Dublin 🏳️‍🌈🇮🇪 pic.twitter.com/6JY6jzzWWK

— Brian Murphy (@Brianmur000) May 24, 2019
THAT WAS AMAZING I WANNA DO IT AGAIN #SpiceGirls #SpiceWorld2019 #SpiceGirlsDublin pic.twitter.com/xZQkn2ujE4

— 🌹AJ 🥀 (@aislingjlc2000) May 24, 2019
Spice up your life! #spicegirls2019 #SpiceWorld2019 #SpiceWorldDublin #SpiceGirls pic.twitter.com/LcjT8UuyIT

— Roisin Glynn (@RoisinGlynn) May 24, 2019