Speaking about his new adaptation of Joseph Heller's classic novel Catch-22, George Clooney has said that "we are in a very absurd moment in our history and the absurdity of all of this felt familiar in a way."
The six-part series, which features a brief appearance by Irish comedian David McSavage, will appear on Hulu on Friday next and a number of episodes have been directed by Clooney himself.
We need your consent to load this YouTube contentWe use YouTube to manage extra content that can set cookies on your device and collect data about your activity. Please review their details and accept them to load the content.Manage Preferences
"This felt like something new," he told Vanity Fair. "We never thought, Oh, we are going to do television. We just thought it was a good project."
Written by Luke Davies and David Michôd, Catch-22 follows Captain Yossarian (Christopher Abbott) as he commands - or at least attempts to in rather trying circumstances - a band of American soldiers stationed in Italy during the Second World War.
As well as being the series' co-producer through Smokehouse, which he runs with Grant Heslov, Clooney directed a number of episodes. 
"Last year I read 80 scripts to (try and find one) to direct. Eighty scripts. And there was not one that you'd want to spend a year and a half," he said, "it's hard to find them."
Catch 22 demonstrates with acerbic humour the abuse of power as it plays out in the many ridiculous or bizarre situations that war can engender.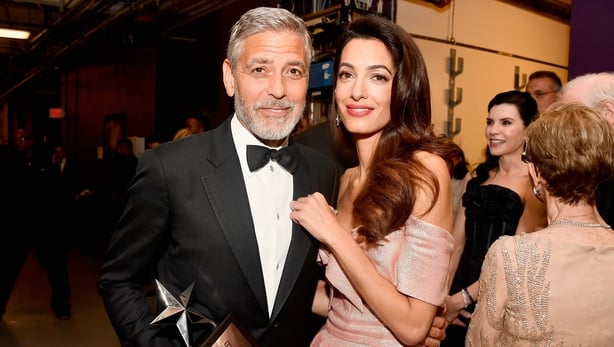 "It's never a bad time to be talking about when old men make decisions and young men have to die," Clooney said of the script.
The actor and director, who is father to two-year-old twins with wife Amal, turned 58 on Monday last.
He notes how the feature-making process has changed somewhat because of streaming services such as Netflix and Hulu, but it's all to the good, as he sees it.
"We did Good Night, and Good Luck for $6.5 million (€5.7m)" the actor and producer says, referring to his 2005 drama concerning the journalist Edward R. Murrow,  which brought him six Oscar nominations. "We couldn't do that at a studio now. No studio makes that film.
"So Roma gets made at Netflix and we get to do this at Hulu. I'm thrilled by the ability to still tell adult-themed, smaller audience stories. The streamers are saving this market."
He plays down the competition between Netflix and the cinema chains, appearing to suggest that there is room for both formats.
"I think it's all silly," he tells Vanity Fair. "Roma screened on screens. When we did Good Night, and Good Luck, I think we screened on six screens to start with and we wouldn't have expanded if we didn't get nominations.
"I love that I got to see Roma on the big screen but I like that other people got to see it in whatever way they can. 
"With all the things going on in the world, it's kind of silly that this is something people want to argue about."
It was reported recently that Clooney is the highest-paid actor in the world, having earned $239 million (€213m) before taxes in 2018. Further recent reports suggest that he may be planning a movie on the controversial car tycoon John DeLorean.