Lord Henry Mountcharles, who has hosted rock concerts at Slane Castle since 1981, said he was told at one stage that he wasn't going to survive after he was diagnosed with cancer.
Speaking on Sunday with Marian on RTÉ Radio 1 about his battle with lung cancer, Lord Mountcharles, who is also titled 8th Marquess Conyngham, recalled a hospital visit in Palm Beach in Florida when he suspected he had kidney stones.
A nurse saw something on his right lung and on his return to Ireland, Mountcharles was diagnosed with lung cancer.
The concert organiser said that there is often a stigma attached to lung cancer because people associate it with smoking - the so-called rock 'n' roll peer in fact gave up smoking over 40 years ago.
"The journey I've been on was very rough. I was told at one stage that I was going to die, and that they were withdrawing treatment," he said.
"I was very lucky to walk out of hospital alive, and the care I got in St James's Hospital was great. It's changed my perspective on life, because now when I wake up in the morning, I don't care if the sun is shining or it's raining."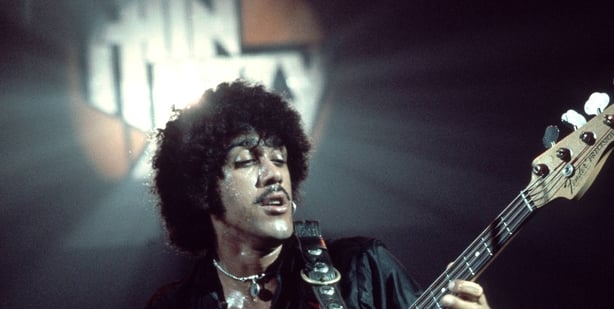 Lord Mountcharles said some parts of his battle were easier than others, and that he felt very depressed at times. He often felt quite down and drained of energy during treatment - he would reassure himself that it was the drugs that were making him feel that way.
He acknowledged a strong support network of friends and family, and despite the pain, he is grateful to the kidney stone.
"I value that kidney stone, it saved my life. I had no symptoms (of cancer), none at all. And this is part of the problem, trying to diagnose cancer early. There's a lack of funding and attention to screening for potential lung cancer patients."
Lord Mountcharles said that even a quick visit to London recently was a personal triumph. He was delighted to be on a plane and getting back to normal.
"Even sitting on that aeroplane was a delight. Normally you think 'Oh god, an aeroplane flight.' But to me it was about trying to get my mojo back. So, mojo is back! I wouldn't say I'm fit and fighting, but I'm certainly fighting."
Metallica will headline at Slane Castle on June 8 this year, with Stiff Little Fingers and Fangclub also on the bill.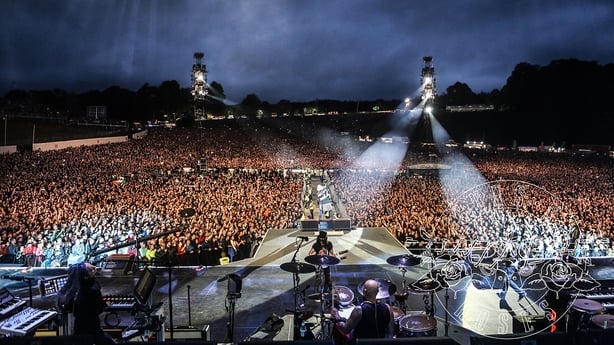 "In terms of email and letters written to me over the years, they were the biggest request. Metallica fans are very devoted. It was made quite clear to me that they really wanted to play Slane, they've even altered their schedule for this show."
Deciding on the headline act for summer concerts at Slane, he observed, "can be difficult, you've got to look at who's touring."
He referred to the "family committee" with whom he consults - he has nine grandchildren, and two of his children live in Ireland, his son Alex and his youngest daughter, Iona. Alex is closely involved in concert operations.
"We work very hard at it together, we're very conscious of the difficulties that could arise. There has to be an element of trust."
Mountcharles revealed that he had 'an incredibly close relationship' with his father and he says that his relationship with his own son is equally close.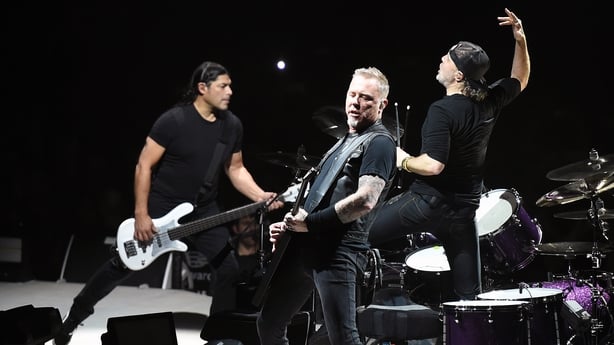 Mountcharles recalled his father asking him as a young man to come home from England, where he had been aiming for a career in in books and publishing. He had worked with with Faber & Faber for a spell, following an English public school education.
He quotes his dad saying `if you don't come home, I'm going to sell up, I can't handle this any longer.' "Effectively he was going to have to pay more in tax than in income," says Mountcharles, referring to the wealth tax that had been introduced in this country.
On his return, Mountcharles, a 'Sixties kid' and avid fan of The Kinks, The Who and The Animals, set about developing his ambitious rock 'n' roll idea in the grounds of the family-owned Slane Castle. Thin Lizzy played the first date at the picturesque venue in 1981, followed by the Rolling Stones in 1982.
There were memorable appearances in succeeding years from Bruce Springsteen, Bob Dylan, Queen, U2, Foo Fighters and Guns `N Roses (twice.)
Religious faith is important to Henry Mountcharles, "because if you can believe in something - a Higher Being - it gives you strength, it energises you," he told Marian Finucane.
His oncologist had just gone on holiday, he remarked, and he was under orders to take it easy. "The last thing she said to me was 'behave.' "