Singers John and Edward Grimes - best known as Jedward - have spoken about losing their mum Susannah Grimes earlier this year, saying they have been a great support to one another following her death.
Susannah died in February after battling cancer for several years.
Speaking on ITV's Loose Women on Thursday (April 25), Edward said of losing their mum: "It's been ongoing for the past five years, and I feel now mum has passed, it just feels so weird because it's all we've ever known.
"You think you want to call her and there's no one there to call."
John added that they have been there for each other, saying: "That has been really, really good for me and Edward because we're so open with each other, and we weren't bottling it in."
The pop duo, who came to fame on The X Factor in 2009, hailed their late mother as an "inspiration".
Edward said: "She was such an inspiration to me and up to the point of her passing - she was still fighting."
John continued: "She never lost who she was. It would have been hard to go on and see her lose herself, but she never lost herself as a person."
Edward said of dealing with grief: "We haven't talked to anyone about it. It's kind of very closed doors. It's not just us mourning, it's our fans and everyone is feeling for us.
"It was hard because we never publicly talked about the struggles, or our mum's illness. She didn't want to show weakness."
John added: "She was always very private. Mum was such an inspiration to me as well, and even when I think about her just up to the point of passing, she was still fighting."
'It's been really really good for me and Edward because we're so open with each other.' @planetjedward explain the importance of communicating with one another since losing their mother.

If you have been affected by grief, please find helplines here > https://t.co/aJQqjROmle pic.twitter.com/QdYYwk4SG8

— Loose Women (@loosewomen) April 25, 2019
They have also announced that they are releasing a new album this summer in honour of their late mother who was a keen supporter of her twin sons and was instrumental in their success.
They tweeted: "Jedward Voice of a Rebel, The New Album, Summer 2019."

Jedward Voice of a Rebel
The New Album
Summer 2019 pic.twitter.com/sHn9scPqw9

— JEDWARD (@planetjedward) April 25, 2019
In a statement to RTÉ Entertainment, Jedward said of their upcoming release: "All songs are written and created by us. We have a song for every mood. It's a new era for our fans and will take our live shows to another level.
"We signed a 5 year deal with Universal Music Asia and we can't wait to release this album as it will be our 1st authentic complete original album.
"It has been very therapeutic writing these songs and the process has helped us get a lot off our chests and has empowered us."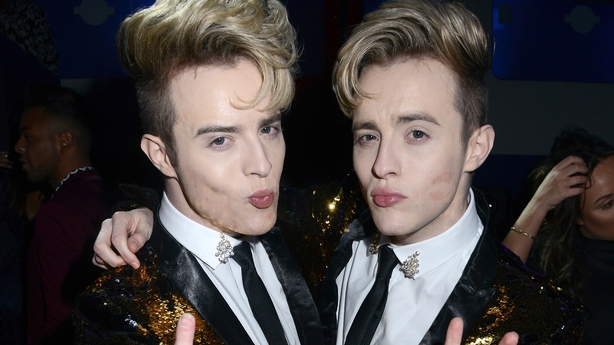 They added: "Some song titles include Soul Crushing which is a heartbreak song. Bodies in Action and Follow My Whispers have a more sensual romantic vibe.
"Teenage Runaways and Phoenix Wings are shots of energy and really uplifting that will pick you up."