Paddy Finlay, the Dublin entertainer who brought joy to generations at the Dublin St Patrick's Day parade as Paddy Drac, has died after a short illness.
The Tallaght man passed away in Tallaght Hospital on Saturday afternoon, with his son Graham later announcing his passing on Facebook.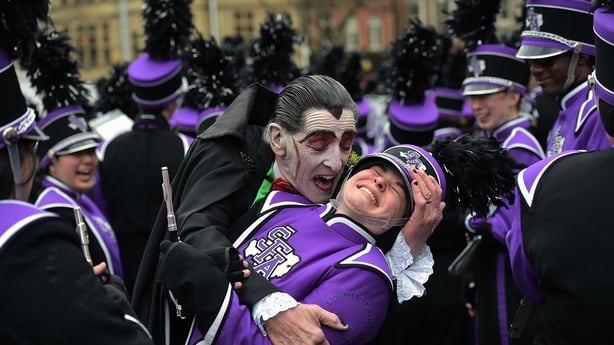 "Friends of Paddy, just to let you know, Paddy lost his short battle with cancer today shortly before 1pm in Tallaght Hospital," he wrote. 
"We will all miss him, may he rest in peace with his Nan. Enjoy the memory of his stories."
Paddy Finlay was a mainstay of the Dublin St Patrick's Day parade for almost half a century and was renowned for his charity work. He did not appear at this year's parade due to illness. 
His funeral mass takes place in St Dominic's Church in Tallaght on Tuesday morning.
 
There have been many tributes on social media:
Sorry to hear this. I met Paddy Drac a few times. A really lovely man. He'd often send me cards on special occasions. Sincere sympathies to his family. RIP. xxx https://t.co/DY4jePDoAF

— Nuala Carey (@nualacarey25) April 14, 2019
Very sorry to hear of the passing of Paddy Drac also known as Paddy Finlay. A historic Tallaght Figure and a porter of Tallaght Hospital. May he rest in peace. pic.twitter.com/OUIojKIYoq

— Lisa Dunne (@lisadunne15gma1) April 13, 2019
A Dublin legend gone, Rise in peace Paddy Drac. 🧛‍♂️ pic.twitter.com/zfP8tUhgvC

— PJ Gallagher (@pjgallagher) April 13, 2019
R.I.P. Paddy Drac . Thanks for all the times you made us smile . @DublinTown @stpatricksfest pic.twitter.com/B6UhOUaOsy

— Lorcan O'Connor (@lorcanoc) April 13, 2019
#PaddyDrac #Tallaght will never forget you x Rest in peace. pic.twitter.com/01kuslNeOY

— Tallaght Community Council  (RCN)20012335 (@TallaghtComCo) April 13, 2019
Ah no! RIP Paddy Drac. One of the most charitable people I ever met and a great entertainer too. Fangs for the memories! https://t.co/fcw6b9ckjd

— Martin King (@martinkingtv3) April 13, 2019
Very sad to hear about local Tallaght legend Paddy Drac's passing. A lovely man who brought joy with him wherever he went - prone to frightening unsuspecting people by saying hello to them while they weren't minding and laughing heartily when they looked up and saw Dracula -RIP pic.twitter.com/hFehECcMvM

— Stephen Byrne (@altirishmusic) April 13, 2019
So sad to hear about Paddy Drac, he used to pop a santa hat on and give sweets out in the local shop at Christmas. He'll be fondly remembered in Tallaght. pic.twitter.com/2wjG2DFI0q

— Leighanne ✨ (@LeighanneSomers) April 13, 2019
We are deeply saddened to hear that Paddy Finlay a.k.a Paddy Drac has passed away. We would like to extend our deepest condolences to his family and friends. He was an absolute gentleman and a true legend. He was an inspiration to all of us and will be greatly missed pic.twitter.com/ifqYpZjOmp

— The Pale (@thepalemusic) April 14, 2019