Andrew Scott has said that the interest in his role as The Priest in black comedy Fleabag has been "the most extraordinary thing", describing people's reaction to it as "unbelievable".
The acclaimed series from creator and star Phoebe Waller-Bridge drew to a close on BBC Two on Monday night, with fans gripped to see how the titular misfit's love story with Scott's character would play out.
Warning: spoiler alert!
Speaking on Zoe Ball's BBC Radio 2 breakfast show on Thursday, Scott said the response to the story "couldn't be more exciting".
"I went out to the theatre the other night and I think people, because they've just seen it the night before, people were really devastated or whatever," he said. "It's just very moving and it's extraordinary when... That's what you want - you want it to have that sort of reaction like the one it's had."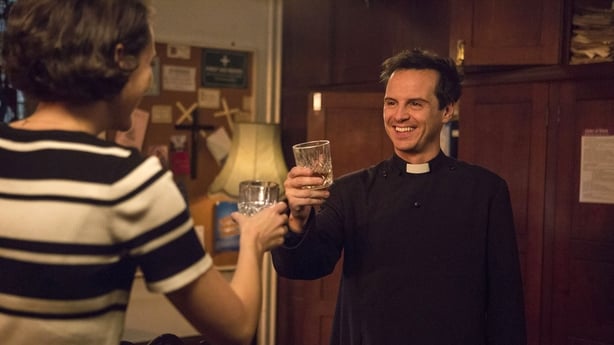 On the subject of why the series has resonated so deeply with viewers, Scott said: "It's sort of been hailed as this great feminist story, which of course it is, but it's actually, for my money, it's really just about all human life, and the fact that we're all a bit flawed and a bit messed up sometimes. But that doesn't mean that we're not all looking for love in different places right and wrong!"
Scott told Ball he had acted in a play with Waller-Bridge almost a decade ago and agreed to star in Fleabag without seeing a script.
"She called me last summer to talk about Fleabag," he recounted. "But there wasn't any script at that stage and we had this fantastic first meeting where we talked about love and life and loss and everything, and religion, actually, and what place religion takes in our own lives. At the end of the meeting, I hadn't read any script or anything but I was like, 'Yes! I'm on board for this'."
*tries to remain calm* 😅

THE Andrew Scott (aka The Priest from @bbcthree's Fleabag) joined @zoetheball in the studio this morning!

What did Andrew make of Monday's finale? Hear him chatting about it now on @bbcsounds 👉 https://t.co/c9GOCtzcir pic.twitter.com/KYLHo4Z9IL

— BBC Radio 2 (@BBCRadio2) April 11, 2019