Out of Innocence star Fionnuala Flaherty has said she is still upset when she thinks about the Kerry Babies case on which the film is based.
Flaherty makes her feature film debut in the new movie, which also sees the An Klondike star take on her first English-speaking screen role as Sarah Flynn, a young woman who confesses to a crime she did not commit and is charged with murder.
The film is inspired by the Kerry Babies case of 1984, and although she made the film in 2016, Flaherty is still very attached to the story.
"I was really hurt by it; that someone had to go through that. I still get a bit upset by it," Flaherty told RTÉ Entertainment.
After the film's six-week shoot, Flaherty realised retrospectively that she held onto the story for over a year after it wrapped.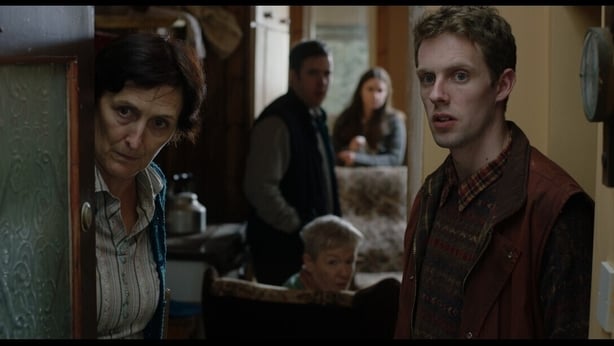 "I think in hindsight it almost took me a full year or year-and-a-half to put that film behind me and really move on, without me realising it. Like looking back, I really held on to a lot after," she said.
The actress also revealed that she tried not to think too much about Joanne Hayes, the real-life inspiration for her character Sarah, while filming.
Joanne Hayes was arrested during the investigation into the discovery of a baby's body on a beach in Cahersiveen, Co Kerry in 1984.
Advances in DNA profiling have confirmed that Ms Hayes, as she always maintained, was not the mother of that baby, who was posthumously named John. Ms Hayes had given birth to a baby on the family farm in Abbeydorney, but that baby died and its body was found on the property after the discovery of Baby John had been made.
The murder charge was later dropped on the direction of the Director of Public Prosecutions and a tribunal of inquiry was set up to investigate the garda handling of her case. Last year, Taoiseach Leo Varadkar apologised on behalf of the State to Ms Hayes, with An Garda Síochána also apologising for the stress and pain she was put through.
Flaherty explained, "I tried to not think of Joanne Hayes the entire time. Ultimately, I was an actress who was given a script and had to perform and bring these lines and words and this story to life as authentically as I could, and as real and as raw as I could.
"The challenge was delivering it in the most, I guess, sensitive or real way, that was a challenge. But the tough scenes were the interrogation scenes… The toughest day for me was when we did the tribunal scenes.
"One day I remember sitting on the stand and seeing a sea of men – actors – and I was crushed after those scenes, absolutely crushed, I am even still. They were tough scenes."
Flaherty also reflected on the timing of the film's release, coming almost a year on from the referendum to repeal the Eighth Amendment.
"With Repeal the Eighth last year... The timing of it coming out now this year after all that is really significant," she said.
"In one way we've come a long way from '84/'85 with Repeal the Eighth and everything, but there is still so much more we have to do, and things we need to put right."
Out of Innocence is released on Friday, April 12.