Director Carol Morley has spoken about Patricia Clarkson's turn in her new noir-drama Out of Blue, saying the acclaimed Hollywood star fully immersed herself in the gritty role.
Morley adapted Martin Amis' 1997 novel Night Train for the film which sees Clarkson play the leading character of Detective Mike Hoolihan who is investigating the murder of a leading astrophysicist and black hole expert. The director said she was drawn "into the female detective especially and the cosmology" after reading the book, although she says her film is "a completely different experience".
The Sharp Objects actress may not have been the obvious choice to play the troubled detective in the film, but Morley says "you can't imagine anyone else being her".
The 59-year-old star underwent a physical transformation for the role of the seasoned detective, dying her trademark strawberry blonde hair dark brown and holding herself in a way viewers haven't seen her before in her long-running career.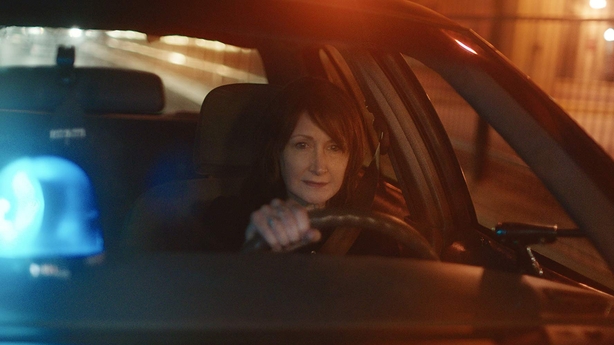 Speaking to RTÉ Entertainment, English filmmaker Morley, best known for her 2011 drama-documentary Dreams of a Life and 2014's mystery The Falling, said her new film hinged on casting Clarkson as the troubled central character.
She explained: "I first became aware of her in The Station Agent and High Art. I was aware of her over the years and really loved her. She's got that deep voice and you feel depths within her, without her even having to do much.
"From my point of view she's never had all the leads she could have, she's often a supporting actress, so I just really wanted to centre her in a film. And I think it really works, she holds your gaze and she has that gravitas, but a lightness to it as well."
Although Morley didn't write the character of Mike with Clarkson in mind, "because that way disappointment lies", she can't imagine any other actress playing her now.
"I just believed in Mike, and when I met Patricia for the first time she'd read the script. I went to LA to meet her and she went 'I am Mike', so she felt there was so much of her in it", Morley explained. "And now at this point, once you've made it, you can't imagine anyone else being her.
"What an actor does, and someone of Patricia's stature, they just go beyond what you could have imagined.
"It's like the flesh and blood of a character. She told me 'I started to walk like Mike. I really know her, I know her from inside out', Morley said of Clarkson's approach to the role, adding that it gave her "goosebumps".
"She brings it from the inside out, and then you aren't with Patricia anymore, you're with Mike."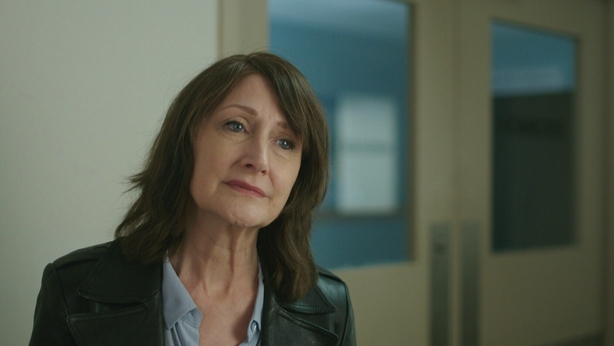 Morley said that while Clarkson was "100% dedicated" while filming, she also knows how to have a good time when off the clock, especially since Out of Blue was filmed in her hometown of New Orleans.
The director said: "When you take on a character like Mike it's a lot of work, because Patricia knows that the whole film rests on her shoulders in a way, so it's quite a responsibility that she was so aware of and so committed to.
"But then, we filmed in New Orleans which is where she was born and bred, and we did five-day weeks which is quite standard in America where you're filming for five days, working really hard, and she's in every scene, she doesn't get a break.
"Then the weekend comes and [Clarkson would say] 'oh there's a party, there's a Halloween party' and she'll send someone with a costume for me!
"She's really dedicated to the family of the film. On the last day she got an ice-cream truck and everyone had this beautiful local ice-cream. She's part of everybody."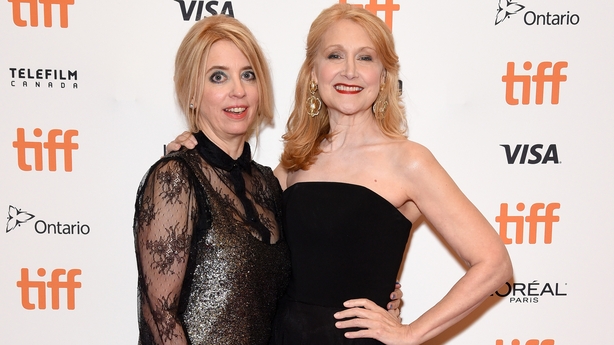 Morley spoke about her decision to include Mike's line of dialogue "There are many ways to be a woman" in the film.

"I always hate that term strong women because I prefer the idea of complex women", she said. "Why can't a women be on her knees, why can't she be vulnerable, why does she always have to be a role model or strong?
"So I thought that line about 'there are many ways to be a woman' because it's true. You can be strong and vulnerable at the same time, you can be evil and good at the same time. I think it's a little bit of a commentary on that."
When asked about the #4percentchallenge, a new Time's Up initiative to boost the number of movies directed by women in Hollywood, Morley said she thought it was a complicated issue.
"I think it's great when there are positive steps towards readdressing imbalance and exclusion of all people, of all people that don't get a say", she said.
"My personal, independent filmmaking thing would be, if you allow different stories to flourish then probably you'll get true diversity. I believe when you have people in positions of power, which making a film is, if they are from marginalised groups you'll find probably that the cast and crew tend to be from those groups too, because you'll naturally see the strengths in people that other people might not, so it's never a box-ticking exercise.
"I'm always cringing at box ticking exercises. But I would say that it's important that those conversations are happening."
Out of Blue is released in cinemas in Ireland on Friday, March 29.
We need your consent to load this YouTube contentWe use YouTube to manage extra content that can set cookies on your device and collect data about your activity. Please review their details and accept them to load the content.Manage Preferences