Anthony 'Bronco' McLoughlin, the Irish stuntman who appeared in numerous hit films including Indiana Jones and the Temple of Doom, Star Wars and Rambo II, as well as Father Ted, has died aged 80.
It is with great sadness that we learn of the passing of stuntman Bronco McLoughlin. A performer and coordinator with credits on many of the biggest films of all time including @007 and @starwars . He was also the man behind all the stunts on @Channel4  @FatherTedClips #stunts pic.twitter.com/0EtHVrNPdH

— Behind The Stunts (@stuntcentral) March 26, 2019
McLoughlin, who was from Ashford, Co. Wicklow, earned his nickname after he left school aged 16 to work as a cattle rancher in Australia.
RIP
Bronco McLoughlin
Irish actor, stuntman, animal trainer
Over 40 movies to his name including Superman, Total Recall, Indiana Jones, Star Wars and of course being tied to a wooden cross that goes over the waterfall in The Mission
His Stuntmen's Hall of Fame ⭐️ shines bright

— Screen Guilds of Ireland (@screenguilds) March 26, 2019
On his return to Ireland in 1967, his skill as a horseman landed him a part as an extra on the Hammer adventure film The Viking Queen, which was being filmed near his home in Wicklow.
It led to many roles in movies, including playing a stormtrooper in Star Wars in 1977, and working as a stuntman on Richard Donner's Superman.
R.I.P to our colleague and mentor Bronco McLoughlin. He truly was a trailblazer in the stunt world. Ar dheis Dé go raibh a anam @Scannain_com @screenproducers @screendirectors @ScreenIreland @NIScreen @IFTN @IFTA

— StuntRegisterIreland (@StuntRegisterIE) March 26, 2019
He went on to perform and coordinate stunts in more than 40 movies, including playing a mujaheddin in Rambo III, performing stunts on Ryan's Daughter, and famously being tied to the wooden cross that floats over the top of a waterfall in the opening scene of The Mission.
Closer to home, McLoughlin was also stuntman on five episodes of Father Ted, including a memorable scene in which he was on a park bench hoisted into the air at a fair ground on Craggy Island. He was also a stunt coordinator on four episodes of the comedy.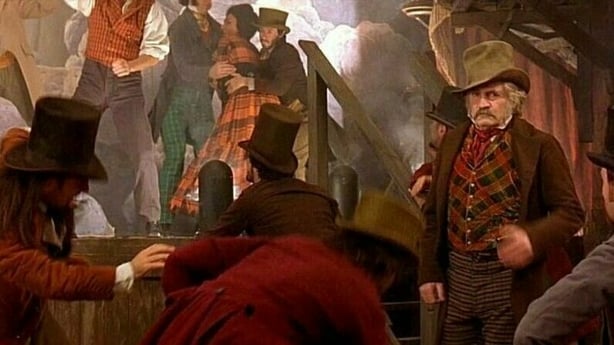 Speaking to RTÉ Entertainment, stunt coordinator and second unit director Patrick Condron, who described McLoughlin as his "hero and friend", said, "Bronco was the most modest man you could ever meet. Last December he won a life time achievement award from the British equity. 
"He received well wishes from Daniel Day Lewis, Sly Stallone, Arnold Schwarzenegger, Harrison Ford and a host of others. His response was, "``I don't know what all of the fuss is about. I just went to work to pay my bills'"
"In Ireland we considered him as the grandfather of the stunt performers. A living legend and stunt ambassador who worked on the biggest Hollywood movies, a professional that was more than willing to share his knowledge and wisdom. 
"All of us worked with him over the years, we only have the fondest memories of a real character and thorough professional. He was my teacher and mentor, my hero and my friend."
McLoughlin also had small parts in several James Bond films, and played a customs officer in the Arnold Schwarzenegger version of Total Recall where he caught an exploding head. He performed stunts in Robin Hood: Prince of Thieves, and worked as stunt coordinator on The Field, and Man About Dog. In 2000's Ordinary Decent Criminal he opened the door that got smashed by a car, and he was the assassin in Gangs of New York.
He was a member of Stunt Register Ireland and was inducted into the Hollywood Stuntmen's Hall of Fame.
According to IMDB, in a neat symmetry, his last role as a stuntman was on a 2014 episode of TV drama Vikings.
Bronco's funeral notice reads, "Bronco (Anthony) McLoughlin, Broom Lodge, Nuns Cross. Peacefully at his residence. He will be sadly missed by his wife Karen, his daughters Fiona and Frances, grandchildren, extended family and friends."
Alan Corr @CorrAlan2