Dumbo star Colin Farrell has told RTÉ Entertainment that adults "have to try and help" kids to navigate the highs and lows of social media.
The 42-year-old actor, who has two sons - Henry, nine and 15-year-old James - admits there is "enormous cruelty" online and said it's up to parents to make their children aware of the dangers that come with joining media platforms.
"There's obviously amazing things that have come by way of the advent of certain technologies. There's also a lot of negativity - we just don't know how to deal with it yet," Farrell said.
"It's a lot at our fingertips. It's a lot of power, it's a lot of control, and it's the opportunity to manipulate one's own appearance or the emotions of others.
"There's enormous cruelty that is explored online and through social media.
"It kind of has to be down to parents. We really have to try and help - while we as grown-ups - need to try and navigate it as well. But we have to try and help our kids to navigate it," he said.
"There's enormous cruelty that is explored online and through social media. We have to try and help our kids to navigate it," says #Dumbo star Colin Farrell. @DisneyStudiosIE pic.twitter.com/Nx2GKFVOCc

— Entertainment on RTÉ (@RTE_Ents) March 23, 2019
Farrell, who stars as Holt Farrier in Disney's new live-action about an elephant with over-sized ears that learns to fly, reckons Dumbo's central theme of inclusion will resonate with viewers of all ages.
"I think the messages in this film are messages that we unfortunately will never tire of needing to being reminded about.
"That is, the importance and the uniqueness of each and every person, regardless of how we come into the world physically. I truly do believe that everyone has magic somewhere inside them.
"Everyone has a right to be included in the experience of community, and family, and friendship," he added.
"Difference should be celebrated not just accepted."
Director Tim Burton's latest outing comes almost 80 years after the original animation was released, and Farrell admits the 1941 film "was a dark affair".
"I think maybe it wasn't perceived as dark at the time because I think it was a darker world that we lived in back then.
"I mean, that was before the civil rights movement, and the world was very, very different.
"This version is 30% a remake - and even that is tonally different - and 70% a new film because there was no human element to the original film.
"This brings in the story of family, and the story of a circus that is trying to survive, and find its way in a world that's ever-changing.
"Tim [Burton] did bring the sweetness to it while also honoring and tipping his head to the more dark aspects of the human condition - greed, avarice, cruelty, self-service etc."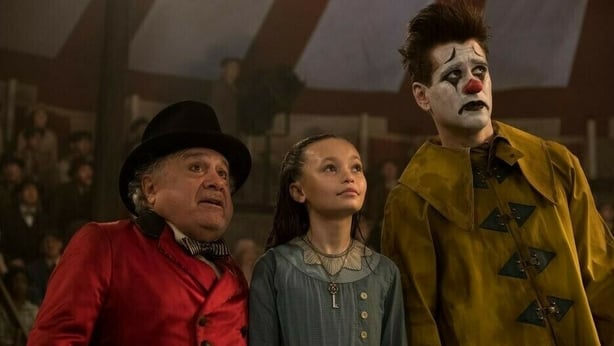 Farrell, who hails from Castleknock in Dublin, also opened up about his visits back to Ireland, and admits he always rents a car to make sure he has the chance to 'reconnect with the people and the land'.
Dumbo flies into cinemas on Friday, March 29.
For more movie news and reviews, click here