Rocketman star Taron Egerton has said that he portrayed Elton John at his most "broken" and "damaged" in the new biopic - with the full blessing of the iconic singer himself.
Speaking at a special preview screening of unedited scenes from the movie at Abbey Road Studios in London, the 29-year-old Welsh actor and Kingsman star said, "Because Elton has gone through recovery it leads to a certain quality of openess and candidness.
"The movie begins with Elton marching into rehab in a real bad way, sweaty, grinding his teeth and that's our jumping off point for the film and we learn about his life from him recounting his experiences from this therapy room. Elton wanted to show himself at his most vulnerable and most broken and damaged.
Egerton added, "That quality of bravery and lack of concern about how he comes off is quite unusual and it's right at the heart of what makes Rocketman quite special because Elton gave me the license to go and make him look quite ugly at times.
"This movie is primarily a celebration of Elton's life and work and musical partnership with Bernie Taupin but it also a story of someone who is not well becoming well."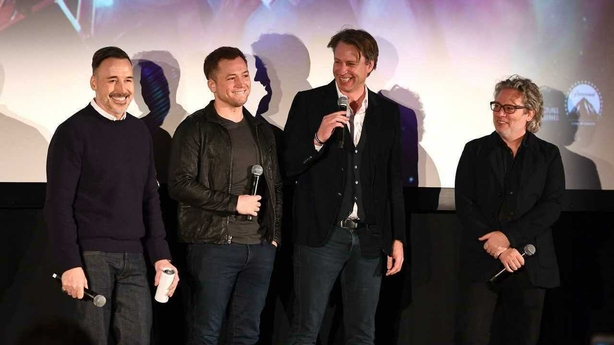 Rocketman, which also stars Jamie Bell as songwriter Bernie Taupin and Bodyguard actor Richard Madden as Elton's one time manager and boyfriend John Reid, is due out in May 24th and has been described as a musical fantasy about the singer's long and colourful life.
In the unedited and unfinished scenes, which were introduced at Abbey Road by Elton's husband David Furnish, Elton can be seen as a schoolboy Reg Dwight, who reveals his prodigious piano skills at London's Royal Academy of Music, before he goes on to become the larger than life star who has sold over 300 million records.
"Every day on this film was a challenge for all of us but more so for Taron," said Fletcher. "It's a real snot, sweat and blood performance and that's what we set out to create." - director Dexter Fletcher
Rocketman director Dexter Fletcher, who took a break from the project to take over directing duties on Queen biopic Bohemian Rhapsody after Bryan Singer left the production, said, "I wouldn't describe Rocketman as a biopic. It's a musical, that was our jumping off point, and it's based on a life of someone we all know.
"There are elements of it and large parts of it are based on early parts of Elton's career and his rise to fame and the cost he paid for that. But I think a musical fantasy is a great way to describe it. Elton is our storyteller in the film and it's his memory of those times and sometimes our memory plays tricks on us and we remember things colourfully and in a different way and I think that's the idea we're playing with. It's a musical fantasy based on Elton John's life.
"Just over a year ago, Taron sat at the piano in this studio and sang two songs and that was really the catalyst for making this whole project," Fletcher added. "When Elton saw that and Giles saw that, we knew there was something extraordinary was about to happen. What happened that day made us all be here today."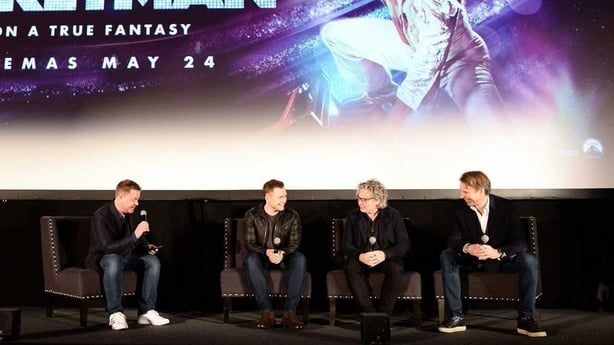 Crocodile Rock, Your Song and Saturday Night's Alright For Fighting are among the hits featured in the film, which features many big production numbers, including a dance and song spectacle in a funfair with 57 dancers.
The film's musical director is Giles Martin, son of the late Beatles producer George, and many of the recordings from the film were made in the legendary Abbey Road Studios.
"This is definitely a musical as opposed to a jukebox musical," Martin said. "People will watch this film and won't be able to imagine anyone else but Taron playing this role. Elton said before we started shooting, we were very nervous, he said I can't imagine anyone else but Taron playing me."
"Like many great artists, and I include The Beatles in this, the deeper you dig the more complex and beautiful their work becomes. My dad worked with Elton. He wanted him to write a song so Elton turned up at the house and he did twenty minutes in front of him and it was great. I was about 16 years old and my dad said, `he really is quite an extraordinary human being'.
"And it's true. The pressure on actually satisfying Elton musically and he very kindly said to myself, Taron and Dexter `I believe you completely. Now go away and do it'. Thankfully, he is very happy."
Rocketman seeks to reflect the singer's flamboyant style and self-destructive lifestyle - at one point in the movie, Elton levitates as he plays his piano - and it tells the story with a combination of myth-making and harsh reality.
Asked if he felt nervous taking on such an iconic role, Egerton said, "Looking back the pressure has been massive but a weird, sadistic part of me probably enjoys that. On the eve of shooting I was having a few freak outs."
My favorite Rocketmen ❤️ Can't wait for you all to see!#Rocketman 🚀🚀🚀 pic.twitter.com/4VXtalUskh

— Bryce Dallas Howard (@BryceDHoward) March 19, 2019
"Every day on this film was a challenge for all of us but more so for Taron," said Fletcher. "It's a real snot, sweat and blood performance and that's what we set out to create and it was absolutely imperative that Taron turned up every day and delivered that.
"Emotionally and psychologically Elton goes through a real rollercoaster and that's what takes us on the huge journey that he's going on."
"Elton has always been very honest and open," said Fletcher. "That's who he is and what defines him. When he first met us he said you gotta do what you gotta do - I've lived the life but you gotta tell the story. It's open to your interpretation'. He's nothing to hide. This film has spectacle, colour and entertainment, all things that define Elton himself."
Alan Corr @CorrAlan2