Cork singer Lyra is mad as hell and she's not going to take it anymore. The 26-year-old from Rochestown has been cheated on and lied to so she's taken heartache and turned it into righteous anger on her debut single, Falling.
It's an old story, which she tells matter of factly but also with a dose of self-effacing humour. "I'd gone through this thing with a guy who I didn't know at the time was seeing other people as well as seeing me - naughty, naughty, naughty boy. How dare he!
"I found out and I was a bit naïve at the time and I thought maybe if I win him over he'll pick me over these other girls or maybe if I'm better looking or funnier or cleverer, I'll be able to win him over and that will be it.
"Which was a stupid thing to do because if he's not going to pick you in the first place you shouldn't actually want him to pick you at all?" she continues.
"I was sick of being the person who was all `woe is me' so I decided to write something powerful and a bit sexy. I just wanted to make myself feel like I was good enough so I decided to make the song a bit more empowering and that's how I started the song, in my bedroom in my pyjamas."
Falling is the first fruits of her new deal with Polydor Records, following a series of self-released EPs featuring songs that ended up being used on television shows Teen Wolf, The Royals, The X Factor, and Made In Chelsea.
She also covered Mothers of the Disappeared on 2017's The Joshua Tree - New Roots and was named one of the Nine Best New Irish Artists by The Irish Times and one of the 12 artists included in RTE 2FM's Rising 2018 list.
"I think maybe that's where the mysteriousness came from but then when you see me on stage people aren't expecting what I'm like because I literally talk the arse off a pot."
Lyra is now based in London. "I'm in the studio 24/7 and loving it." she says in a strong Cork accent untroubled by her move. She has already hinted that there may be more self-empowered anthems and that, like Adele and countless other singers, she may base whole albums on romantic disappointments.
"Aaaaah, probably, yeah! Actually, I did write a song a couple of weeks ago that was not about men. It's just about myself," she says. "It's really good fun and it makes me want to dance and it was just a day that I felt that I just want to be happy so I wrote that. There is going to be a few other surprises in there. I'm not going to be taking people down misery street."
The musical influences on Falling are quite clear. Kate Bush, Florence + The Machine are to the fore and there is something of the primordial scream of early Sinead O'Connor in there too but from very early on, there was always a far more mainstream influence on Lyra's work.
"I've always been into Enya. My mum used to listen to her all the time when we were growing up so that's why I like harmonies and cinematic elements in my music. I also think Kate Bush's melodies are absolutely fantastic. Emerald was the first song I ever wrote and that was influenced by Kate Bush.
"Obviously Florence and The Machine is amazing, she's thundering through the place with drums and I like to keep my Celtic drums in there as well."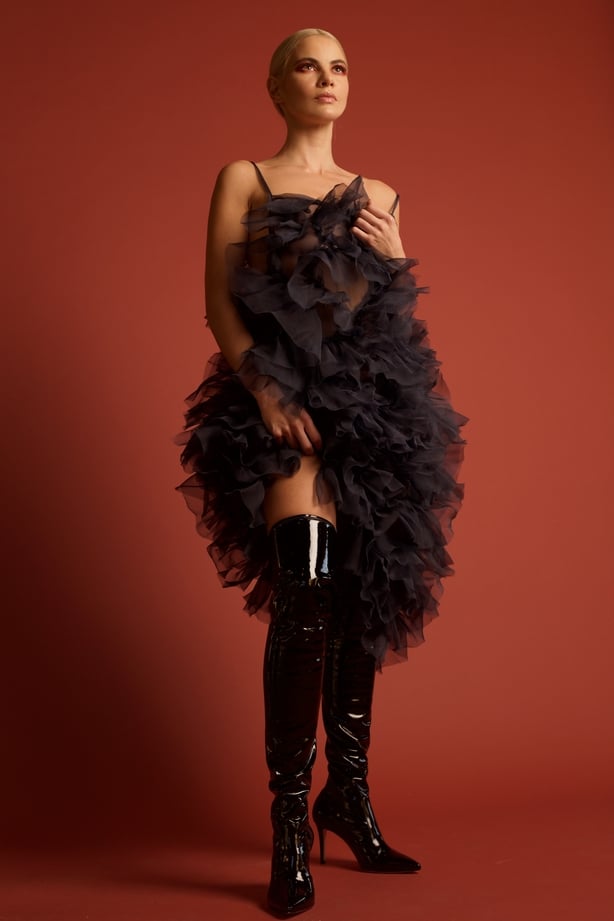 Lyra grew up singing in church and she also plays the bodhran and drums but it's not all Celtic twilght and rapture - songs like Broken have a tribal quality and if there is an air of impenetrable mystique in her music, in person Lyra is a live wire, given to linguistic flights of fancy and a very bawdy laugh.
"When it comes to my music I am quite a private person. I lock myself away on my own for a while getting ideas together and getting into that zone," says the live wire singer. "I think maybe that's where the mysteriousness came from but then when you see me on stage people aren't expecting what I'm like because I literally talk the arse off a pot.
"If you look at my Instagram, I'm soooo moody and artistic and then when I get on stage I'm like `how's it going, lads!?', grabbing drinks off the crowd and downing them. It's anything goes with me. That's just the way I am, I suppose."
And if the love rat who inspired Falling hears the song, would she even care what he'd make of it? "If you'd asked me that three weeks ago, I'd go over to his house and play it front of his f***ing face and shove it down his throat but actually today I'm, you know what, I don't give a flying codswallop," Lyra says.
"I really don't care. I'm like, do you and I'll do me and I'll just do it a whole lot better without ya so fecking p**s off. Feck this! I'm having a laugh. Goodnight, Irene."
Alan Corr @CorrAlan2