Denis Bastick has become the sixth celebrity to be eliminated from Dancing with the Stars.
After the voting lines closed it was revealed that Denis and Valeria would dance off against Clelia and Vitali, with both couples hoping to hold onto their place in the competition.
Only one couple could remain, with the judges voting ultimately to save Clelia; Julian and Lorraine both chose to save Clelia, with Brian giving Denis his vote.
Speaking about the elimination Denis said, "Thanks for all the support I've got to get me this far...
"I didn't know what to expect at the start and as the weeks went on its been more and more enjoyable."
Recap: DWTS as it happened
It heated up this week as the quarter final approaches, and there was a new challenge - the team dance.
Each couple danced twice; once as a pair and once as part of a group with two other pairings.
Before the team dances, each couple took to the floor...
Feeling fruity
Cliona and Robert kicked things off with a Salsa to Thalia's Mujer Latina. The backdrop was colourful and fruity and the performance highly energetic.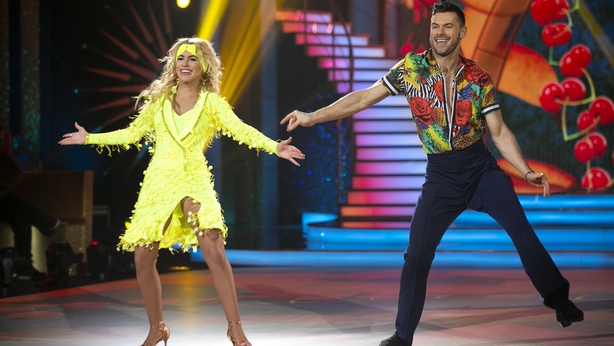 After the dance Cliona joked that she "needs an oxygen mask" as she was so out of breath.
Lorraine Barry began the judge's comments, saying it was "go-getting, exhilarating salsa" and complimented her "hip action and beautiful lifts." One critique - "keep those feet on the floor, keep the rhythm in the feet."
Julian Benson raved over the performance as he made his DWTS comeback following a short illness, saying, "This is why I was dying to get back in the hot seat, this was one tooty fruity hot Latina salsa."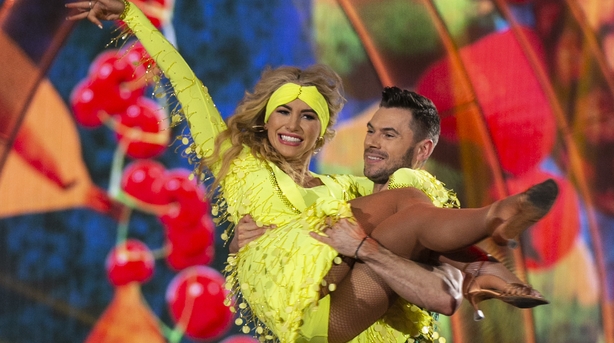 Finally, Brian Redmond commented on some "messy leg actions" compared to her previous performances, but did acknowledge how good a Salsa they danced.
Before the judge's scores were revealed, everyone sang Happy Birthday to Cliona, who turned 30 during the week.
Judge Score: 25
Sail away
Next up it was Mairead & John, who danced an American Smooth to Robbie Williams' cover of Beyond the Sea. There was nautical vibes galore!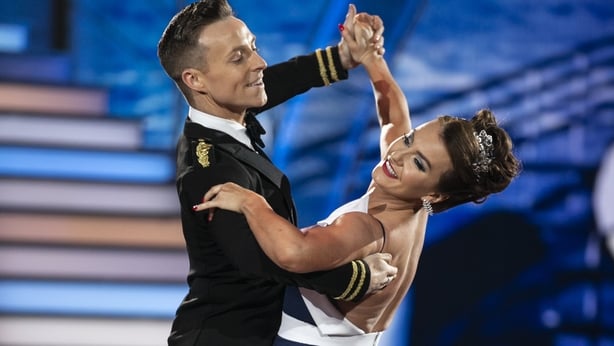 Julian quipped "after that performance I'd go cruising with you" saying he felt like he was on the love boat!  He added that the dance was, "elegant, it was graceful and you lilted across the floor". He did however have some negative feedback, saying, "Watch that free arm, and finish out the moves."
Brian thought it was "more cross-channel ferry than cruise ship chic" but agreed with Julian saying "apart from the arms I thought it was beautiful."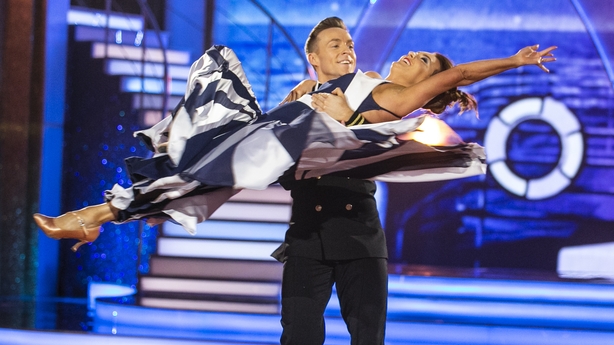 Lorraine was constructive saying, "For me I think the presentation is very beautiful" and complimented their foxtrot saying "It's faultless really" and urging them to give more going forward. "Its more we want, but a little is holding back, at this stage, let it go," she said.
Judge Score: 22
Get a rhythm
Dancing the Charleston, Clelia and Vitali performed to The Puppini Sisters' I Got Rhythm.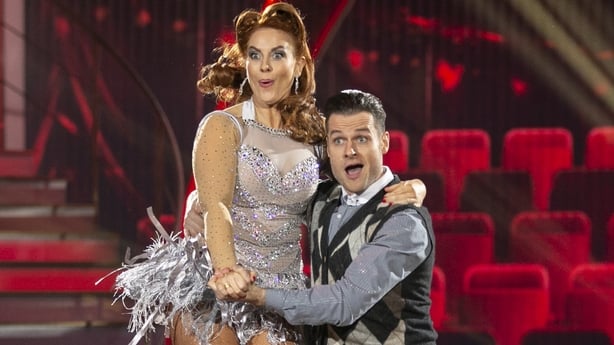 Brian had some negatives - and Julian told him to "suck on a lemon"- but Brian ultimately complimented the routine and his score reflected how much he liked it. "Who could ask for anything more? Maybe I could just a little bit... The Charleston swivels...  Apart from that,all the lifts I loved," he said.
Lorraine said, "It was absolutely just so sweet, it was cute, it was cheeky, it was tongue in cheek as well" and said she "absolutely loved it."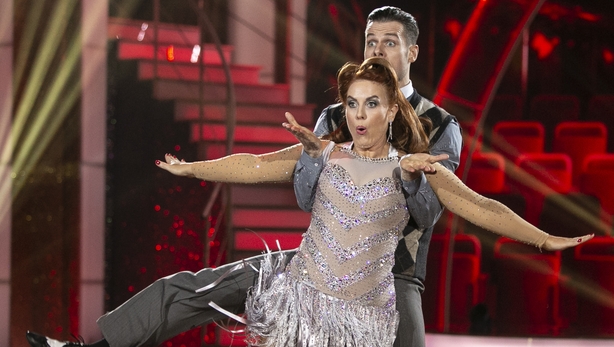 Julian hailed it as a "real flapper girl Charleston" noting how she "powered through the energy."  He labelled it a "great performance" from the pair.
Judge Score: 26
Match day
Denis and Valeria brought their game faces to the dance floor with their Paso Doble to Dario G's Carnivale de Paris.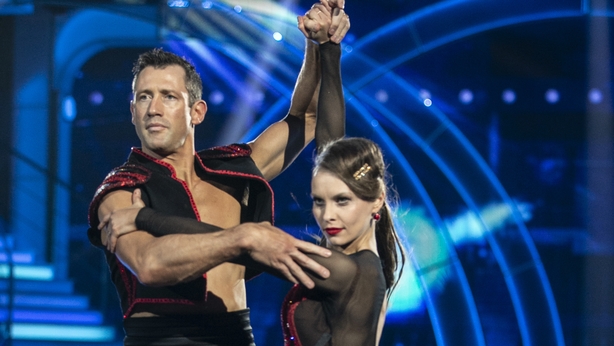 Lorraine was full of praise saying, "This was your dance tonight, and you really gave it some" adding, "I love the steps… The ending for me was when you really got into it… For me, you're getting it."
Julian said it was a "power-punching Paso" saying, "You brought the aggression you have on the pitch to the dance floor."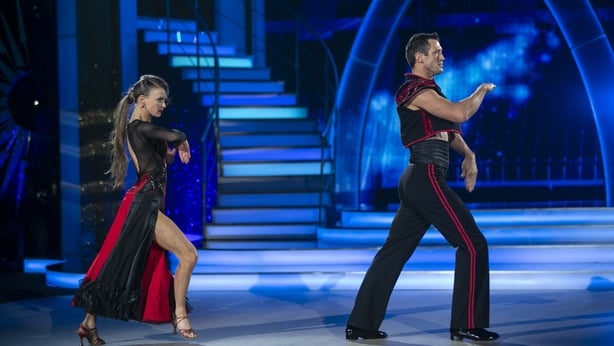 Brian had one problem with Denis' lower body but agreed with his fellow judges in the end, "Like the guys, I loved it as well."
Judge Score: 24
A lot of heart
Then it was time for Fred and Guilia to take to the floor, doing their best Viennese Waltz to Joe Cocker's With a Little Help from My Friends.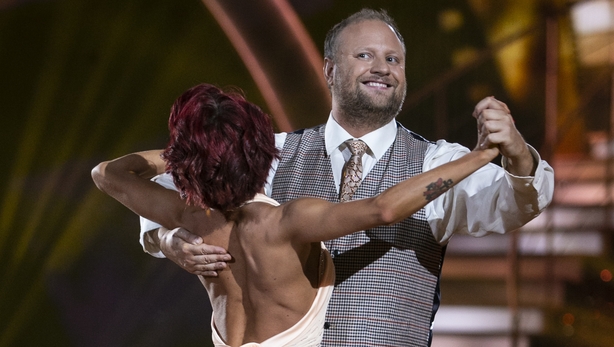 Julian started off the judge's remarks saying, "there was nice movement, nice control" and added "your heart is always in the dance and you bring everything to the floor each week."
Brian said there were highs and lows to the dance, and gave him some technical advice on his footwork. "For me, I think after that performance that you might need a little help from your friends tonight," Brian said.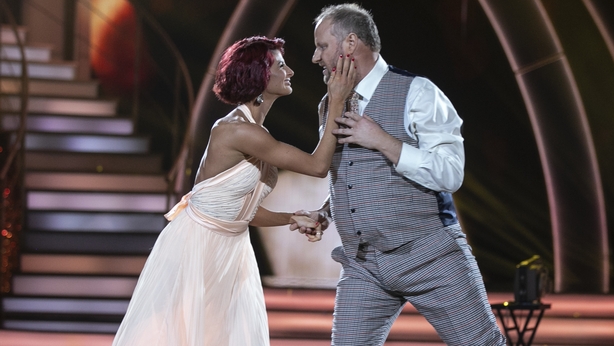 Lorraine "really liked it" but there were other parts she didn't like so much. "It lost a little bit of that volume, you've got to fill it out," she remarked. "It's not enough tonight, but it was still good what you did."
Judge Score: 20
Real bravery
Closing out the couple's dance section, Johnny and Emily danced in tribute to Johnny's father who had died the previous day.  His father had asked him to dance this week and to continue his journey. The couple danced a Samba to a remix of Ed Sheeran's Shape of You.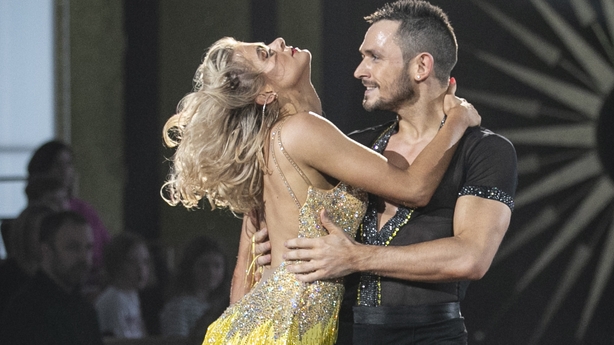 Brian extended the judge's condolences to Johnny as he began the judge's comments. "The bravery you showed tonight is something I know your father would be really proud of" Brian told him.
He then praised "two excellent sections" of the dance, saying it was all "very very good."
Lorraine said there was "lots of pure Samba in there" giving one small critiquethat "your feet get wider than the shoulders so it gets too open, but that's me nitpicking."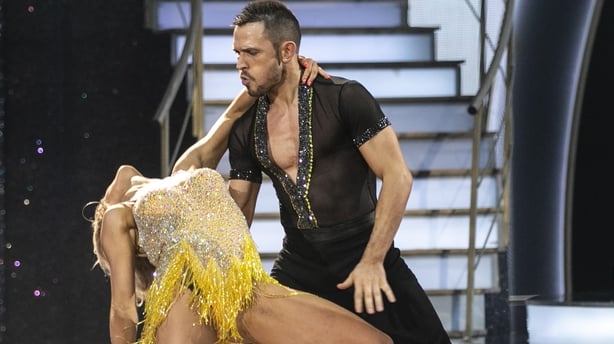 Julian  said he is "in love with your dancing" before adding, "I know the strength and courage it took for you to get on the floor tonight, you danced for your life Johnny, you gave it everything, you should be proud of yourself." He concluded by saying, "You're a wonderful dancer and tonight you did a super job."
Judge Score: 28
Then it was time for the team dance, with Team Past up first.
Team Past
Dancing to a remix of All That Jazz, Clelia & Vitali, Denis & Valeria and Cliona & Robert brought the classic song into the future, really jazzing things up.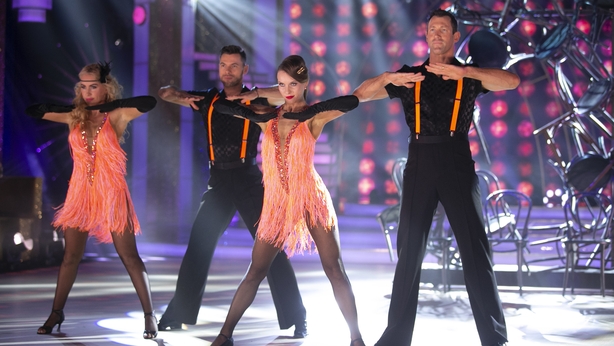 Lorraine hailed it as a "real team affair" and praised their "synchronisation with the music". She singled out Cliona as being a "great flapper."
Julian "felt I was on Broadway at the musical Chicago" and said it all "worked extremely well" before saying "they really sold it."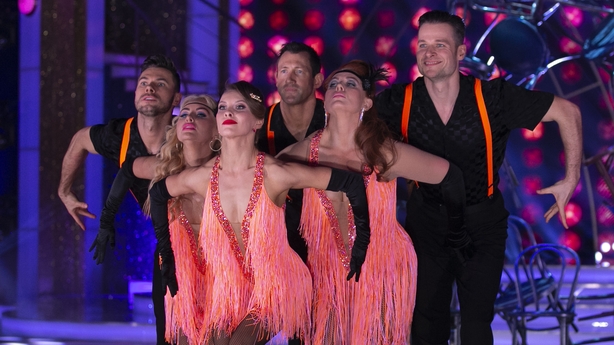 Brian said he "liked it as much as Julian" and was impressed that the pros allowed the celebrity dancers to "take front and centre".
Judge Score: 29
Team Future
Then it was time to really go into the future, with the second team dancing to Lady Gaga's Born This Way. Mairead & John, Fred & Guilia and Johnny & Emily made up the team and their set and props were futuristic to live up to their team name.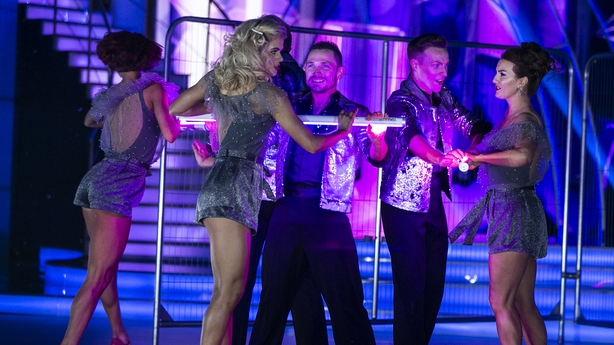 Julian said it was a "Gagalicious performance" and said he loved in particular "the concept and use of the lightbulbs." "You could see the energy and feel the punch," he said, before singling out Johnny as a stand-out performer.
Brian was also a big fan, saying Mairead did a particularly good job, "You stood up to the standard of the pro girls."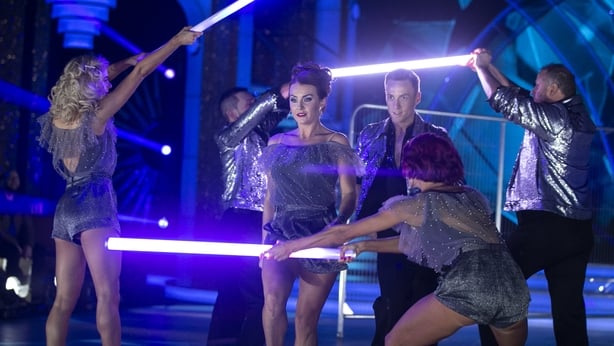 Lorraine was a big Fred fan saying "this was your moment" and said well done to the whole team.
Judge Score: 26
--
Catch Can't Stop Dancing this Friday at 8:30pm on RTÉ One, with Dancing With The Stars returning on Sunday at 6:30pm to RTÉ One for a Eurovision themed quarter final.