Irish rugby international Peter Stringer and his partner Ksenia Zsikhotska have been voted off Dancing With The Stars. Fair City actress Clelia Murphy and her partner Vitali Kozmin were saved in the dance-off.
The judges said that both couples had really improved on their initial routine. Peter Stringer and his partner Ksenia danced the A.smooth to Frank Sinatra's New York New York and Clelia and her partner Vitali did the paso doble to Ricordi's Finiculi Funicula.
Two judges voted unanimously to keep Clelia and Vitali in the competition and the third judge said if their vote had been required that they too would have kept the pair in the competition too.
Six couples will fight for their spot next week.
Dancing With The Stars this week was accompanied by RTÉ Concert Orchestra.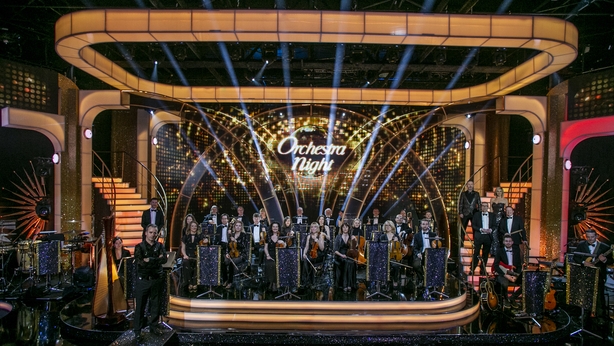 The show was a black tie affair for the audience.
The RTÉ Concert Orchestra was conducted by Gavin Murphy and accompanied by singers Gary Harpur and Gemma Sugrue.
Don't miss it! @RTEOne @DWTSIRL #dwtsirl #OrchestraNight https://t.co/AudSJnnwoB

— RTÉConcertOrchestra (@rte_co) February 23, 2019
.
As it happened
First up were Mairead Ronan and John Nolan who danced the samba to Barry Manilow's Copacabana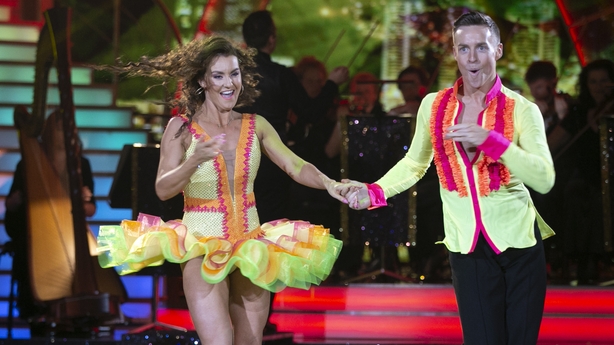 Mairéad said: "I look like a sweet . It was such a fun dance. Can I dedicate it to my good friend Ian Dempsey and his dog! " 
Guest judge Darren Bennett said: "Mairead the showgirl ....you really got the party started, cheeky flirty fun....good use of the legs...showing off your fabulous leg......I would have a liked a little bit more aggression in the hips...but really great opening tonight in the show well done." 
Judge Loraine Barry said: "The samba you chose tonight was full on samba, the lovely natural roll.......I wanted more hip..more looseness...I wanted you to hit it more...we're in week 8, so not just 100% but 110 %."
They scored 21 points. 
The second couple to dance were All Ireland winning footballer Denis Bastick and his partner Valeria Milova who danced the foxtrot to Adele's Someone Like You.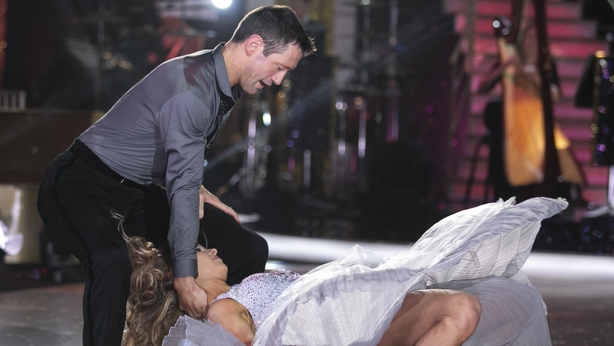 Denis said: " We had a good week training.It was great to dance to the orchestra."
Judge Brian Redmond said: " You bog softie...foxtrot is my favourite dance....how you danced it actually made me wanted to be there in your place...the frame would have been better...big improvement...overall a very good foxtrot " 
Judge Darren added: "Sensuous ( the dance)....something you wouldn't hear about a Dublin footballer. I really felt like you got into the essence of the dance. So much better.....so much sway...your best ballroom dance so far."
They scored 23 points.
The third couple were Fair City actor Clelia Murphy and her partner Vitali Kozmin did the paso doble to Ricordi's Finiculi Funicula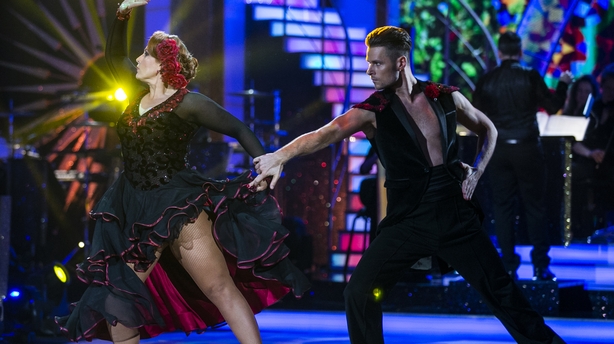 Clelia said: "I really enjoyed that dance. It's easier to count when you have an angry face! " 
Judge Loraine said: "This is not your traditional Paso Doble...for me it was the man and the woman...it was like a dual and mirror imaging....you just needed a bit more angle...but I like it very much...It was like a fight to the death but I felt you both survived very well. " 
Judge Brian said: "I definitely saw confidence tonight....there was one area that was slightly short...the body line.....but I felt you were conducting the whole room, well done. "
The pair then were in the dance-off up against Peter Stringer and Ksenia Zsikhotska and with their moves persuaded the judges to keep them in the competition.
They scored 25 points.
The fourth couple was Irish rugby legend Peter Stringer and his partner Ksenia Zsikhotska who danced the A.smooth to Frank Sinatra's New York New York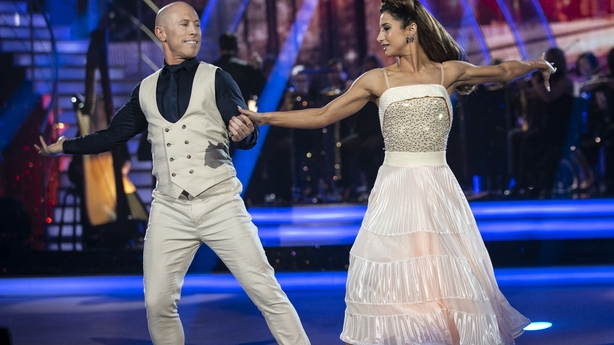 Peter said: "We enjoyed it... I loved this dance...I just wanted to relax...the orchestra are amazing..to rehearse to them was something special." 
Judge Darren said: "Lights,camera, action, broadway...you had everything in that dance...I want you to really focus more on the highlighted and accents...the change of speed I don't see it all the time, it can be with the same energy ....but to was a very good american smooth." 
Judge Loraine said: " And what's lovely here it  went so well for american smooth....the foxtrot the rolling through the feet was very very good I really enjoyed it....that music you've got to fill up .....but you're on your way well done."
Ultimately the judges in the dance-off said farewell to the pair.
They scored 20 points.
The fifth couple on the dance floor is actor Johnny Ward with partner Emily Barker who did the Tango to Coldplay's Viva La Vida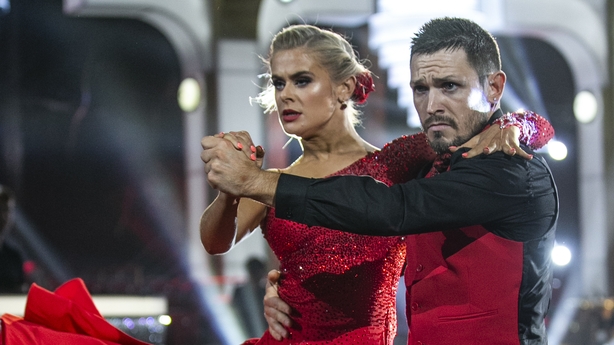 Johnny said: " I'm over the moon...we really focused on technique...it was my most favourite week...and I want to dedicate it to my dad and everyone in Tallaght hospital keeping him here."  
Judge Brian commented: " I really enjoyed that great combination...reverse pivots crosses...nailed every single one of them...the one leg reminded me a bit of a ballerina but apart from that I absolutely loved it" 
Judge Darren said: "Totally transfixed. This was expressive,explosive you really dominated the characterisation of the dance. You didn't over-dance...not a foot wrong...absolutely loved it...few dances I would watch again I would watch this in a beat"
They scored 29 points.
The sixth couple was country singer Cliona Hagan and her partner Robert Rowinski waltzed to Nino Rota's A Time for Us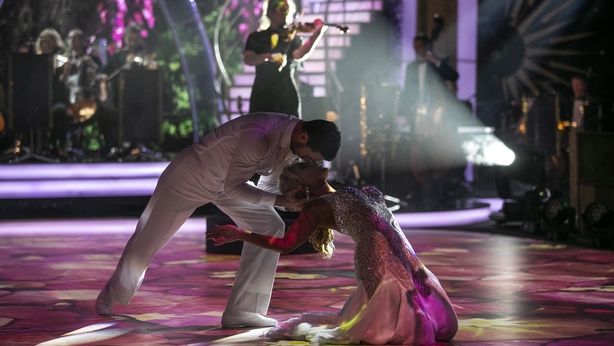 Cliona said: " There something about live music it goes straight into my bones...the Orchestra were stunning..... it was so amazing for me" 
Judge Loraine said: "I always feel like waltz is the hardest dance to master and you both made that look easy for you tonight....for me I look at that and see a beautiful love story in motion here."
Judge Brian said: "I think that performance just proved to me that less it more...it was emotional,emotive and slow in tempo...the arrangement was huge and you really stepped up into that......if you keep going like this over the next few week....I think it could be a time for you."
They scored 28 points.
The last couple to dance were Comedian Fred Cooke and his partner Giulia Dotta jived to Elton John's I'm still standing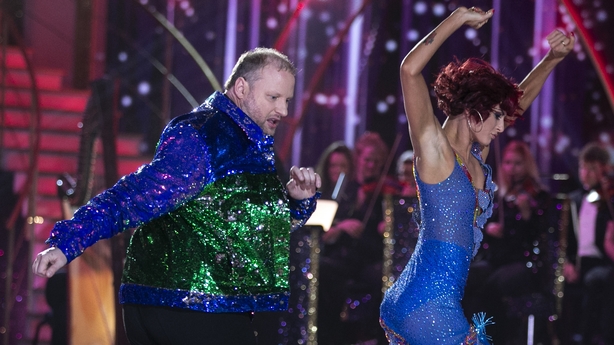 Fred said: "It's a rollercoaster...it's like Funderland...it's such a joy......." 
Judge Darren said: "Who would have thought in week 8 you'd still be standing in this comp...there is real improvement in your dancing...good kicks and flicks......good job." 
Judge Loraine said: "Gosh what can I say....you've got it...not everyone has it...it's in every bone of your body....lovely kicks and flicks....I didn't like the slow motion...you don't need to go slow... not only are you still standing you are outstanding."
They were not selected for the dance-off this week, which was fortunate as Fred slipped in last week's dance-off.
They scored 24 points.