Demi Issac Oviawe and Kai Widdrington have become the latest contestants to be voted off Dancing with the Stars and will miss out on next week's show special with the RTÉ Concert Orchestra.
The Young Offenders star fell afoul of the dreaded dance-off and lost out to comedian Fred Cooke who was unanimously chosen by the judges to stay in the competition.
Speaking about the elimination an emotional Demi said: "I'm sorry I shouldn't be crying... I came here to step out of my comfort zone. I wanted to prove to the country that I can be just Demi!"
Ah hard luck to Demi. #dwts #DWTSIRL #RTEOne pic.twitter.com/sg583N66fC

— RTE One (@RTEOne) February 17, 2019
The Recap:
Clelia Murphy and Vitali Milova
Kicking off the show, Fair City actor Clelia Murphy and her partner Vitali Kozmin danced a Cha Cha to She's a lady by Tom Jones.
Clelia said: "I have a fantastic teacher in Vitali and he's right to keep pushing me."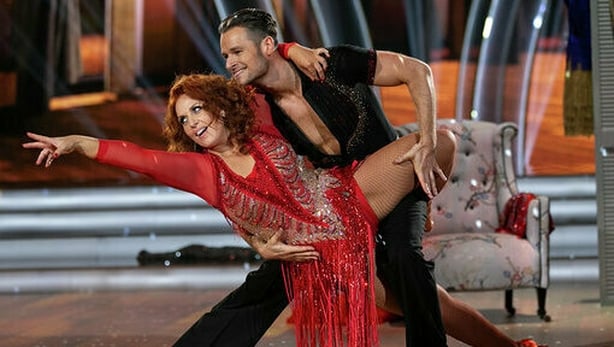 Judge Loraine Barry said: "Well this cha cha cha has frustrated me this season but not after tonight... it was easy to identify the cha cha movements... you're a sensuous, sultry lady doing a cha cha."
Creative director of the series and guest judge Darren Bennett, who was standing in for in for an ill Julian Benson, added: "Not just a lady but all woman, you have the confidence, the curves and you have the ability to give us a great cha cha cha... no sign that you guys are running out of steam".
The couple were awarded an impressive 23 points.
Opening with a sultry Cha Cha Cha @clelia_murphy and @KozminVitali earn 23 points from the judges! 💃 #DWTSIrl

— DWTS Ireland (@DWTSIRL) February 17, 2019
Denis Bastick and Valeria Milova
All Ireland winning footballer Denis Bastick and his partner Valeria Milova performed a waltz to I Wonder Why by Curtis Stigers.
After the dance, Denis said: "Very different (this week)"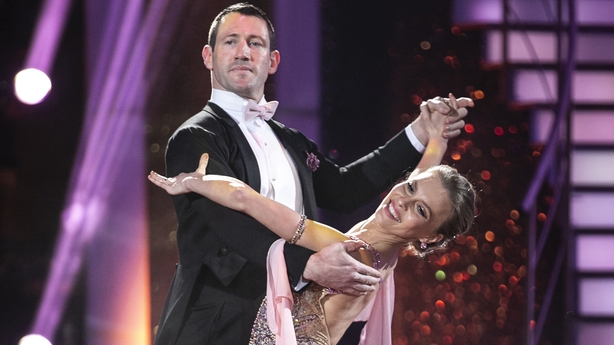 Judge Brian Redmond said: "Technically very difficult... where its still weak is the frame and the arms... for me the top line just took away from the performance that was very good technically."
Darren added: "Mr consistent you always deliver technically well... you've nailed the move, you need to nail the grove..."
Valeria sweeps @DenisBastick off his feet! 🤩 @DWTSIRL #DWTSIrl pic.twitter.com/9D8SBw7lL9

— RTE One (@RTEOne) February 17, 2019
The couple earned a respectable 20 points.
Cliona Hagan and Robert Rowiński
Country singer Cliona Hagan and her partner Robert Rowinski took on the tango to Sweet But Psycho by Ava Max.
After the performance, Cliona said: "Every week I'm just trying to push myself and make myself a better dancer."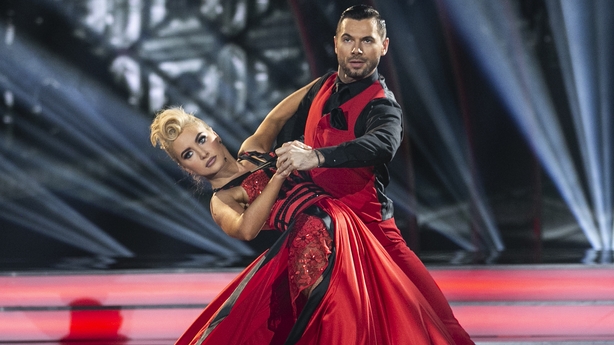 Loraine commented: "I loved the solo opening... I loved the dance together but unfortunately the poise suffered but I did enjoy the dance itself. "
Brian said: "High standards can be difficult to maintain. Last week you got a 10 and I didn't think tonight quite lived up... but if that's you not at your best it bodes very well for the rest of the competition."
They scored 25 from the judges.
Demi Issac Oviawe and Kai Widdrington
Back together after switch-up week, actor Demi Isaac Oviawe and Kai Widdrington danced the Viennese Waltz to Fallin' by Alicia Keys.
Demi said: "(I was) very dizzy, I saw two Kai's" Darren commented: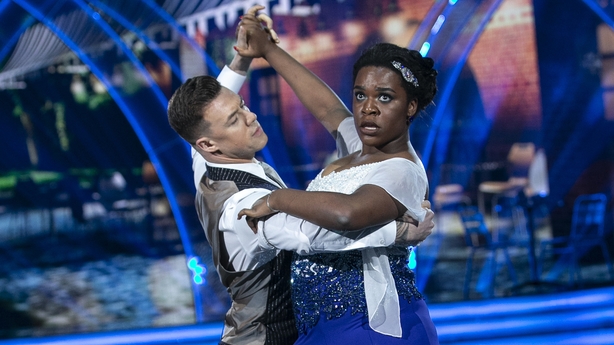 "You have become an enigmatic performer... if that could move into the technique that'd be great... very nice job." by far your best ballroom dance."
Loraine said: "I just loved the opening. It was so soft... I must complement you on a beautiful left arm... great fluidity on the floor... this is an 18th century dance and you brought it into this century."
The couple scored 21 from the judges.
Fred Cooke and Giulia Dotta
This week, comedian Fred Cooke and his partner Giulia Dotta took on the quickstep to Barry Manilow's Dancing Fool.
After the dance, Fred responded to his standing ovation from the audience: "It feels wonderful, thanks very much."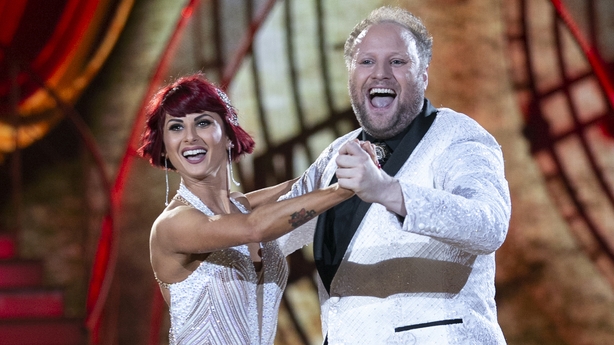 Brian said: "I've been lucky enough to be here for 3 years and that was the loudest cheer I've heard from the audience... I actually think that was better than your Charleston".
Darren added: "Fred's no dancing fool, he's dancing cool... comedy and dance talent on Dancing with the Stars doesn't usually go together but you are the exception!"
He scored 24 from the judges.
Johnny Ward and Emily Barker
Actor Johnny Ward embraced the slow tonight with a rumba with partner Emily Barker to Say You Won't Let Go by James Arthur.
Johnny said: "It was definitely the toughest week... I'm really delighted."
Loraine said: "Thank you, thank you so much... you slowed it down so much... It was really very very good. I love the relationship tonight, you danced the rumba technically very good... I think tonight three people are happy, you, Emily and Me."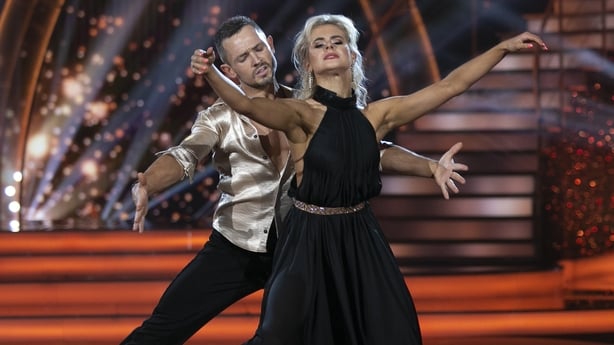 Brian said: "For me rumba is all about the leg action... three years now I've been looking at rumba and I've never seen a male celebrity give me a leg action.. absolutely phenomenal... all you need to do is focus on the technique don't worry about acting it. "
They scored 27 from the judges.
Mairéad Ronan and John Nolan
Reunited after switch-up week, broadcaster Mairéad Ronan and her partner John Nolan danced a quickstep to Nothing Breaks like a Heart by Mark Ronson featuring Miley Cyrus.
Mairéad was glad to be back together: "I am, I missed him." Darren said: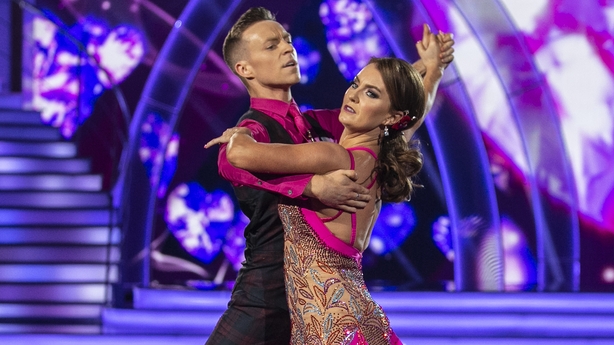 "There was so much to love... great creativity... now I want you to focus on your upper body... very occasionally you become a bit of a passenger in hold" Loraine said:
"I thought it was wonderful. Really very good... I loved it, it was great flight, I wanted more and more... the quality was superb."
They scored 24 from the judges.
Peter Stringer and Ksenia Zsikhotska
And finally, rugby legend Peter Stringer and his partner Ksenia Zsikhotska danced a fun Charleston to Paolo Nutini's Pencil Full of Lead'.
Peter said: "I needed my strength for that."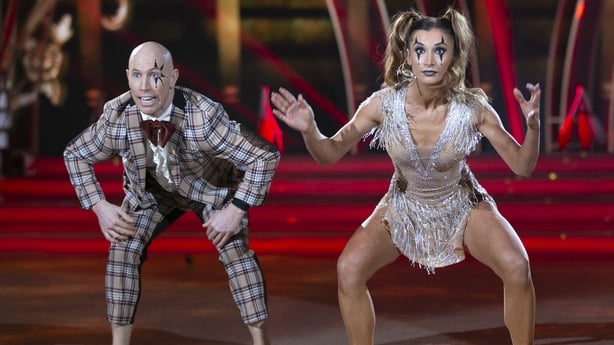 Brian said: "Well you may have a pencil full of lead but you didn't have a Charleston full of swivel ... but all the other element of Charleston were there... I think that was definitely your best dance so far".
Loraine added: "Lots of Charleston innuendo... lots of them... but lets get to the lifts, the lifts were superb!"
They scored 25 from the judges.
For more TV news, click here