The author John Banville has defended Liam Neeson amid the outcry over the actor's revelation that decades ago he harboured violent thoughts about killing a black man after someone close to him was raped.
The writer said the star "was delivering a cautionary tale".
Neeson made his comments during an interview with the Independent UK to promote his new film Cold Pursuit.
The actor said he had walked the streets armed with a weapon, hoping he would be approached by someone so that he could kill them. 
He said he was ashamed of his behaviour, describing his actions as "awful" and "horrible". 
Neeson is due to star in Marlowe, an adaptation of Banville's novel The Black-Eyed Blonde, which the Man Booker Prize winner published under his pen name, Benjamin Black.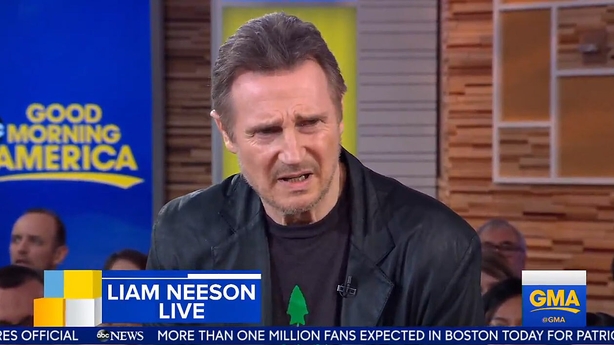 When asked by the Press Association about the controversy surrounding Neeson's comments, Banville replied: "Does no-one listen anymore?"
"Liam Neeson was delivering a cautionary tale," he continued. 
"His point was that we must resist our primitive urges - and we all have primitive urges - and that his week, long ago, of plotting revenge for a specific outrage by doing violence to a person at random was something he was and is ashamed of."
"Liam Neeson is a decent man and does not deserve to be demonised in this way," Banville said.
On Tuesday, Neeson appeared live on the talk show Good Morning America and told host Robin Roberts that he was not racist. Later that day it was announced that the New York premiere of Cold Pursuit had been cancelled as the controversy continued.