Reigning Rose of Tralee Kirsten Mate Maher laughed off her recent experience of becoming the target of rapper Azealia Banks' online invective, and said she hopes the hip-hop star learns to control her anger.
The Waterford Rose was a guest on Saturday night's Ray D'Arcy Show on RTÉ One, where she recounted how she became part of the story of the American rapper's controversy-filled visit to Ireland.
"She took to the Internet into a bit of a rant, and I was somehow brought into the middle of it," said Maher.
"A girl sent in a picture of me because Azealia had called all Irish women ugly. A lovely girl actually sent a picture of me saying, 'You know, not all Irish women are ugly. You can't say that - look at our Rose of Tralee'. And Azealia replied, saying, 'Nah, you're chopped', which means 'you're ugly'. I was kind of like, 'Ooh, that's a bit mean'."
"When you heard that and you saw it, how did you react?" asked D'Arcy.
"Ah, you had to laugh," she replied. "You do, you have to laugh. I thought it was gas. I found out quite late at night. My boss actually texted me in work, saying, 'Kirsten, you're not going to believe this, but you're on Azealia Banks' story'. And I was like, 'Nah!' [Laughs]
"But it was true, and I found it quite funny. Obviously, what came about afterwards and some of the comments that were passed were so nasty. Overall, I wasn't particularly fazed by it. I mean, I think people have said worse things to me now than that. I just left her off. She's fine, she's gone now! I think she's gone home!"[Laughs]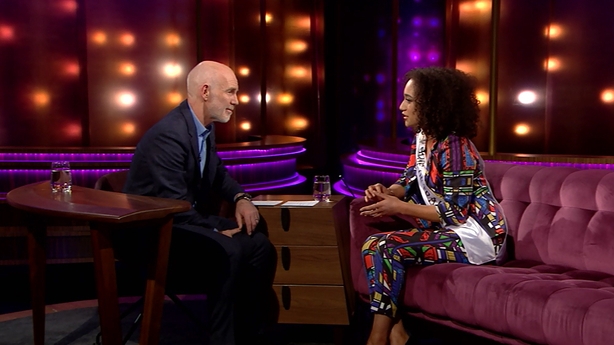 "You responded with a photograph," said D'Arcy.
"Yes," replied the Rose. "Just '#UglyIrishGirl', you know, 'kisses'. [Laughs] Kill them with kindness - exactly!"
When D'Arcy said he "sort of in a way felt sorry" for Banks, Maher agreed.
"I suppose I kind of feel bad for her in the way that obviously the people around her aren't stopping her from doing this to herself..." said the Rose.
"I do feel bad for her. I'm not particularly... I mean, I still like her song 212 - which is awful! - but I just think it was really sad and hopefully, look, she'll kind of learn to hone in [sic] her anger."
Maher, the first African-Irish woman to win the Rose of Tralee, she adheres to the wisdom that although she can't control what other people say to her, she can control how she reacts.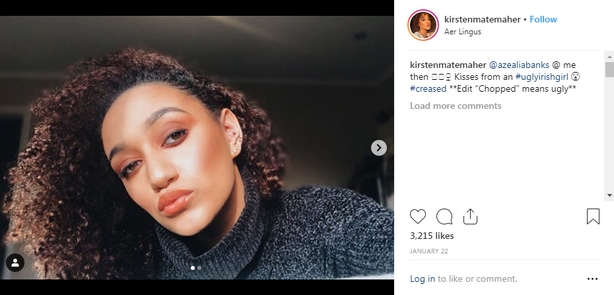 "You meet so many nice people and that one person that you meet can kind of, I suppose, make you feel horrible," she continued.
"But you need to kind of remember that, 'Look at all the hundreds of other amazing nice people that you've met'. And just to kind of keep that in [mind].
"I've got friends and family surrounding me to remind me that, 'Do you know what, Kirsten? Ok, you've met one nasty person this week, but how many other good people are you after meeting this week?'"
Maher said the reaction to her Rose of Tralee win had been "brilliant".
"I've been having the time of my life," she added.