There's the follow-up to Deutschland 83, Danny Dyer's delving into his royal past, a documentary about death, and a final Gordon Ramsay makeover . . .
Pick of the Day
Deutschland 86, 10.50pm, RTÉ 2
The sequel to the excellent Deutschland 83 drama moves forward – as the title implies – by three years. East Germany is broke, Perestroika is real, terrorism plagues Europe, the AIDS crisis intensifies and the struggle against apartheid rages on.
Banished from East Germany for his sins in 1983, Martin Rauch wallows in limbo until his Aunt Lenora conscripts him into her plan to drum up hard currency abroad.
They set off on an adventure through Africa, Western Europe and finally home to East Germany. Can mafioso-style Capitalism save Communism just in the nick of time?
New or Returning Shows
Danny Dyer's Right Royal Family, 9.00pm, BBC One
On Who Do You Think You Are? Danny Dyer discovered he was descended from England's King Edward III - but in this new two-part series the EastEnders star uncovers an ever bigger family tree with even more royal and aristocratic ancestors.
From the Vikings to the Tudors, Danny dresses, eats and lives his way through his family tree. And, remarkably, his journey is a retelling of 800 years of British history - which is all there in his extraordinary bloodline.
"It's going to be a right nutty royal caper," he promises.
We Need to Talk About Death, 9.00pm, BBC Two
Dr Kevin Fong makes a personal journey through the moral questions about death that face not just the medical profession, but each and every one of us.
Modern medicine is focused on saving lives, life expectancy has surged, and we regard death as something to be battled. It is common for the medical system to throw everything into treating patients right to the very end.
But in our attempts to defeat death, the question is this - are we over-medicalising death and the final years of life at the expense of providing better palliative care that would result in a better quality of life?
Ending Tonight
Ramsay's 24 Hours to Hell and Back, 11.00pm, Channel 4
Celebrity chef Gordon Ramsay completes his travels across the United States in search of restaurants that are in dire need of renovation, with a 24-hour time limit to get the job done.
In this final episode of the current run, he visits Sacramento in California to turn around the fortunes of BBQ and seafood restaurant called Sandra Dee's (Grease fans, presumably), a premises that requires updating in both its decor and its menu.
Shut-Ins: Britain's Fattest People, 10.00pm, Channel 4
Emily is a single mum with two small children. She is 24-years-old but already weighs 26 stone. She's struggled with her weight all her life, but since the age of 17 she has become almost unrecognisable.
This episode looks at the emotional demons that are pushing Emily to comfort eat. She puts herself in the hands of a top surgeon, but also seeks a behavioural psychologist to understand what drives her compulsion.
Don't Miss
Just Another Immigrant, 10.00pm, Sky One & NOW TV
Romesh Ranganathan continues to chase his professional dreams in Los Angeles, as he attempts to fill out the 6,000-capacity Greek Theatre and break America.
His wife and kids arrive in the USA and join him in a photo shoot as he works on making his image more appealing to the American market. His hopes are somewhat dampened when the photographer places him in three possible role types: terrorist, hipster, or helpful employee.
An Balla, 9.30pm, TG4
Síle Nic Chonaonaigh visits one of the most heavily militarized borders on earth: the Korean DMZ (demilitarized zone).
Since the end of the Korean war in 1953, the peninsula has been split in two by this 4km wide strip of no man's land and it's one of the world's most hostile borders.
Síle catch a glimpse of the secretive North, a country isolated from the rest of the world for nearly 70 years, and meets some of the families separated in the melee of war.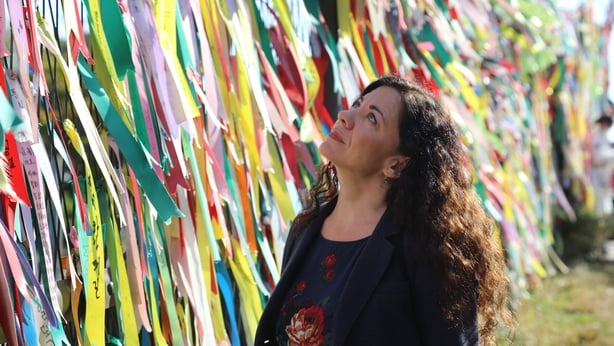 Click here for full TV listings