If you're going no further than the sofa - and even if you are - here are some tips on what's worth watching on the box between Friday and Sunday. . .
Pick of the weekend
FYRE: The Greatest Party That Never Happened, from Friday, Netflix
Here's an intriguing behind-the-scenes documentary that explores the infamous unraveling of the Fyre music festival.
Created by Billy McFarland and rapper Ja Rule, it was was promoted as a luxury music festival on a private island in the Bahamas featuring bikini-clad supermodels, A-List musical performances and posh amenities. It was anything but.
Rule and McFarland later faced a $100 million class action suit, and McFarland was eventually sentenced to six years in jail for fraud.
New or Returning Shows
The Clinton Affair, 9.00pm Sunday, More4
This six-parter examines the political scandal that led to the impeachment proceedings of US President Bill Clinton and featuring archival footage and comprehensive interviews.
In the first programme, Democrats retake the White House after 12 years of Republican control, but the scandals that plagued Bill Clinton during the campaign follow him to Washington.
Michael McIntyre's Big Surprises, 7.00pm Saturday, BBC One
Michael McIntyre looks back over his favourite surprises and pranks from the last four seasons of his Big Show.
There's Ed Balls, Alexander Armstrong and Carol Voderman about what it was like to hand over their phone in Celebrity Send To All, while Gino D'Acampo (see below) relives what it was like waking up and finding Michael in his bedroom on Midnight Gameshow.
Real Time with Bill Maher, 9.00pm Sunday, Sky Atlantic
The acerbic US comic Bill Maher is back for another run of shows where he invites three guests from diverse parts of the political spectrum for a lively discussion of the week's events.
Jack and Dani: Life After Love Island, 10.00pm Sunday, Virgin Media Two
Following the lives of 2018 Love Island winners Dani Dyer and Jack Fincham, this new show opens as they move in together, get a puppy and visit the Far East.
But will the pressures of having a relationship under the microscope prove too much?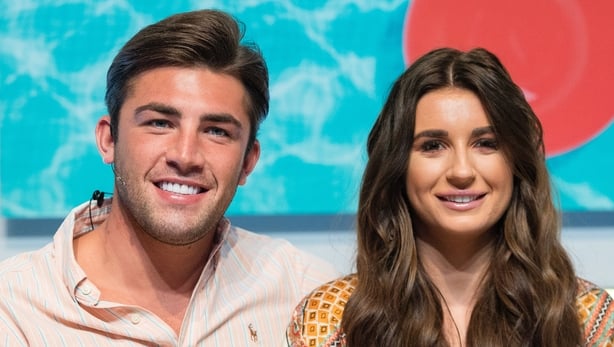 Carole King – Natural Woman, 11.00pm Sunday, TG4
This film follows Carole King's life and career, from her upbringing in Brooklyn and subsequent success as one half of the hugely successful husband-and-wife songwriting team known as Goffin and King.
Ending this weekend
Jamaica Inn, 9.00pm Saturday, Virgin Media Two
As the net tightens on the smuggling gang, Jem is determined to discover the identity of the man who gives Joss his orders, but his brother is unwilling to give up his boss's name.
With things falling apart, Mary is desperate to save her Aunt Patience.
Delicious, 9.00pm Friday, Sky One & NOW TV
The tension continues as Teresa tells Sam the truth, creating a rift between Sam and Gina that looks like it may never heal. As the family try to pull together for Mimi, tragedy strikes unexpectedly elsewhere.
Black Lake, 9.00pm Saturday, BBC Four
The Swedish drama comes to a conclusion. Oscar has vanished, but Uno doesn't want to inform the police right away, as it might threaten his work on the island. Instead the group must help each other to look for him.
Tin Star, 10.55pm Sunday, Channel 4
Just as the second season's about to begin on Sky Atlantic (it arrives next Thursday), the first season's terrestrial run comes to a climax here as Mrs Bradshaw discovers how adept she can be at covering up a crime, while Angela faces up to her husband's brutality.
New to Download
Grace and Frankie, from Friday, Netflix
In the return of this Emmy-winning comedy, two friends Grace (Jane Fonda) and Frankie (Lily Tomlin) launch a scheme to get their old lives back. Guests stars Ru Paul and Nicole Richie.
Marvel's The Punisher, from Friday, Netflix
Frank Castle (Jon Bernthal) is back, but as he starts the process of moving on with his life, he finds himself fighting new battles on multiple fronts.
Star Trek: Discovery, from Friday, Netflix
Mysterious events in different regions of the galaxy launch Discovery on a new mission with a temporary captain: Christopher Pike of the Enterprise.
Solo: A Star Wars Story, from Friday, Sky Cinema
Han Solo gets a Star Wars spin-off all of his own, with Ron Howard taking over directing duties. Taking over from Harrison Ford in the lead role, meanwhile, is Alden Ehrenreich.
This origin story gives fans the birth of one of the great silver-screen bromances: step forward Joonas Suotamo as Wookiee partner-in-crime, Chewbacca.
Weekend Movies
True Grit, 9.15pm Friday, TG4
Starring Jeff Bridges, Matt Damon and Hailee Steinfeld, and irected by Ethan Coen, this remake of the John Wayne classic sees a stubborn teenager enlist the help of a tough US Marshal to track down her father's murderer.
Into the Storm, 9.00pm Sunday, RTÉ 2
Richard Armitage, Sarah Wayne Callies, Matt Walsh star in this tale of storm trackers, thrill-seekers, and everyday townspeople facing an unprecedented onslaught of tornadoes touching down in the town of Silverton.
Sky Cinema Spider-Man, from Saturday, Sky Cinema
For the very first time your friendly neighbourhood wall-crawler is getting a dedicated pop-up channel of his own.
For nine straight days (Jan 19-27) there'll be screenings of the Sam Raimi trilogy, as well as The Amazing Spider-Man and its sequel The Amazing Spider-Man 2, plus the more recent Spider-Man: Homecoming.
Don't Miss
Music Icons, 10.30pm Friday, Sky Arts & NOW TV
American punk rock band The Ramones are the focus of this week's episode, which shines a light on how, despite achieving only limited commercial success, they became and remain hugely influential.
The Ramones ignited the punk-rock movement with their eponymous 1976 debut album. By 2014, all four of the band's original members had died - but their legacy lives on.
The Secret Life of Bob Monkhouse, 10.25pm Saturday, BBC Four
A welcome repeat, this is a splendid documentary about the late Bob Monkhouse, one of the funniest, most-gifted and downright obsessive broadcasters and comic writers of the 20th Century.
The extraordinary story of his life and career is told through the vast private archive of films, TV shows, letters and memorabilia that he left behind.
No one's ever made better use of a garden shed.
Box Set Binge
The Blacklist: Seasons 1-5, from Sunday, Sky Box Sets & NOW TV
James Spader stars as Raymond 'Red' Reddington, a high-profile criminal who turns himself in to the FBI, offering to help them catch some of the world's most dangerous criminals in exchange for immunity from prosecution.
It's all very daft, but Spader is hugely entertaining throughout as he treats the scenery like one big ham sandwich.
Click here for full TV listings