Dancing With The Stars returned for a second week, and this time the female contestants got the opportunity to put some points on the scoreboards and dust off their dancing shoes.
Kicking off this week's instalment, the professional dancers performed a Paso Doble to Rodrigo y Gabriela's Diablo Rojo.
Hosts Jennifer Zamparelli and Nicky Byrne got the audience laughing, with Nicky pointing out how Westlife have soared to number one in the charts following the release of their comeback single.
Jennifer quipped, "Cool, I only said hello."
"Super sexy salsa"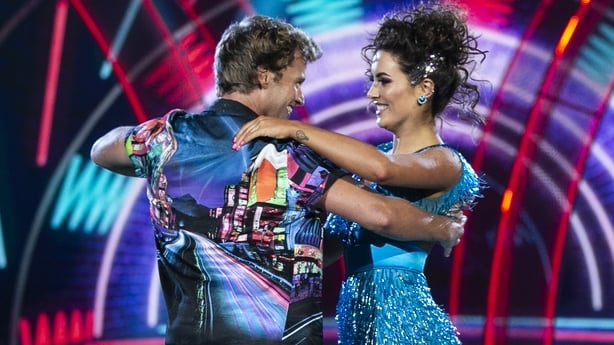 Former Miss Ireland winner and model Holly Carpenter danced a Salsa to Demi Lovato's Neon Lights with her professional dancing partner Trent Whiddon. Whiddon is replacing her intended partner Curtis Pritchard, who had to take a step back from the show after being injured during a nightclub attack.
"I loved it. It was actually so much fun," Holly said after her dance.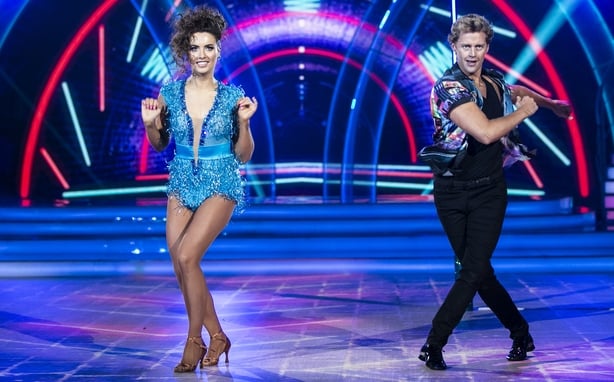 Judge Loraine Barry complimented Holly on her performance, saying "Holly what a way to open the show, the content here was very very good... Having two partners pushed you to get out and do it."
"I know there's an inner diva in there waiting to bust out," judge Julian Benson added, labelling it a "super sexy salsa."
Fellow judge Brian Redmond praised her moves, though advised her to watch her feet before adding, "Overall, week one salsa, great start."
Holly earned a total of 16 points from the judges.
"Passion and punch"
Next up was Mrs Brown's Boys star Eilish O'Carroll and her partner Ryan McShane. Taking on the Tango, they danced to Alma Cogan's I Can't Tell a Waltz from a Tango.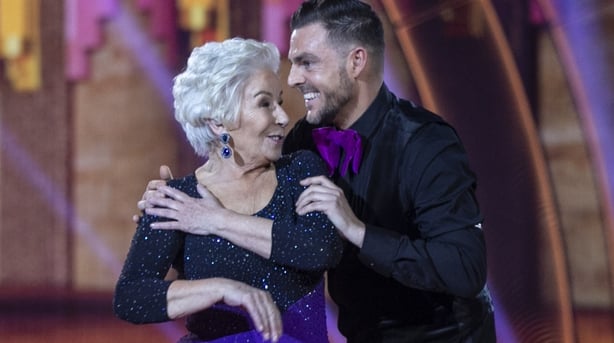 The audience clapped along throughout the performance and Julian was quick to praise her too saying, "Who could of thought that Winnie McGoogan could have tangoed like that. You embodied the character of the tango tonight..."
"I think that tonight you proved that you can tell a waltz from a tango," Brian smiled before critiquing her more technical bits, adding that she "did a very good job."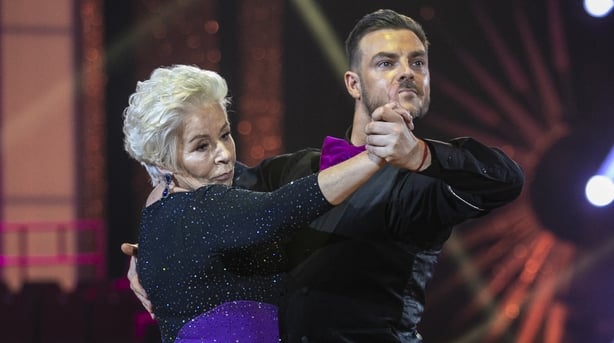 Loraine praised her "passion and punch."
Speaking to Nicky after the performance, Eilish said, "I have never been so buzzing."
The judges gave Eilish a combined score of 15 points.
"Moments of magic"
Star of The Young Offenders Demi Isaac Oviawe danced a Cha Cha with her professional partner Kai Widdrington. The duo brought Carly Rae Jepson's Cut To The Feeling to the dancefloor.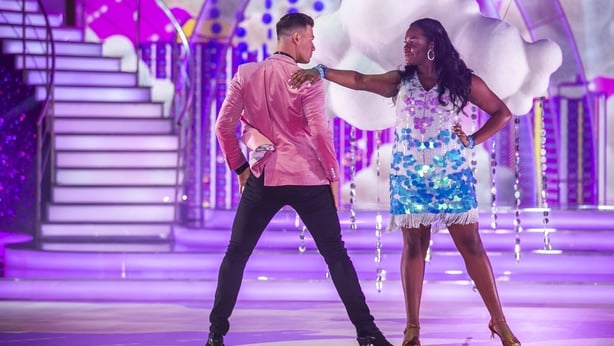 After her dance, Demi shed a few tears, joking that, "I'm not usually this emotional, I promise."
"You got through the routine very well, "Brian said, before saying he hoped for more "youth and exuberance" as she is the youngest contestant in the competition.
Loraine said, "You've got this joyful energy… But the technique needs oomph."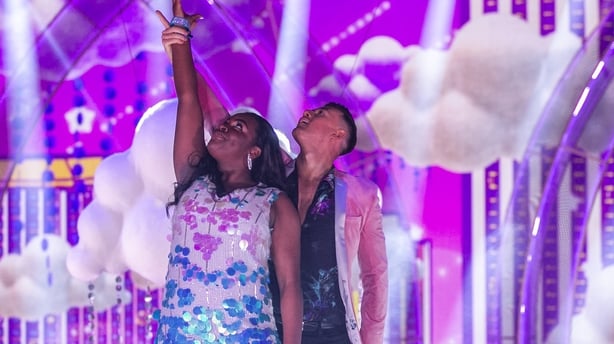 "I'm endorsing you, you can do it," Loraine added.
Julian agreed with his colleagues that there is great potential with Demi going forward saying, "You gave us a fun Cha Cha on the floor… There were moments of magic."
Demi and Kai got a score of 10 points from the judges.
"Cool, contemporary country"
Kicking off part four of the show, county music star Cliona Hagan and her partner Robert Rowinski hit the dancefloor, performing a quick step to Luke Bryan's Country Girl.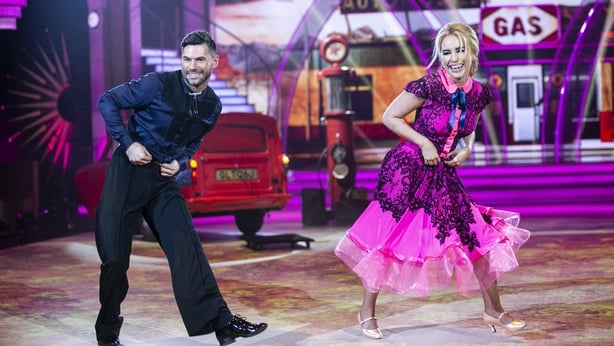 Loraine heaped praise on Cliona, saying she was really "won over" by her performance.
"It was fabulous, it's a hard dance to do and you need a lot of spring... You did something amazing for me, you actually hopped going backwards... So so promising," Loraine gushed.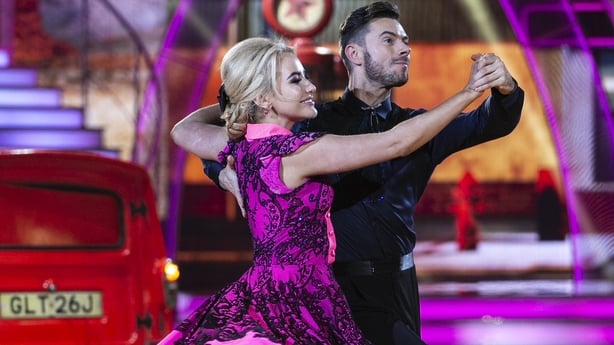 Brian commended the "energy and fun" she brought to the night, with Julian saying it was "fantastic."
"I love people who push things beyond the bar... The fusion between the quickstep and country... Yery very clever," Julian said.
Cliona stormed to the top of the leaderboard with 21 points from the judges.
"Divine"
Mairéad Ronan and her partner John Nolan Waltzed their way onto Dancing With The Stars, choosing to perform to Whitney Houston's You Light Up My Life.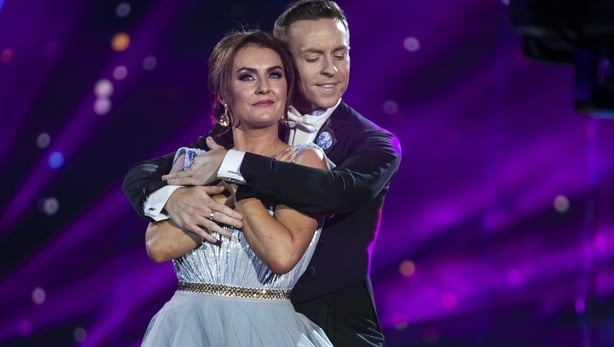 Julian was a fan of their moves, saying, "You certainly lit up the ballroom floor tonight my darling... That was a beautiful elegant, classic waltz, your face lit up."
Brian praised the "great control" that she showed throughout, adding that "the arm should have more power in it."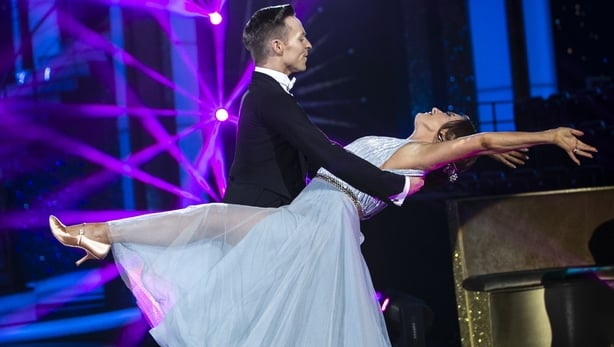 Loraine commended John's choreography, "John put a beautiful beginning and a gorgeous ending as well. It could have a little bit more power, but posture and body line divine."
Mairéad clocked up 18 points from the judges.
"You gave us everything"
Last up, former Fair City star Clelia Murphy danced a pacey jive to Billy Joel's Tell Her About It, with her partner Vitali Kozmin.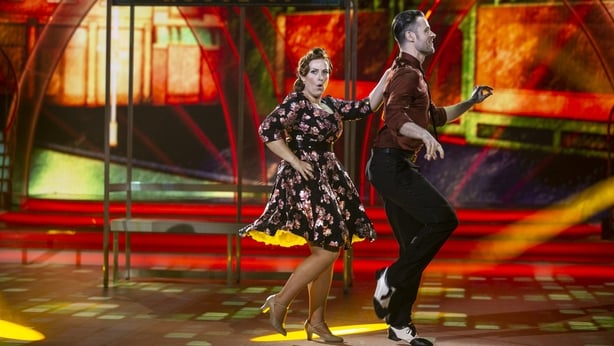 Clelia's routine divided Brian and Julian, with the former saying, "We were waiting a bit too long for it to get going, when you did get going there was great energy more of the time... I love the personality you brought to the routine."
Julian defended Clelia calling Brian the Grinch, "Girl Tell Me About It! You gave us everything, you came out on the floor... The chemistry between you two... Don't mind the Grinch, I loved the opening."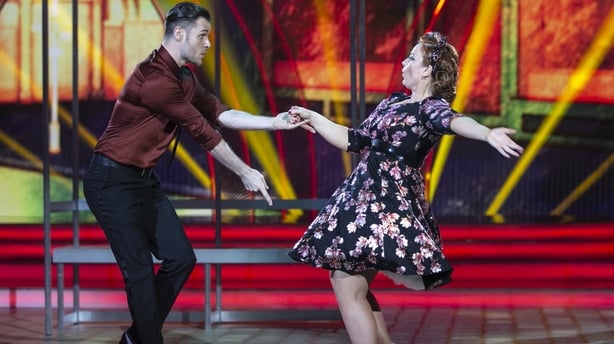 Loraine was a fan of how "in harmony with each other" they were as a partnership.
Clelia danced away with 19 points from the judges.
As last week, no one was eliminated this week, with eliminations starting next Sunday when Dancing With The Stars continues on RTÉ One at 6.30pm.
You don't have to wait a whole week to get your dancing fix however, with RTÉjr Goes Dancing with the Stars airing on Thursday at 6pm on RTÉjr (Sky channel 623, Saorview channel 7 and UPC channel 600).
And make sure to tune into Can't Stop Dancing this Friday at 8:30pm on RTÉ One. Hosted by Blathnaid Treacy each week the show goes behind the scenes to capture all the glitz, glamour and gossip back stage and get the low down from the judges, the professional dancers and the stars.