John Byrne talks to Simone Kirby, who plays Ursula Sweeney in Resistance, as the historical drama continues on Sunday nights on RTÉ One.
Things are hotting up on Resistance as the War of Independence gathers pace. This week's episode sees Ursula Sweeney, an intelligence officer at Dublin Castle, giving her IRA contact Jimmy Mahon (Brian Gleeson) the name of an accountant working for General Winter in Dublin Castle.
She's already proving to be a very useful asset to the republican movement.
Ursula's also been of benefit to Simone Kirby, the actress who plays her. As well as providing a fascinating role, it also brought the London-based Clare native back to Ireland, and working once more with an Irish cast and crew was something she savoured.
She's having a safety check on her home's gas boiler when I call her - oh, the joys of domesticity - but once that's sorted and the boiler lives to boil on, we got down to having a chinwag about the five-part pacy drama.
John Byrne: Given that you're working and living in the UK, you probably don't get to come home or work here too often?
Simone Kirby: It's really lovely to go home, and to film - because I live in London. It's nice to go home for a length of time. We were there for ten weeks. And it was nice to work with Irish actors, because there's just a slight difference when you're in an environment where there's lots of Irish people around you. It's just that little bit more relaxed.
Funny how you revert...
I think it's because the humour is understood. You never have to explain yourself, or tippy-toe around. There's obviously a very Irish sense of humour, and you just relax a little bit, and the way we talk to each other – I think Irish people are very direct. There's no beating around the bush, we just get to the point. Which is brilliant, I think. It's not really like that in every other country.
Ursula's a very interesting character. Was that the first thing that stood out for you when you started reading the script?
Yeah, I read a little bit of the script, it was still being written - it was still a work in progress - and then I spoke to Catherine Magee, the producer, about it, and then I had a meeting with Catherine Morshead, who's also based here [in London], and they described the character and her arc, and everything. And she just sounded fascinating. It was a very interesting storyline, a really interesting woman, and I thought, 'Yeah, I'd love to get that'.
There are the stories that we do know, the really well-known stories of the very famous people. But the stories of women like Ursula - and Ursula was loosely based on another woman, [Resistance writer] Colin Teevan has spoken about it a little bit. There's the stories that we haven't heard.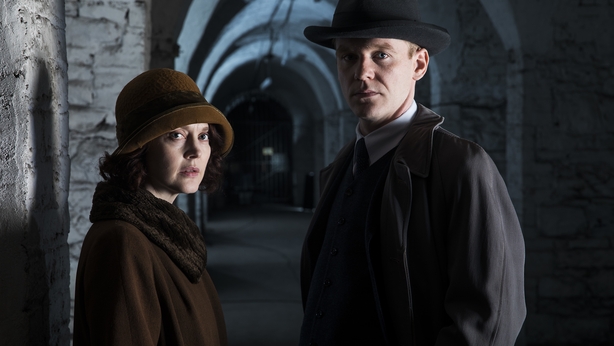 In some respects, they're the real stories . . .
It's nice for people to see characters from that period of time that we don't know about, and other stories that aren't just of the famous people. Of course, Resistance isn't meant to be a history lesson. It's not a biopic.
It's about that period of time and it's about the people who were smaller players, or it's loosely based on people who played a small role in it. And they're very interesting stories. It's about the people on the periphery of those big historical moments.
I talked to my dad over Christmas, and we talked about his father - my grandfather - who was in the East Clare Brigade. There's a lot of people back at that time, grandparents, who would've been involved in some way or other.
And, of course, your other half Fergal McElherron is in Resistance too . . . playing solicitor Maurice Jacobs. Do you guys come as a job lot?
(Laughs) No. We actually never get to work together. It is unusual. We did a play together years ago, and we've actually both just set up a production company. Fergal writes a lot, I write a little bit, but I'm producing films.
We made one last year, and we've another one in pre-production that we're trying to get funded at the moment, and we're working off our own bat. It's really unusual for us to get cast in something together. It doesn't happen.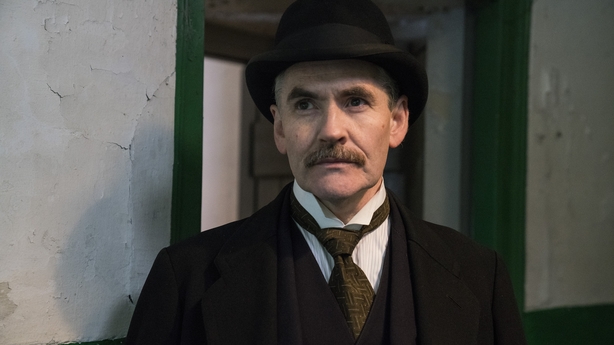 Can you tell me a bit about that film that you're looking to fund?
The first film we did was called Clean, and that's doing the rounds of the festivals at the moment, and the second one is called Barred, and that's kind of a longer one and I'm in that. And Catherine Morshead, who directed Resistance, is going to direct it for us. And the Director of Photography is going to work on it.
We've already made a little promo for that, that we're going to get up online, so it's really exciting. We're really happy to be working with Catherine and Davy. We had such a great time with them.
We were in touch with Catherine and she said she'd love to work with us again, and asked: 'Do you have anything written that you wanna do?' And we said, 'Yeah, there are a couple of things.'
So hopefully we get that filmed this year. We were hoping to go back to film it in Ireland because Catherine and David had such an amazing time with the crew - they just loved filming in Ireland.
But unfortunately, with the Irish Film Board, you have to have an Irish director. So we had to actually cancel it in Ireland because we couldn't get funding from the Irish Film Board. Which was awful, because we really had our hearts set on it. Now we're thinking about filming it somewhere around London.
It's been a good year and this one will be too. There's a lot of things coming out this year, so it'll be busy . . . It's nice that people can finally see what you've been doing.
I believe you're in the upcoming Artemis Fowl movie?
It's a small part. Obviously it's a massive Disney film with loads of huge names in it - the likes of Judy Dench. Conor McNeill from Resistance is in it as well. There's lots of people playing smaller kind of parts.
And we've got Calm with Horses which is a film I did last year. That's coming out sometime this year, and The Hole in the Ground is going to Sundance. They're all coming out around the same time, which is mental.
Resistance continues on RTÉ One on Sundays at 9.30pm